Hulu's new miniseries "Dopesick" was built on journalism, and its creators hope it will spark a renewed public discussion about the nation's opioid crisis, show executives said during a recent panel discussion hosted by KFF's Kaiser Health News and Hulu.
The event brought together the lead creative powers behind the show along with a journalist from KHN and a policy expert from KFF to unpack the making of "Dopesick" and what the show has to say about the origins of the opioid crisis. KFF's journalists and policy experts have been tracking the devastating epidemic with on-the-ground stories as well as data-driven analyses for a number of years. The panelists brought their different lenses — creative, journalistic and policy — to focus on the devastating impact of opioids on ordinary Americans and the often ineffective efforts to combat this continuing public health emergency.
The panel discussion, moderated by Chaseedaw Giles, KHN's digital strategy and audience engagement editor, featured executive producer, writer and showrunner Danny Strong; journalist Beth Macy, who authored the book on which the show is based; KHN correspondent Aneri Pattani, who has reported extensively on opioid policy, substance use and mental health; and KFF senior policy analyst Nirmita Panchal, whose analytical work focuses on mental health and substance use.
"What was unique about my collaboration with Beth is that the journalism side of the process never ended," Strong said. "We would do interviews together, people would leak documents to us. … It was this unusual process in which we were writing a scripted drama and then simultaneously doing active investigative journalism."
Macy, who was in the show's writers' room full time, said writers would incorporate into scripts revelations from newly released court filings in ongoing cases against Purdue Pharma, the company behind the drug OxyContin, which features prominently in the eight-episode miniseries.
"New documents were coming out all the time," Macy said. "We would take turns — you go through this, I'll go through this. And then we would all report back to Danny and decide what the best highlights were."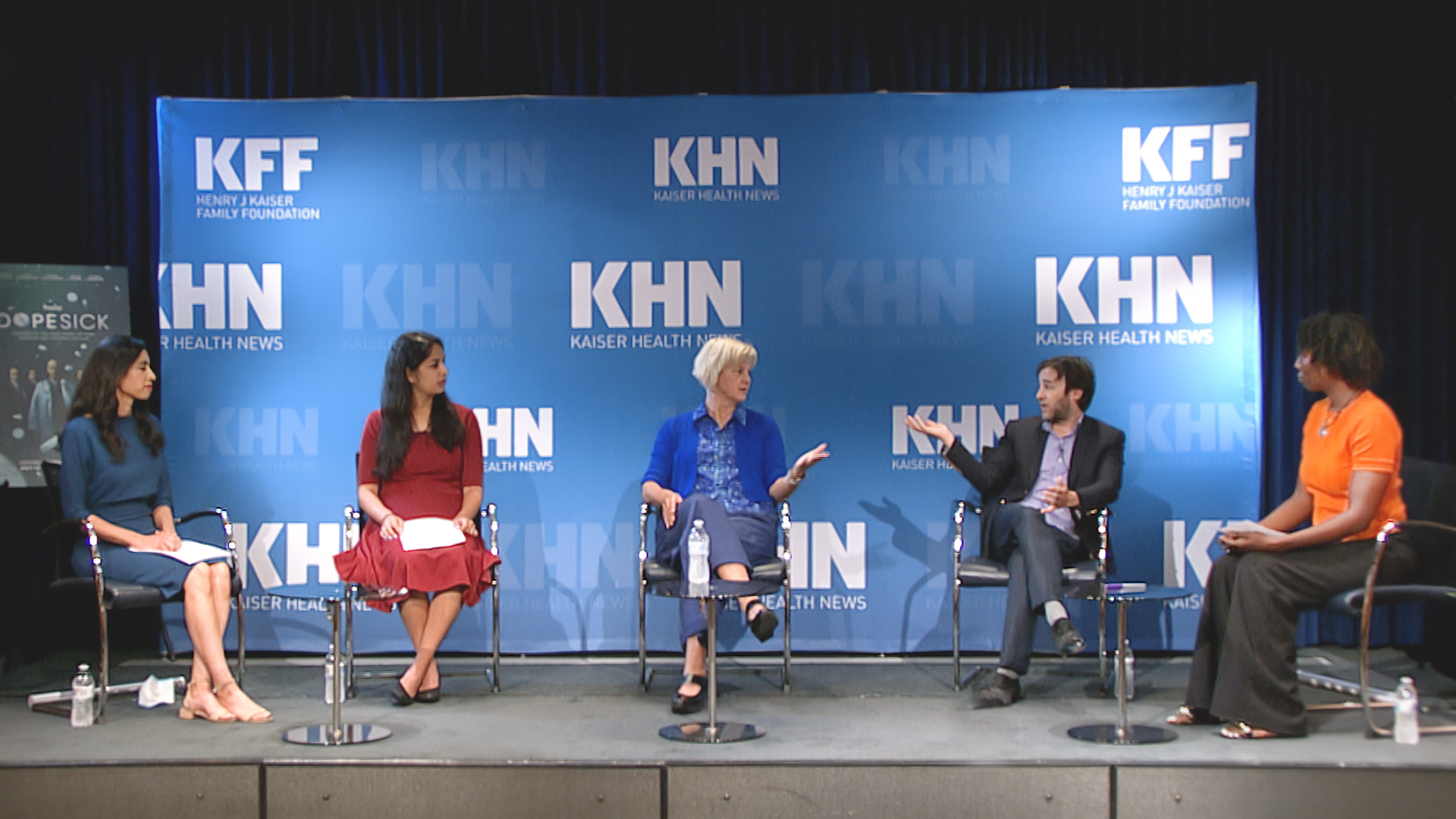 In a 40-minute discussion, the panelists explored a wide range of topics about the show and the real-life opioid crisis it depicts, weaving in stories from people Pattani has interviewed for KHN radio and print pieces and findings from Panchal's analyses. Topics included:
• How the show employed the tools of fiction, such as composite characters, to tell a larger truth
• The important role played by medication-assisted treatment, which combines medications with counseling and behavioral therapy in the treatment of opioid addiction
• The current state of the opioid crisis, marked by a record-high 93,000 deaths from drug overdoses in 2020; the expansion of the problem beyond largely rural, white communities; and the rise of highly addictive synthetic opioids like fentanyl
• The role of politics in the funding for, and availability of, different types of treatment
The economic fallout and social isolation of the COVID-19 pandemic have exacerbated the opioid epidemic, Panchal said. She noted that about 1 in 3 people now say they are experiencing anxiety and depression, compared to about 1 in 10 before the pandemic.
"The job loss, financial hardship, poor mental health — these are things that can often go hand in hand with substance use," Panchal said.
Pattani noted that there are divisions among political leaders at all levels about how best to tackle the opioid crisis, with some pushing for more medication-assisted treatment, others favoring traditional rehab centers and some emphasizing a criminal justice approach to the problem.
Everyone is representing a district that has constituents affected by this," she said. "I haven't talked to a politician who says we don't need to address the opioid epidemic, but I think they all disagree on how."
"Dopesick" premiered on Hulu Oct. 13, with new installments of the miniseries available on Hulu every Wednesday. The panel discussion, recorded in KFF's Washington, D.C., offices without a live audience due to COVID-19, can be viewed anytime on kff.org.
About KFF and KHN
KHN (Kaiser Health News) is a national newsroom that produces in-depth journalism about health issues. Together with Policy Analysis and Polling, KHN is one of the three major operating programs at KFF (Kaiser Family Foundation). KFF is an endowed nonprofit organization providing information on health issues to the nation.
About Hulu and "Dopesick"
From Executive Producer Danny Strong and starring and executive-produced by Michael Keaton, "Dopesick" examines how one company triggered the worst drug epidemic in American history. The series takes viewers to the epicenter of America's struggle with opioid addiction, from the boardrooms of Big Pharma to a distressed Virginia mining community, to the hallways of the Drug Enforcement Administration. Defying all odds, heroes will emerge in an intense and thrilling ride to take down the craven corporate forces behind this national crisis and their allies. The limited series is inspired by The New York Times bestseller by Beth Macy.
The eight-episode series stars Michael Keaton, Peter Sarsgaard, Michael Stuhlbarg, Will Poulter and John Hoogenakker, with Kaitlyn Dever and Rosario Dawson. Guest stars include Phillipa Soo and Jake McDorman.
"Dopesick" is written by Emmy winner Danny Strong ("Empire," "Recount," "Game Change") and directed by Oscar winner Barry Levinson ("Paterno," "Rain Man"). Executive producers for "Dopesick" include Strong, John Goldwyn ("Dexter"), Keaton, Levinson, Warren Littlefield ("The Handmaid's Tale," "Fargo," "The Old Man"), Beth Macy ("Dopesick") and Karen Rosenfelt ("Twilight").