Americans Remain Split On Stalled Health Care Legislation, but Some Provisions Popular Among Majorities of Democrats, Independents and Republicans
Embargoed for release until:
February 23, 2010
For further information contact:
Rakesh Singh, (650) 854-9400, RSingh@kff.org
Chris Lee (202) 347-5270, CLee@kff.org
Americans Remain Split On Stalled Health Care Legislation, but Some Provisions Popular Among Majorities of Democrats, Independents and Republicans
Most See Delays As Driven By Politics Rather Than Policy
MENLO PARK, CA – The latest Kaiser Tracking Poll finds the public still split on health care reform legislation, with 43 percent in favor and 43 percent opposed.However, the poll also finds that majorities of Americans of all political leanings support several provisions in the health reform proposals in Congress and most attribute delays in passing the legislation to political gamesmanship rather than policy disagreements.
As Democratic and GOP lawmakers prepare for the upcoming health reform summit, the February Kaiser Health Tracking Poll finds that at least six of every ten Republicans, Democrats and independents back at least some of the key provisions in the reform bills that have passed the House and Senate. They include measures that would: reform the way health insurance works, such as preventing insurers from excluding people because of pre-existing conditions; offer tax credits to small businesses to help their workers get coverage; create a new health insurance marketplace; help close the Medicare "doughnut hole" so that seniors would no longer face a period of having to pay the full cost of their medicines; and expand high-risk insurance pools for individuals who cannot get coverage elsewhere.Providing subsidies to lower and middle income people also received strong support from Democrats and independents and near majority support from Republicans.
"While the intense debate over health care reform has divided the public, it looks like there isbipartisan support on at least some elements of health reform legislation, and more bipartisan support outside the beltway than there is inside," said Kaiser President and CEO Drew Altman.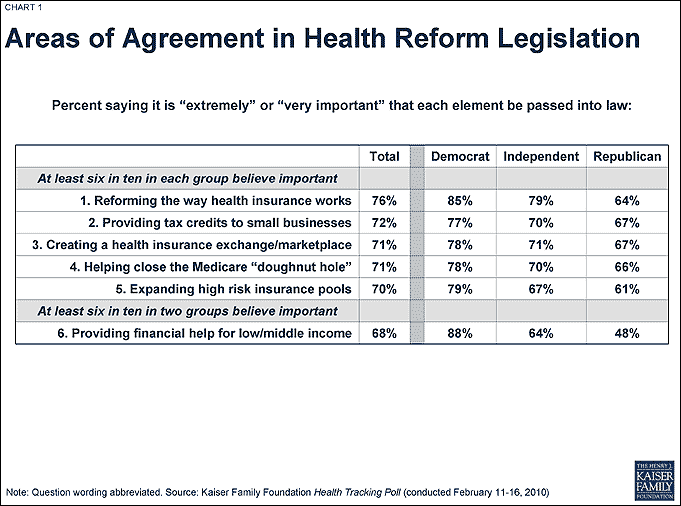 Along with these areas of agreement were differences of opinion that broke along party lines. Expanding Medicaid received majority support from Democrats and independents, but was deemed important to pass into law by a much smaller share of Republicans, 34 percent. On the other hand, limiting malpractice lawsuit payments ranked second among priorities for Republicans, but barely cracked the top 10 for Democrats and independents.
More and Less Popular Provisions
Given a list of various elements of health care reform, more than two-thirds of the public overall said it was either "extremely" or "very important" that these changes be passed into law:reforming the way health insurance works ( 76%), providing tax credits to small businesses (72%), creating a health insurance exchange (71%), helping close the Medicare "doughnut hole" (71%), expanding high-risk insurance pools (70%), and providing financial help for lower- and middle-income people (68%). At the bottom of the list, though still receiving significant levels of support, were measures to allow insurers to sell policies across state lines (50%) or to limit future increases in Medicare provider payments (46%).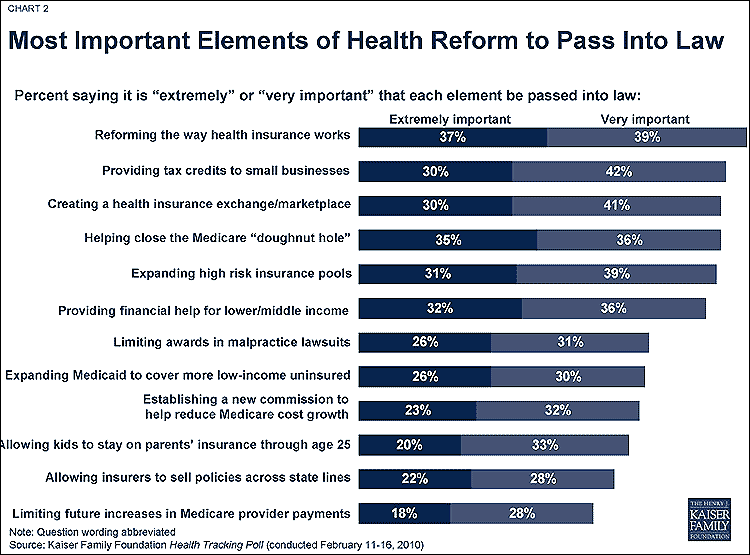 The February Tracking Poll did not examine public opinion on the full range of measures to finance health reform or the public option; subjects which have been addressed comprehensively in previous tracking polls.
All Sides Point to Politics as the Reason for the Delay in Passing Health Reform
Most Americans attribute the delays in passing health care reform to political gamesmanship, with 59 percent saying the delays are "more about both sides playing politics" and 25 percent saying they are "more about Republicans and Democrats having disagreements." This sentiment runs the political gamut, with 61 percent of Democrats, 62 percent of independents and 53 percent of Republicans fingering political considerations as the primary reason for the delays.
The large majority of Democrats reported feeling frustration and disappointment about the legislation being stalled, as did a narrow majority of independents. Most Republicans reported feeling "relieved."
Moving Forward from Here
The poll shows that after a long and intense debate, the public has mixed views about how quickly and how comprehensively to move on reform, but relatively few hope the matter is dropped altogether. Overall, 32 percent hope Congress will send some version of the House and Senate's comprehensive overhaul legislation to the president, and another 20 percent support pulling out some key provisions on which there is broad agreement and just passing those. Another 22 percent would rather Congress put health care on hold and deal with other priorities. And a similar percentage (19%) would like to pull the plug on health care reform for 2010.
When all is said and done, 58 percent of Americans say they will be either disappointed or angry if Congress decides to stop working on health care reform. Thirty-eight percent say they expect to feel happy or relieved. The numbers are roughly reversed when the public is asked how they will feel if Congress passes reform, with 54 percent naming a positive emotion and 38 percent a negative one.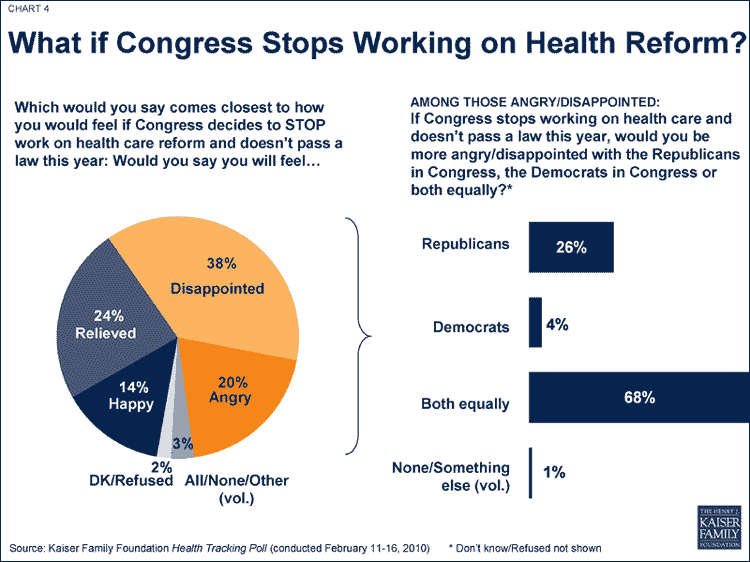 The survey was designed and analyzed by public opinion researchers at the Kaiser Family Foundation and was conducted February 11 through February 16, 2010, among a nationally representative random sample of 1,201 adults ages 18 and older. Telephone interviews conducted by land-line (800) and cell phone (401, including 192 who had no land-line telephone) were carried out in English and Spanish. The margin of sampling error for the total sample is plus or minus 3 percentage points. For results based on subgroups, the margin of sampling error is higher.
The full question wording, results, charts and a brief on the poll can be viewed online at here.