White House Submits FY17 Reduction Options to Congress
The White House submitted proposed cuts for FY17 to Congress on March 24, 2017. These proposed cuts would be used to offset the Administration's FY17 supplemental funding request, which was included in its FY18 "skinny budget" request released on March 16, 2017 (see Table 4 in the budget blueprint) that included additional funding for Defense and the Border Wall. FY17 is currently funded through a Continuing Resolution (CR) until April 28, 2017.
The proposal identifies reduction options for the following global health programs (see Table below):
PEPFAR's HIV efforts
Tuberculosis
Family planning and reproductive health (FP/RH)
Polio
Global health security
Neglected tropical diseases (NTDs)
Nutrition
Vulnerable children
As part of its proposal, the Administration included descriptions and justifications for the funding cuts. For instance, the proposed cut to PEPFAR would achieve savings by "requiring PEPFAR to begin slowing the rate of new patients on treatment in FY17, by reducing support to low-performing countries, by reducing lower-priority prevention programs, or by identifying new efficiencies or other savings." The proposal would also eliminate funding for global health security programs at USAID while requesting that Congress provide authority to repurpose emergency Ebola funds to support these activities.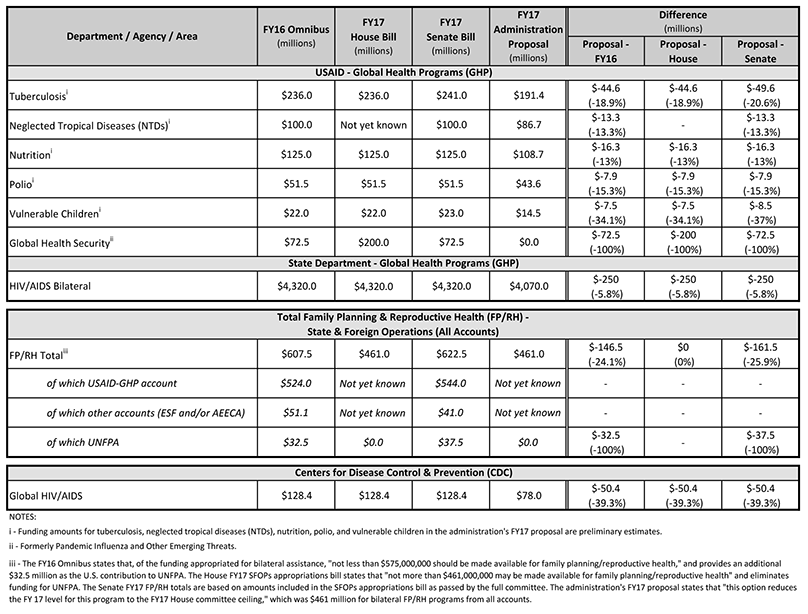 The KFF Daily Global Health Policy Report summarized news and information on global health policy from hundreds of sources, from May 2009 through December 2020. All summaries are archived and available via search.