Understanding the Growth in Medicare's Home Health Expenditures
Heavy Use Of Home Health Services By Sickest And Poorest Seniors Drives Sharply Rising Medicare Home Health Costs
For-profit Agencies Increased Medicare Home Health Expenditures by More Than $1 Billion in 1994
Embargoed for release until: 9 am, EST, Tuesday, July 1, 1997
Washington, D.C. — As Congress looks to the Medicare home health benefit as a possible source ofsavings for the program, a new study prepared for the Kaiser Family Foundation by the Project HOPECenter for Health Affairs finds that the sickest Medicare beneficiaries–those who receive more than200 home health visits per year–have driven the recent expenditure increases in home health spending. These "high utilizers," most of whom live at or near the poverty level, have more than doubled as ashare of total Medicare home health spending, increasing from 20% in 1991 to 43% of spending in1994, although they accounted for just 10% of home health users (Figure 1).
At the same time, the report finds that for-profit home health agencies generate higher Medicarespending–$1 billion in 1994–because they provide more visits to similar patients than non-profitagencies do.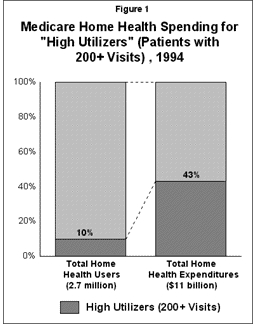 "Sharply rising costs make the Medicare home health benefit a natural target for budget cutting," saysDrew Altman, President of Kaiser Family Foundation. "But this study shows that the home healthservices also meet real needs of very sick and low-income seniors. Curtailing services withoutendangering needed care will be a real challenge."
High Utilizers
Compared to the average beneficiary who received home health services in 1994, those with 200 ormore visits per year were much more likely to have had serious medical problems, with one-quarterhaving two or more hospital admissions within a year. They also had greater long-term care needs,with nearly 80% reporting severe functional impairments, such as difficulty bathing.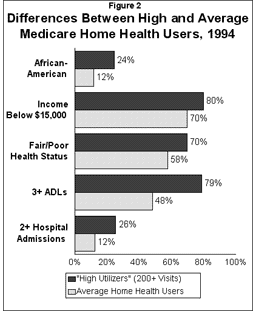 The study's authors also point out that the majority (80%) of people who receive extensive home healthcare live close to or below the poverty level. They observe that adding a copayment for home healthservices for Medicare beneficiaries–part of the Senate bill that was passed last week–woulddisproportionately impact the near-poor who do not qualify for Medicaid but are unable to afford aprivate supplemental policy.
"While home health care was originally conceived as a short-term benefit to help seniors recover after ahospital stay, now only one-third of all home health patients receive this type of 'post-acute' care,"points out lead author Joel Leon, of the Project HOPE Center for Health Affairs (Figure 3).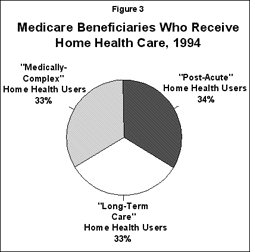 "Medicare's home health benefit has evolved into a limited long-term care safety net, especially for'high utilizers,'" explains Tricia Neuman, director of the Kaiser Medicare Policy Project and a co-author of the report. "It has also become an important source of medical care for really sick seniorswho are in and out of hospitals several times a year."
For-Profit Agencies
The report also finds a significant difference in the number of home health visits provided by for-profitagencies as compared to non-profit or government-run agencies. The average annual Medicare homehealth expenditure per beneficiary ($4,442 in 1994) was $1,064 higher for beneficiaries served by for-profit providers. The higher expenditures associated with care from for-profit agencies–which totaled$1 billion in 1994–could not be explained by the age, health, functional status, or other characteristicsof the patients they served.
"The differences in the level of care provided by home health agencies warrant a closer look," saysLeon.
Medicare's Home Health Benefit was originally designed to provide short-term care at home tohelp beneficiaries recover following an inpatient hospital stay. Legislative, administrative, and judicialreforms in the 1980s caused an increase in the number of people receiving home health services and theaverage number of visits per home health user. Home health services are funded primarily out ofMedicare's Hospital Insurance (Part A) Trust Fund, which is financed mainly through payroll taxes. There are no copayments imposed on home health visits. Home health agencies are paid on a cost-reimbursement basis, which is subject to limits.
The home health benefit accounts for 9% of total Medicare spending, nearly $19 billion, in 1997. Between 1991 and 1996, home health spending per enrollee grew at an average annual rate of nearly29%, four times the rate of inpatient hospital and physician care.

SOURCE: Medicare Chart Book, The Kaiser Medicare Policy Project, June 1997.
---
Understanding the Growth in Medicare's Home Health Expenditures
was prepared by Joel Leon,Ph.D., and Stephen Parente, Ph.D., of Project HOPE Center for Health Affairs, and Tricia Neuman,Sc.D, of the Kaiser Family Foundation. The analysis was based upon data from the Medicare CurrentBeneficiary Survey and related Medicare home health claims. Copies of the report can be ordered bycalling the Foundation's toll-free request line at 1-800/656-4KFF. Ask for report #1274.
The Kaiser Family Foundation, based in Menlo Park, California, is a non-profit, independent nationalhealth care philanthropy and is not associated with Kaiser Permanente or Kaiser Industries. TheFoundation's work is focused on four main areas: health policy, reproductive health, AIDS/HIV, andhealth and development in South Africa. The Kasier Medicare Policy Project was established in 1995to provide a framework for the Foundation's ongoing work related to health coverage for the elderlyand disabled.