One million Medicare beneficiaries had out-of-pocket drug spending above the Part D catastrophic threshold in 2015, and the number with such high spending has risen sharply in recent years, according to a new analysis by the Kaiser Family Foundation.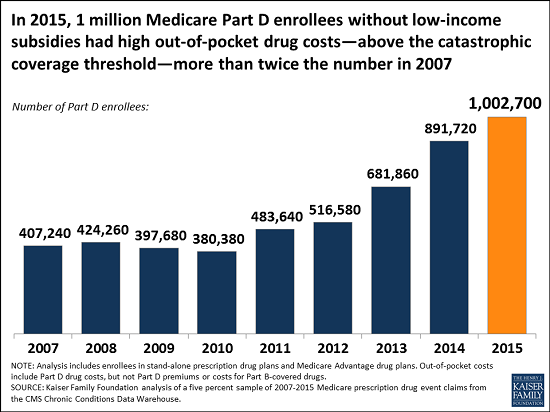 While the Part D drug benefit has helped make drugs more affordable for people with Medicare, the lack of a hard cap on annual out-of-pocket spending under Part D exposes enrollees to significant costs, unless they qualify for low-income subsidies. The standard Part D benefit includes a catastrophic coverage threshold above which enrollees pay up to 5 percent of their total drug costs out-of-pocket.
In 2015, 3.6 million Medicare Part D enrollees had total drug spending above the catastrophic threshold. The 2.6 million who qualified for federal low-income subsidies were shielded from high out-of-pocket spending on their medications, but 1 million enrollees faced significant costs.
The 1 million enrollees who did not receive low-income subsidies comprised just 2 percent of the Medicare Part D population, but their spending accounted for 20 percent ($3 billion) of the total $15 billion in out-of-pocket drug spending by Part D enrollees in 2015. Together, these 1 million enrollees spent an average of more than $3,000 per person out-of-pocket on their prescriptions, $1,215 of which was above the catastrophic threshold.
The study, No Limit: Medicare Part D Enrollees Exposed to High Out-of-Pocket Drug Costs Without a Hard Cap on Spending, also found that, among Part D enrollees in stand-alone drug plans with high out-of-pocket costs, those with the highest average annual spending tended to have certain conditions, including viral hepatitis, multiple sclerosis, leukemia and lymphoma, liver diseases other than hepatitis, cystic fibrosis and cancer.
The study findings come at a time when the rising cost of prescription drugs has emerged as a pressing issue for policymakers, federal and state health programs, private insurers and consumers. With the prospect of new high-cost drugs in the pipeline, alleviating the out-of-pocket burden of prescription drug costs for a rising number of people on Medicare remains an issue for federal policymakers to address.