A new KFF interactive provides essential facts and trends about spending on Medicare, the federal health insurance program that covers 65 million seniors and people with disabilities, or nearly 1 in 5 Americans.
In 2020, Medicare spending accounted for 12 percent of the federal budget and 20 percent of national health care spending. Given its size and importance, the program is often part of discussions about how to better manage total federal government spending, health care spending in the U.S., and the affordability of health care costs.
The new interactive, The Facts About Medicare Spending, provides the most current information available to help frame these discussions, based on the latest data from Medicare's actuaries, the Congressional Budget Office, and other government sources. The interactive features information on Medicare enrollment growth, Medicare spending trends overall and per person, growth in Medicare spending relative to private insurance, spending on Medicare benefits and Medicare Advantage, Medicare Part A trust fund solvency challenges, and growth in out-of-pocket spending.
Among the highlights:
In 2020, Medicare benefit payments totaled $769 billion, up from just under $200 billion in 2000. Spending is projected to increase to nearly $1.5 trillion in 2031, due to growth in the Medicare population and increases in health care costs.
The number of Medicare beneficiaries is projected to grow from around 65 million people in 2020 to nearly 93 million people in 2060. The aging population is one factor contributing to higher Medicare spending, since spending per person is higher among older beneficiaries.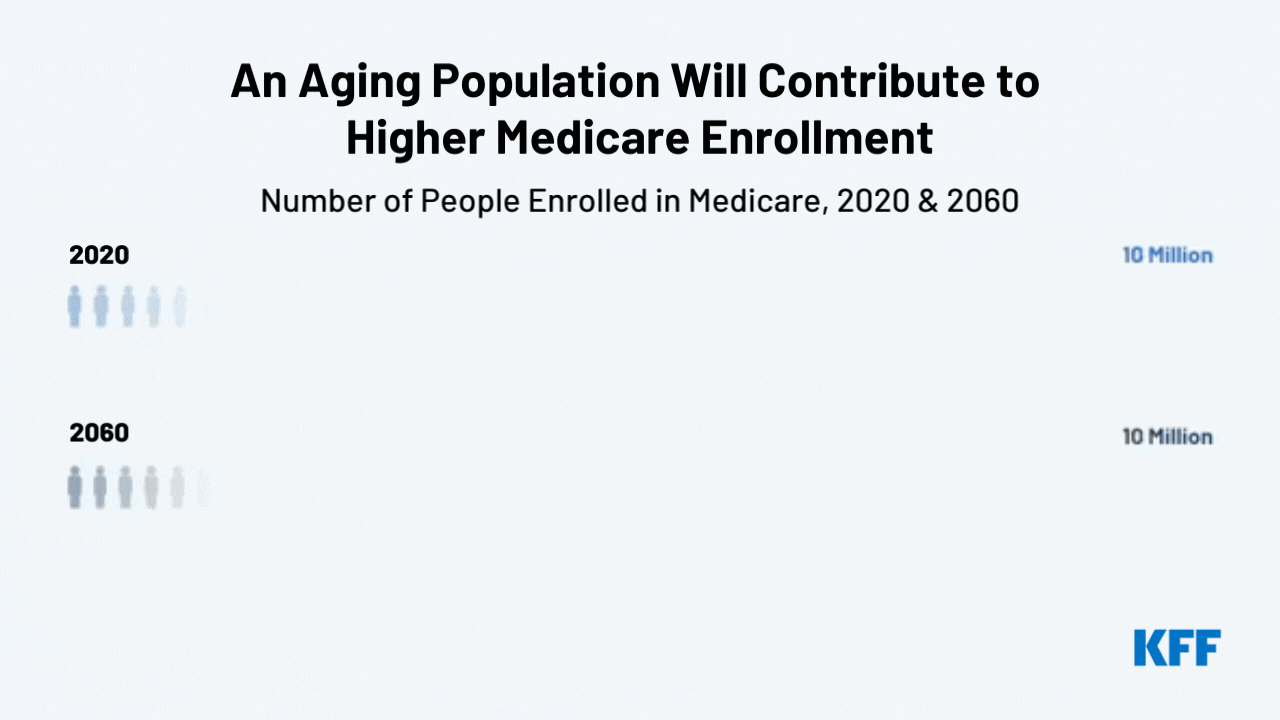 Medicare Advantage plans accounted for nearly half of all Medicare spending in 2021, up from just over a quarter in 2011, and the share is expected to keep growing. Payments to Medicare Advantage plans nearly tripled from $124 billion to $370 billion over that timeframe. That number is expected to rise to $801 billion by 2030.
Beneficiaries' out-of-pocket spending has increased with the rise in Medicare spending. The amount that beneficiaries spend on certain Medicare premiums and deductibles has increased from 15 percent of the average Social Security benefit in 2002 to 19 percent in 2022.
The Medicare Trustees project that there will be enough money in the Part A trust fund to pay for hospital benefits in full until 2026, after which Medicare will be able to pay 91 percent of such costs, unless Congress takes action.
To see the interactive, as well as other data and analyses related to Medicare, visit kff.org