Many people enrolled in Medicare go without dental care, especially beneficiaries of color, according to a new KFF analysis of dental coverage and costs for people with Medicare.
Almost half of all Medicare beneficiaries (47%) did not have a dental visit within the past year as of 2018, the analysis finds, with rates higher among those who are Black (68%) or Hispanic (61%) compared to White beneficiaries (42%). Rates were also higher among those who have low incomes (73%), or who are in fair or poor health (63%). The data pre-date the onset of the coronavirus pandemic and do not reflect the slump in health care utilization during the public health emergency.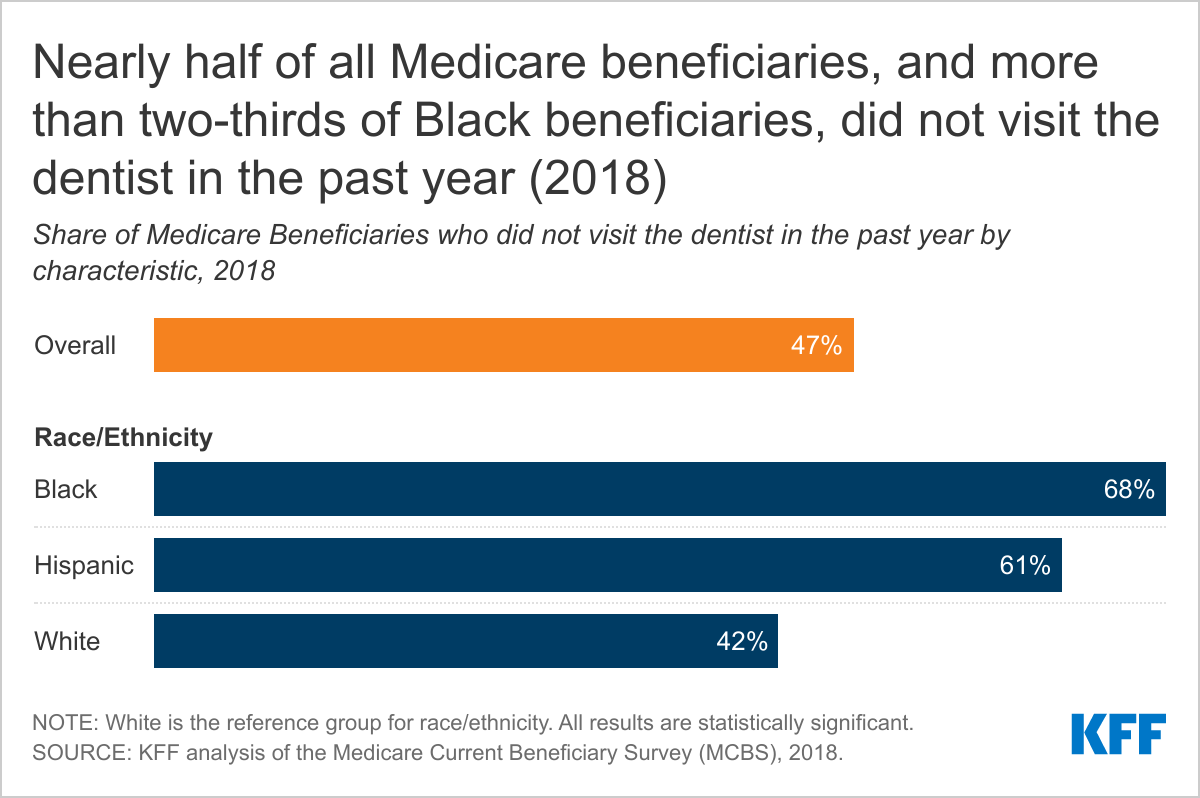 One reason Medicare beneficiaries do not seek care is a lack of insurance. Nearly half of all people with Medicare (47%) did not have dental coverage, as of 2019. The others got it through Medicare Advantage (29%), private insurance (16%) and Medicaid (8%).
The analysis also finds that beneficiaries can face significant out-of-pocket costs when they do seek care. Average out-of-pocket spending among Medicare beneficiaries who used any dental services was $874 in 2018, the analysis finds. One in five beneficiaries spent more than $1,000, including one in ten who spent more than $2,000.
The findings come at a time when Senate Democrats are seeking to add a standard dental, vision and hearing benefit to Medicare, as part of a sweeping $3.5 trillion budget reconciliation package. If it makes it through Congress, it would be the largest expansion of Medicare benefits since the inception of Part D prescription drug coverage in 2006.
The new analysis also provides an in-depth look at the scope of dental benefits available to people enrolled in Medicare Advantage plans, which have become the leading source of dental coverage among Medicare beneficiaries.
In 2021, 94 percent of Medicare Advantage enrollees in individual plans are in a plan that offers access to some dental coverage. The scope of coverage varies widely across these plans. Most Medicare Advantage enrollees with access to dental coverage have preventive benefits, such as cleanings, and access to more extensive dental benefits for services such as extractions and root canals that typically require 50 percent coinsurance for in-network care, and are subject to an annual dollar cap, the analysis finds. The average annual cap on dental benefits is about $1,300 in 2021.
Among the factors policymakers likely will consider in determining whether to add a dental benefit to Medicare are the scope of covered benefits, the amount of beneficiary cost sharing for specific services, and the impact on overall Medicare spending and premiums.
For more data and analyses about Medicare and dental coverage, visit kff.org