As some policymakers in Washington are pushing to reduce the federal deficit and debt, a new KFF resource provides a concise explanation of federal spending for domestic and global health programs and services, which could be part of any conversation about curbing federal spending.
Federal spending on health programs and services accounted for 30 percent of net federal spending in fiscal year 2022 — or $1.7 trillion out of a total of $5.9 trillion. Specifically, Medicare accounted for 13 percent of the total, Medicaid and CHIP accounted for 10 percent, other domestic health spending accounted for 5 percent, hospital and medical care for veterans was 2 percent, and global health was 0.1 percent. (By comparison, Social Security accounted for 21 percent of net federal spending that year, while defense accounted for 13 percent.)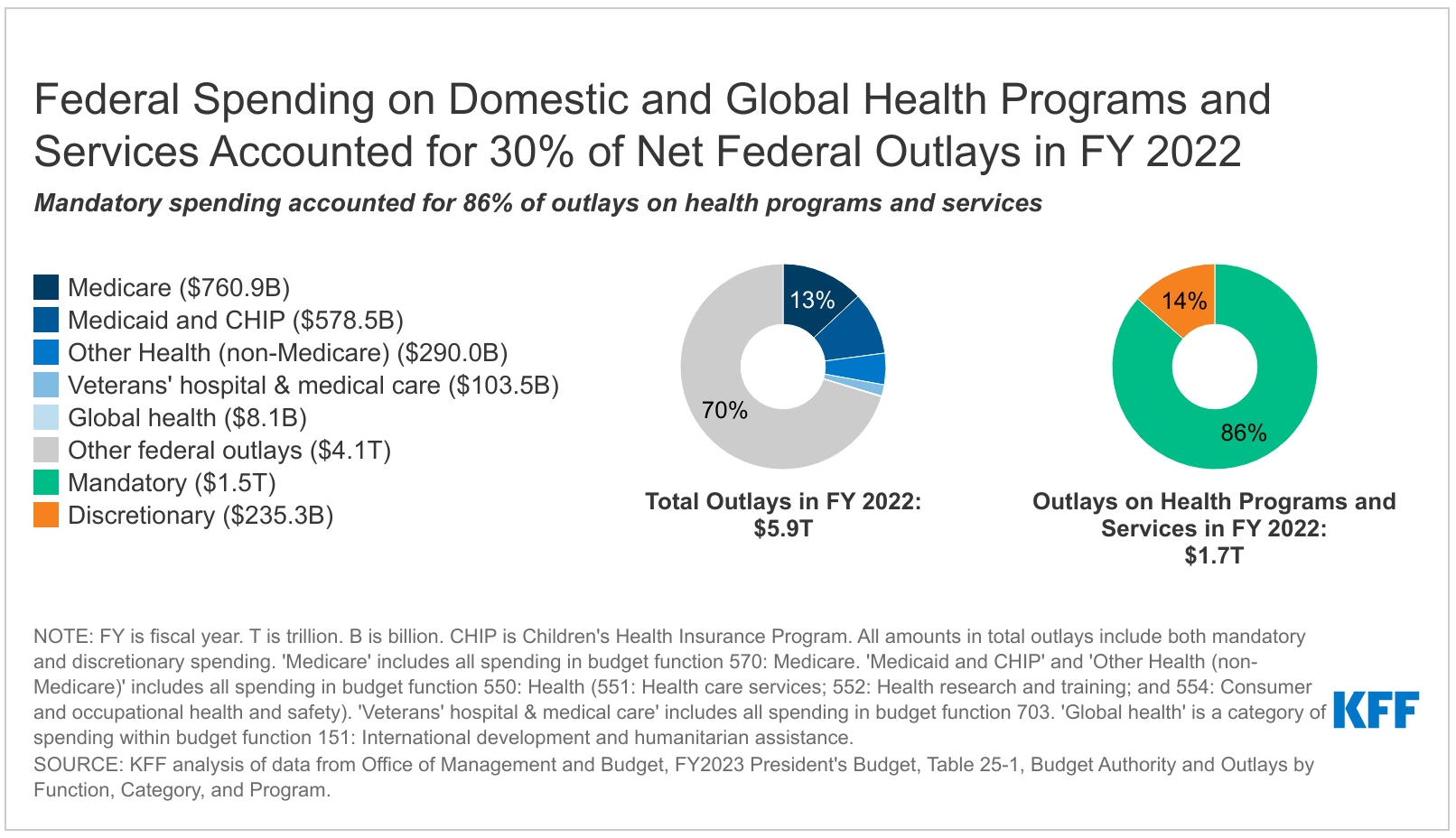 The large majority of federal health spending (86%, or $1.5 trillion) is mandatory spending that is not subject to annual appropriations votes by Congress. This includes nearly all Medicare spending, federal spending on Medicaid and CHIP (which are jointly funded by states and the federal government), and part of the money devoted to premium tax credits for coverage through the ACA Marketplaces, among other categories of spending.  Medicare accounts for half of mandatory spending on federal health programs and services, while Medicaid accounts for another 37 percent.
The federal government also provides several tax benefits that support health-related activities, known as tax expenditures because they result in lower federal tax revenues.
Some Republican lawmakers have pushed for reductions in future federal spending as part of a deal to raise the debt limit. The Biden Administration has said it will not negotiate spending reductions as part of debt limit talks but is open to separate discussions about approaches to debt and deficit reduction.
Members of both major political parties have indicated that cuts to Social Security and Medicare are "off the table" in these discussions, leaving open the question of whether Medicaid, the ACA's premium tax credits, and possibly other health programs and services could be targeted for spending reductions.
Our FAQs answer basic questions about health spending and the federal budget and budget enforcement tools, including the debt limit and sequestration. We include detailed explanations and charts about what counts as mandatory spending and what falls into the category of discretionary spending. The debt limit itself does not directly affect levels of spending by the federal government, including mandatory and discretionary health spending.