With a key source of federal funding set to expire in September, community health centers across the country are considering steps to reduce staffing, close some locations and eliminate or reduce services as they cope with uncertainty about their future financing, according to a new KFF/GWU survey and analysis.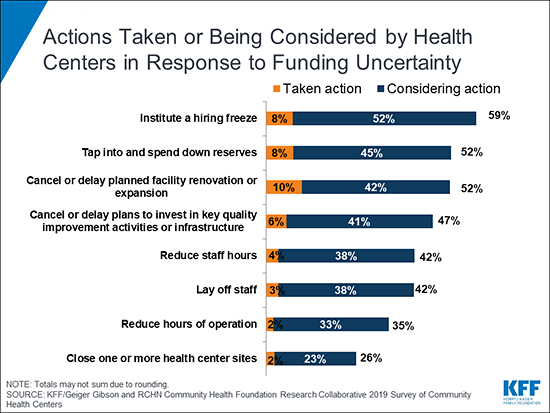 The Community Health Center Fund (CHCF), established by the Affordable Care Act, accounts for 72 percent of health center grant funding and is set to expire at the end of September unless Congress extends it. The fund provided $4 billion in federal money to health centers in fiscal 2019. The CHCF helps 1,362 health centers provide care to 28 million patients annually in medically underserved rural and urban areas in the U.S., including patients who lack health insurance.  It also helps pay for services that typically are not covered by insurance, such as dental care.
The new survey of community health centers, conducted from May to July 2019 and designed and analyzed by researchers at KFF and the Geiger Gibson Program in Community Health Policy at the George Washington University, sheds light on the strain on health centers and their ability to serve low-income patients as they maneuver to prepare for a potential delay in funding.
A small number of health centers have taken steps in response to uncertain funding, and a much larger number are considering such steps, including:
Nearly six in ten (59%) health centers have in place or are considering adopting a hiring freeze, and 42 percent say they are considering laying off staff or reducing staff hours.
Some health centers report they have taken or are considering steps such as reducing operating hours (35%) or closing one or more sites (26%).
Health centers are also considering reductions in services, such as case management and interpretation services (39%), dental services (25%), and mental health services (20%).
Health centers in states that have not expanded Medicaid were more likely to report having taken or considering such reductions.
In 2017, the CHCF lapsed for five months before Congress extended it for two years, and health centers experienced similar disruptions to staffing and services back then due to the delay. In the current Congress, bills have advanced out of committee in the House and Senate that would extend the CHCF at current funding levels for four and five years, respectively, but have not yet gone to a floor vote in either chamber.  Lawmakers will have roughly three weeks to consider such legislation after returning from their August recess before another funding delay – and the potential steps centers may take to cope with it – sets in.
The 2019 Kaiser Family Foundation/George Washington University Survey of Community Health Centers was designed and analyzed by researchers at KFF and GWU, and conducted by the Geiger Gibson Program in Community Health Policy at GWU. The survey was fielded from May to July 2019 and was emailed to 1,342 CEOs of federally funded health centers in the 50 states and the District of Columbia. The response rate was 38%, with 511 responses from 49 states and DC. Additional support for the survey was provided by the RCHN Community Health Foundation.