Brief Examines Per Enrollee Medicaid Spending for Seniors and People with Disabilities, Which Varies Greatly By State
Medicaid coverage of acute and long-term care for more than 6 million low-income seniors and 10 million nonelderly people with disabilities accounts for nearly two-thirds of overall Medicaid spending, although such enrollees represent less than a quarter of people on Medicaid.  Much of Medicaid's spending on seniors and people with disabilities also depends on state decisions about whom to cover and which services to pay for, which is a big reason why Medicaid spending per enrollee for these populations varies greatly from state to state.
A new issue brief from the Kaiser Family Foundation documents that variation and explains how the American Health Care Act's proposed caps on per enrollee Medicaid spending could lock-in these spending differences. The brief also notes that because most age and disability-related Medicaid coverage pathways, as well as many services such as community-based long-term care, are provided at state option, states could potentially cut back on them if faced with federal Medicaid funding reductions over time.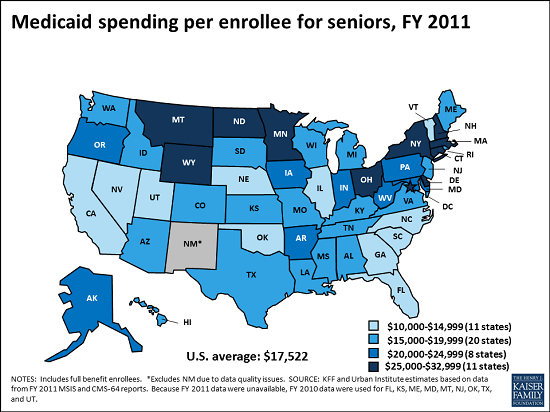 .