Visualizing Health Policy: HIV Awareness and Testing, 2013 and 2014
This Visualizing Health Policy infographic provides a snapshot of HIV-related awareness and experiences among adults in the United States, including two demographic groups that make up a disproportionate share of people with HIV: black adults, and gay and bisexual men. Four in 10 black adults, and more than half of gay and bisexual men said they personally know someone who is HIV-positive (HIV+) or who has died of HIV/AIDS, compared with only 28% of adults in the United States overall. In 2014, only 21% of US adults were aware that consistent antiretroviral treatment can significantly reduce the risk of HIV transmission, and only 14% had heard of a new prevention strategy, preexposure prophylaxis. Awareness was only slightly higher among black adults and gay and bisexual men. Although a majority of US adults said they have been tested for HIV, only 16% reported they've been tested within the past 12 months; these rates were higher for black adults (39%) and gay and bisexual men (30%). More than half of gay and bisexual men said they are aware that it is recommended they be tested for HIV every 3 to 6 months, yet 56% reported that a clinician has never suggested testing.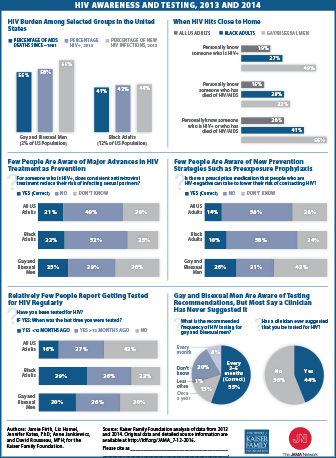 Visualizing Health Policy is a monthly infographic series produced in partnership with the Journal of the American Medical Association (JAMA). The full-size infographic is freely available on JAMA's website and is published in the print edition of the journal.