Visualizing Health Policy: Eligibility and Coverage Trends in Employer-Sponsored Health Insurance
This Visualizing Health Policy infographic looks at eligibility and coverage trends in employer-sponsored health insurance. Between 2000 and 2015, the share of workers covered by health benefits offered by their employers dropped from 63 percent to 56 percent, with some firms not offering coverage and some employees not enrolling when coverage is offered. The biggest decrease occurred among employees working for small firms (3-199 workers). Among people younger than 65, those with lower incomes continued to be less likely to have coverage from an employer-sponsored health plan, as has been the trend since 1999. In 2015, larger firms were more likely than smaller ones to offer health benefits, as were organizations with more higher-wage employees, fewer lower-wage employees, and fewer workers younger than 26. Most large employers offered coverage to spouses and other dependents, while fewer than half of these firms offered coverage to same-sex or opposite-sex domestic partners. Few firms took action in 2015 in response to the Affordable Care Act's employer mandate, including changing some jobs from part-time to full-time so employees would be eligible for coverage.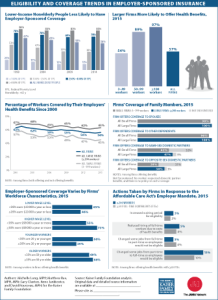 Visualizing Health Policy is a monthly infographic series produced in partnership with the Journal of the American Medical Association (JAMA). The full-size infographic is freely available on JAMA's website and is published in the print edition of the journal.