Medicare: The Basics, A Public Dialogue on Health Care: The Future of Medicare
Medicare: The Basics
Part Two
A Henry J. Kaiser Family Foundation Report
Coverage Under Managed Care Plans and Other Options
The vast majority of Medicare beneficiaries have their health care bills paid directly by Medicare's traditional fee-for-service program. The rest-nearly 6 million people-are covered under managed care plans, mostly HMOs, which contract with Medicare. Since the mid-1980s, a growing number of beneficiaries have elected to receive the benefits covered by Medicare Parts A and B under managed care plans, or health maintenance organizations (HMOs). Compared with traditional fee-for-service Medicare, Medicare HMOs typically have lower cost-sharing requirements and offer more generous benefits, such as outpatient prescription drug coverage.
This picture may change in the future due to the expansion in the number and types of plans that will soon be available to beneficiaries. A new program called Medicare+Choice permits Medicare to contract with other types of private health plans, in addition to Medicare HMOs. Under Medicare+Choice, beneficiaries will have the option to enroll in preferred-provider organizations (PPOs), provider-sponsored organizations (PSOs), and private fee-for-service plans, if offered in their area. They may also choose to be covered by medical savings accounts (MSAs) coupled with high-deductible insurance plans. Beneficiaries who enroll in Medicare+Choice plans will continue to pay the monthly Part B premium, but must get all Medicare-covered benefits through their private plan.
When these new options become available, people on Medicare will have a broader choice of health plans but will not be obligated to make a change in their health insurance coverage. Beneficiaries who are satisfied with their existing coverage, including those who are in the traditional fee-for-service Medicare program, will not be required to change plans.
Under the new Medicare+Choice program beneficiaries will continue to be able to enroll in a plan, switch plans, or disenroll from a plan at any time during the year until 2002 when certain restrictions will go into effect. Beginning in 2003, they will generally be required to stay in their plan until the next annual enrollment period.
---
HMO: Beneficiaries enrolled in an HMO obtain services from a designated network of doctors, hospitals, and other health care providers usually with little or no out-of-pocket payments.
PPO: Beneficiaries obtain services from a network of health care providers established by a health plan. Unlike an HMO, beneficiaries can choose to go to providers who are not in the plan's network and the plan will pay a portion of the costs.
PSO: PSOs are similar to HMOs except they are set up by a group of doctors and hospitals who assume the financial risk of providing comprehensive services to Medicare enrollees.
Private Fee-for-Service: A private indemnity health insurance policy does not limit beneficiaries to using a network of providers. Under this type of plan there is no limit on the monthly premium that beneficiaries may be charged for basic Medicare benefits.
MSA: With this option, offered on a demonstration basis, beneficiaries select a high deductible catastrophic plan. Medicare pays the monthly premium for this plan and makes a deposit into a tax-free medical savings account on behalf of the beneficiary. A beneficiary may draw from their MSA to meet any health care expenses.
---
What's the Medicare Debate About?

As you may already know, Medicare reform is being debated widely. Given the program's popularity and achievements, what's the debate all about? In a nutshell, it is being driven by concern over the cost of the program and financing health coverage for an aging population.

With the growth in the Medicare population, advances in medical technology, and the rise in medical costs generally, Medicare spending has consumed more and more of the federal budget, increasing from nearly 6 percent in 1980 to12 percent today. Rising health care costs under Medicare have resulted in higher payroll taxes to support the program, from 1.05 percent in 1980 to 1.45 percent. Yet even as Medicare's costs are escalating, its benefits package barely covers half of beneficiaries' health care expenses. Nor does it include coverage for extended long-term care services that are important for elderly people.

The Balanced Budget Act of 1997 eased the short-term financial crisis that was facing Medicare only a short while ago by making revisions that extended the life of the Hospital Insurance Trust Fund to cover Part A services for the next decade. Beginning in 2008, as the program is currently structured, there will be insufficient revenues to cover all Part A expenses unless policymakers take action, as they have in the past, to shore up the trust fund. With the decline in the number of workers per Medicare beneficiary, there will be proportionately fewer people contributing payroll taxes to support the growing number of Medicare beneficiaries. This will result in a shortfall for the Part A Trust Fund, but does not affect Part B financing which relies on premiums and general revenues.

In the longer term, Medicare's rolls are projected to swell to 76 million by the year 2030-about twice as many beneficiaries as today due largely to aging of the baby-boom generation and longer life spans of Americans. As the population grows, so too will Medicare spending. Medicare spending is expected to more than double as a share of the nation's economy from 2.6 percent in 1998 to 5.9 percent in 2030.
Policymakers thus face a challenge: finding a way to maintain health insurance coverage for the nation's elderly and disabled people in the future, without placing too great a financial burden either on Medicare beneficiaries or on American taxpayers.
A new 17-member National Bipartisan Commission on the Future of Medicare is charged by the Congress with recommending, in March 1999, ways to strengthen and improve the program in time for the retirement of the baby-boom generation. During its deliberations, the Commission-and indeed the entire nation-will grapple with some tough choices pertaining to Medicare's future.
Should Medicare be restructured into a program that costs less in the future than is currently projected, and perhaps provides less to beneficiaries as a consequence? Or should it be turned into a program that provides better coverage for beneficiaries, but that would probably cost more? Or, are there ways to maintain the current level of coverage under the program while meeting the demands of an aging population?
Numerous reform options are being discussed. Some would reduce the growth in Medicare spending while maintaining the program's basic framework. Examples of this approach include cutting the growth in Medicare payments to hospitals, doctors, and managed care plans; or raising the eligibility age to shrink the number of people on Medicare. Also being debated are ways to generate new revenues, such as asking beneficiaries to pay a greater share of Medicare costs through higher premiums, making wealthier beneficiaries pay higher Part B premiums, or increasing payroll taxes.
Others would fundamentally restructure Medicare itself. One proposal-a "defined contribution" system or "voucher" plan-would have Medicare provide beneficiaries with a choice of health plans and pay a fixed amount per person to help pay for whichever plan the beneficiary selects. Another option would fundamentally restructure today's program, establishing a new system of individual, investment-based health savings accounts. This proposal basically requires workers to save a certain amount of their wages during their working years to pay for medical expenses during retirement.
Others call for improving benefits and the level of financial protection under Medicare, although these would be expensive and would therefore require additional financing. For example, some advocate improving the Medicare benefits package by adding prescription drug and long-term care coverage, or by enhancing financial protections from rising health care costs for poor and near-poor beneficiaries.
Clearly, this debate is likely to be a front-burner policy issue for some time. Changes to the program could have a big impact on the health and financial security of elderly Americans — today and tomorrow. Whether you are young, old, or somewhere in between, it's important to understand the basics as the debate over Medicare's future evolves.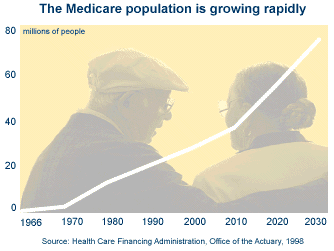 ---
Medicare: The Basics was prepared for A Public Dialogue on Health Care: The Future of Medicare, a joint project of The League of Women Voters Education Fund and The Henry J. Kaiser Family Foundation, launched in the fall of 1998. This report was edited by Lynn L. Lewis and designed by Gibson Creative.

The League of Women Voters Education Fund encourages informed and active participation of citizens in government and works to increase understanding of major public policy issues. It complements the membership and political advocacy activities of The League of Women Voters of the United States.

The Henry J. Kaiser Family Foundation is a nonprofit, independent health care philanthropy and is not associated with Kaiser Permanente or Kaiser Industries.
Return to top
Medicare: The Basics
Part One Part Two Options for Reform