How Health Insurers Responded to Applicants with Pre-existing Conditions Before and After the Affordable Care Act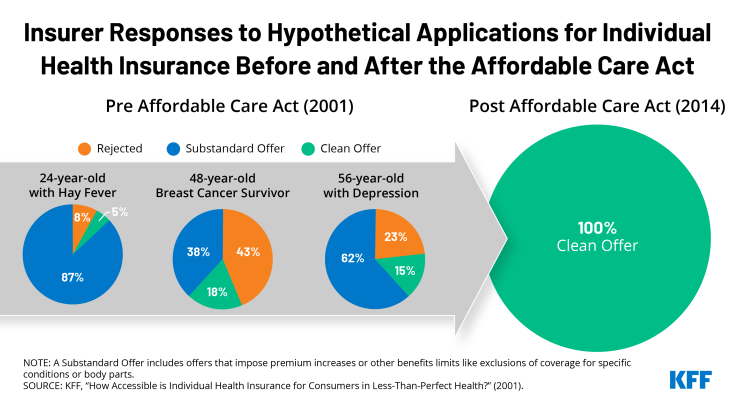 The fate of the Affordable Care Act (ACA) is again in doubt, with the Supreme Court set to hear arguments in California v. Texas days after the Presidential election. With protections for people with pre-existing conditions (among others) at risk, it is worth revisiting what it was like for people with pre-existing conditions to obtain coverage before this law.
Pre-ACA, health insurance in the individual market was medically underwritten in most states.  That means applicants could be turned down, charged more, have their pre-existing condition excluded, or face other limits on covered benefits based on their health status.  More than 50 million Americans have a condition, such as diabetes or past heart attack, that would have made them "uninsurable" in the pre-ACA individual market. Taking into account less severe conditions, such as asthma or high cholesterol, millions more have pre-existing conditions that would make it harder to buy medically underwritten coverage.
In 2001, KFF examined how individual market insurers would treat applications from people in less than perfect health. In one scenario, a young woman with Hay Fever was rejected 8% of the time.  The vast majority (87%) of offers she did receive surcharged premiums or put limits on her benefits, including riders to eliminate coverage for her Hay Fever, prescription drugs, or her upper respiratory system. In another scenario, a seven-year breast cancer survivor was denied coverage 43% of the time; on 39% of her applications she was offered policies with surcharged premiums or benefit limits including permanent exclusion of cancer coverage.  Yet another applicant with HIV was denied 100% of the time.
By contrast, the ACA prohibits individual market insurers from denying coverage or charging higher premiums based on health status.  It also prohibits pre-existing condition exclusion periods and requires policies to cover essential benefits.
Source