Immigration Status and Fears Pose Challenges to Further Expanding Coverage Among Hispanics
Affordability Key Obstacle to Enrollment for Those Who Remain Uninsured
MENLO PARK, Calif. — Nearly six in 10 (58%) previously uninsured Californians report getting health insurance since last summer, finds the second wave of the Kaiser Family Foundation's Longitudinal Panel Survey following the experiences of a randomly selected  panel of uninsured Californians under the Affordable Care Act (ACA). Based on official estimates of the state's uninsured population last year, this would mean approximately 3.4 million previously uninsured adult Californians gained coverage.
The largest share of previously uninsured Californians gained coverage through the state's Medicaid program, Medi-Cal (25%), followed by those gaining coverage through an employer (12%) or Covered California (9%). Another 5 percent say they obtained other individual market coverage.
The share gaining coverage was similar among whites (61%), blacks (62%) and Hispanics eligible for coverage (61%). Among all previously uninsured Hispanics, including those whose immigration status makes them ineligible for Medi-Cal or Covered California, half (52%) gained coverage.
Four in 10 residents (43%) who had never previously had insurance gained coverage. Outreach played a role in expanding coverage, as a larger share of those who report being contacted about signing up for health insurance say they gained coverage than the share among those who were not contacted (69% vs. 52%). Most of those who gained coverage from Medi-Cal or Covered California say that someone helped them to sign up (60%).
"Our follow-up survey shows a large share of previously uninsured Californians, whether white, black or Hispanic, gained coverage, but expanding coverage gets harder from here," Foundation CEO and President Drew Altman said. "Most of those who remain uninsured have gone years without coverage, and many are immigrants who don't qualify or are worried about drawing attention to family members' immigration status."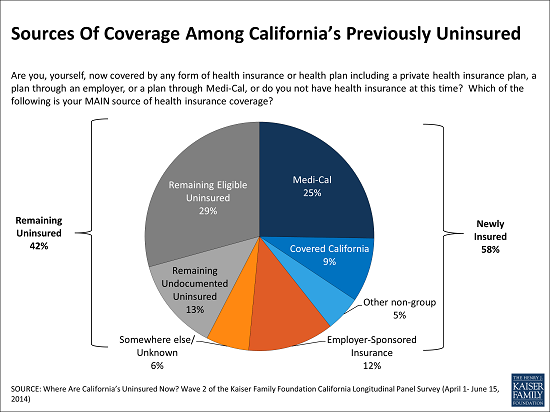 This second wave of the Kaiser Family Foundation's longitudinal panel survey series was in the field April 1 to June 15 to assess the impact of the law to date on state residents who were uninsured prior to open enrollment.
Most Newly Insured Say Coverage is Good Value, Though Affordability Still an Issue
When asked to name the reason why they got covered in their own words, a fifth (21%) of the newly insured volunteer that they were motivated by the ACA and wanted to avoid the penalty for not having health insurance. Others say they got it because of issues with their health (17%), as a safeguard against emergencies and high medical bills (14%), or for more general health needs and preventive care (13%).
Most of the newly insured say their plan is a good value for the amount they pay (73%) and report feeling well protected by their plan (64%). More say that gaining coverage has made them feel more financially secure than less secure (37% vs. 16%), though nearly half (46%) of those newly insured in plans other than Medi-Cal say that paying for coverage is difficult.
The majority of the newly covered say it was easy to find the information they needed about enrolling (80%) and to sign up for coverage (76%). Confirming enrollment, however, created challenges for some enrollees.  About three in ten (29%) of those who enrolled in Medi-Cal and about four in ten (42%) of those who enrolled through Covered California say this was "very" or "somewhat" difficult. Significant shares also reported it was difficult to determine if their income qualified them for assistance.
"By tracking how California's uninsured residents fared, our survey sheds light on the best opportunities and ongoing challenges for those making plans for the next round of open enrollment," said Foundation Senior Vice President Mollyann Brodie, executive director of the Foundation's Public Opinion and Survey Research.
Most of Remaining Uninsured are Hispanic, Have Gone Years Without Coverage
Among the 42 percent who remain uninsured, many have characteristics that traditionally make them hard to reach with health coverage. Among this group, 37 percent say they have never had health insurance, and another 45 percent say they have been uninsured for two or more years. Most have low-to-moderate incomes.
About six in 10 (62%) of the remaining uninsured are Hispanic, and nearly half of this group is not eligible for coverage through Covered California or Medi-Cal due to their immigration status. In addition, most remaining uninsured Hispanics (54%), and 37 percent of those Hispanics eligible for ACA coverage options, say they worry that enrolling in coverage would bring attention to their family's immigration status even though federal immigration officials have said they will not use application information as the basis for enforcing immigration laws in a Department of Homeland Security policy issued in October of 2013.
Cost also remains a barrier for those still uninsured.  When asked to say in their own words why they didn't have coverage, a third (34%) point to costs as the reason — far more than cited any other reason. This is true even though most of the remaining uninsured say insurance is something they need (71%) and is worth the costs (59%).
In contrast to those who gained coverage, most people who tried to get coverage but remain uninsured say that shopping was difficult. At least two-thirds of those who tried say that it was hard to find a plan that met their needs (76%); and difficult to compare covered services (71%), out-of-pocket costs (69%), and monthly premiums (67%).  A majority (58%) also say it was difficult to find the information they needed about signing up.
The new survey is based on a second round of interviews with the same randomly selected 2,001 uninsured Californians in last year's baseline survey to see how their circumstances changed, how the law affected them, and how their knowledge and perceptions changed since the start of open enrollment. Where Are California's Uninsured Now? Wave 2 of the Kaiser Family Foundation California Longitudinal Panel Survey is available online. Fieldwork for the panel survey is supported by a grant from The California Endowment.
METHODOLOGY SUMMARY
This survey, the second in the series based on the Kaiser Family Foundation California Longitudinal Panel Survey Project, was designed and analyzed by researchers at the Foundation. The second wave of the survey was conducted primarily by telephone from April 1-June 15, 2014 among 1,219 individuals who had participated in the baseline survey. The baseline survey was conducted from July 11-August 29, 2013 with a representative sample of 2,001 adults ages 19 to 64 living in California who reported having been without health insurance for at least two months at the time of the survey. Interviews were carried out in English and Spanish by SSRS, an independent research company.  The panel survey estimates the percentage of the previously uninsured who gained coverage and does not estimate the overall change in the number of uninsured Californians because it does not include anyone who may have been insured prior to open enrollment but is now uninsured. The margin of sampling error is plus or minus 4 percentage points for results based on the full sample, 5 percentage points for newly insured Californians, and 7 percentage points for those Californians who remain uninsured. For other subgroups, the margin of sampling error may be higher.