Somewhat More Want President Trump and Republicans to Continue Working on ACA Repeal and Replace than Want Them to Move onto Other Priorities
With President Trump and Congress continuing to discuss repealing and replacing the Affordable Care Act, a majority of the public opposes using hard-ball tactics as a way to force Democrats in Congress to negotiate a replacement, the latest Kaiser Health Tracking Poll finds.
President Trump recently suggested that his administration and Congress could push Democrats to negotiate a replacement to the Affordable Care Act by stopping payments for the law's cost-sharing reductions, which experts say would likely cause insurers to raise premiums or stop offering coverage through the ACA's marketplaces.
The poll finds six in 10 (60%) of the public think President Trump should not try to pass an ACA replacement plan using negotiating tactics like these that could disrupt the ACA's insurance marketplaces and cause people to lose health coverage. While majorities of Democrats (82%) and independents (66%) oppose such tactics, two thirds of Republicans (67%) instead say President Trump should use whatever negotiating tactics are necessary to win support for a replacement plan.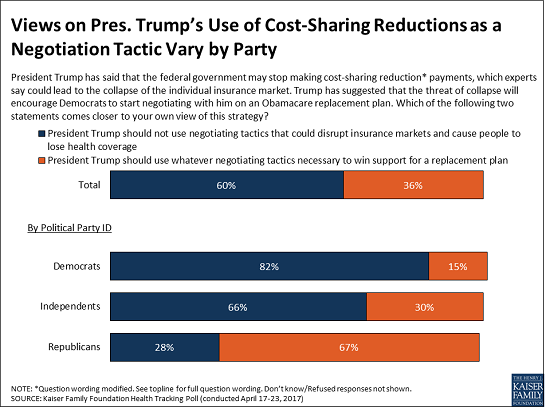 The poll also finds that most Americans (70%) say the uncertainty around the law's future is hurting one of the groups most directly affected by the law – people who buy their own health insurance. A similar majority (65%) say that insurers deciding not to sell insurance plans in certain marketplaces is a "big problem" across the country, though fewer (43%) say this about insurers in their local area. These perceptions are similar across party lines.
Public Sees President Trump and Republicans in Congress as Controlling the ACA's Future
Other findings in the poll suggest the public believes President Trump and Republicans in Congress hold the future of the ACA in their hands. For example:
When asked how much control, if any, various groups have over whether the current health care law works or fails, large majorities of the public say Republicans in Congress (80%) and President Trump and his administration (75%) have at least some control. Smaller shares say Democrats in Congress (56%), their own representatives in Congress (51%), or their state's governor (48%) have at least some control.
Three quarters (74%) of the public say President Trump and his administration should do what they can to make the current health care law work, while one-fifth (19%) say they should do what they can to make the ACA fail so they can replace it later. Among President Trump's supporters, half (53%) say his administration should try to make the law work.
A majority (64%) of the public, including most Republicans (53%), say that because President Trump and Republicans in Congress are now in control of the government, they are responsible for any problems with the ACA moving forward. That's more than twice the share (28%) who say that President Obama and Democrats in Congress are responsible because they passed the law. The share of Republicans who say President Trump and Republicans in Congress are responsible is up significantly from 34 percent in early April.
This month, the public is more favorable than unfavorable in their views of the ACA overall, with 48 percent holding favorable views and 41 percent holding unfavorable ones. However, more Americans say they want President Trump and Republicans in Congress to continue working to repeal and replace it (51%) than say they want them to move on to other priorities (43%). There are big partisan divisions on both questions, with Republicans far more likely to view the ACA unfavorably (72%) and to want work to continue on repealing and replacing the law (82%).
Majorities Favor Spending Increases for Veteran's Care, Medicare and Medical Research
With Congress facing a key budget deadline Friday, the poll finds few Americans want to see decreases in most health areas. In fact, majorities say they want the president and Congress to increase spending on veteran's medical care (77%) and medical research to find cures for major illnesses (58%). In addition, more people say they favor increases rather than decreases in funding for many other areas, including Medicaid (40% increase, 12% decrease) and reproductive health services (36% increase, 21% decrease). The only area that more people say they want to see spending decrease than increase is for efforts to improve health for people in developing countries (33% decrease, 19% increase).
One potentially contentious issue in the budget involves efforts by some Republicans to prevent Planned Parenthood from receiving any government funding, including federal payments for non-abortion services provided to low-income women through state Medicaid programs.
The poll finds three quarters (73%) of the public favor continuing to such payments to Planned Parenthood, with a quarter (24%) saying all federal payments to the organization should stop. Few (10%, overall) say stopping these payments is important enough to shut down the federal government.
Designed and analyzed by public opinion researchers at the Kaiser Family Foundation, the poll was conducted from April 17- April 23 among a nationally representative random digit dial telephone sample of 1,171 adults. Interviews were conducted in English and Spanish by landline (421) and cell phone (750). The margin of sampling error is plus or minus 3 percentage points for the full sample. For results based on subgroups, the margin of sampling error may be higher.