Public's View of the Health Care Law Remains Nearly Evenly Divided Immediately Following King v. Burwell Ruling
Nearly Eight in 10 Americans Expect More Major Battles about the ACA in the Future
Just over six in 10 Americans (62%) say they approve of the U.S. Supreme Court's decision last week to continue allowing low- and moderate-income people in all states to be eligible for government subsidies to buy health plans through Affordable Care Act (ACA) insurance marketplaces, finds the Kaiser Family Foundation's latest tracking poll. About one third (32%) say they disapprove of the ruling.
Although Democrats are more likely to approve of the King v. Burwell decision, and Republicans are more likely to disapprove, about three in 10 Republicans (29%), and a similar share of those who view the law unfavorably (30%), approve of the ruling.
The public's approval of the King v. Burwell decision is higher than it was following the Supreme Court's 2012 ruling that upheld most major provisions of the health care law. About half (47%) approved and 43 percent disapproved of the ruling in that case, according to the June  2012 Kaiser Health Tracking poll.
Despite the majority's favorable opinion of the King v. Burwell decision, though, the new poll finds the public's view of the ACA remains largely unchanged immediately after the June 25 ruling, with 43 percent viewing it favorably and 40 percent unfavorably.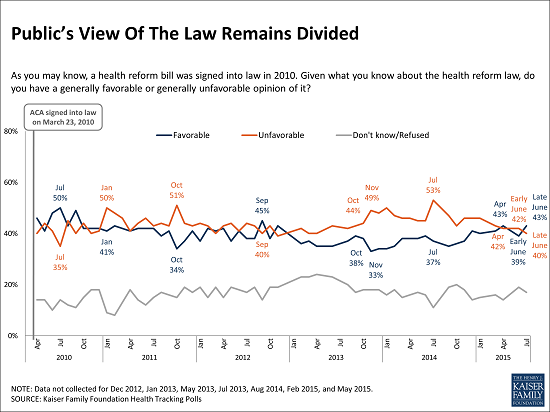 Additionally, a large majority don't think the case will end debate on the health care law.  Nearly four-fifths (78%) say they expect more major battles on the ACA in the future, compared to 18 percent who think King v. Burwell will be the last. Half (51%) think it's important to continue the debate, while 44 percent say they are tired of hearing about the law and think the country should focus more on other issues.
King v. Burwell attracted little notice from the public, although attention inched up in recent months. Immediately after the ruling, 39 percent say they've heard a lot or some about the case, up from 27 percent earlier in June.  However, a majority (61%) report hearing only a little (30%) or nothing at all (31%) about the lawsuit.
The poll was designed and analyzed by public opinion researchers at the Kaiser Family Foundation, and was conducted from June 25-29, 2015 among a nationally representative random digit dial telephone sample of 1,202 adults. Interviews were conducted in English and Spanish by landline (482) and cell phone (720). The margin of sampling error is plus or minus 3 percentage points for the full sample. For results based on other subgroups, the margin of sampling error may be higher.