Heading into tonight's Democratic primary debate, most Democrats and Democratic-leaning independents say the candidates are spending the right amount or too much time talking about ways to provide coverage to more Americans and Medicare-for-all, two topics that have dominated health care discussions in the past three rounds of Democratic debates, the latest KFF Health Tracking Poll finds.
In contrast, large shares of Democrats and Democratic-leaning independents say that the presidential candidates are spending too little time on other health care issues such as women's health care, including reproductive health services (58%), surprise medical bills (52%), and lowering the amount people pay for health care (50%).
Medicare-for-all and other approaches to expand public coverage have gotten substantial attention at prior debates, and critics have focused their attacks on Medicare-for-all, which would create a single government health plan that would cover all Americans.
Amidst this attention, the new poll finds about half (51%) of the public now favors a Medicare-for-all plan, down 5 percentage points since April. Nearly as many (47%) now oppose a Medicare-for-all plan, up significantly since April (38%).
The poll also finds more than seven in 10 (73%) now favor a government-run "public option" plan available to all Americans that would compete with private health insurers, while one in four (24%) are opposed.
More Americans, Including Seniors, Trust Democrats than Republicans on Health Care
President Trump warned seniors in an Oct. 3 speech in Florida that Democrats would harm their health care. Fielded after the President's speech, the poll finds more seniors trust the Democratic Party than the Republican Party on health care overall (45% v. 35%), as well as on making sure seniors can get needed care (49% v. 33%), and lowering drug costs (46% v. 34%).
The broader public also trust Democrats more than Republicans on health care overall (44% v. 29%), as well as on the future of Medicare (47% v. 35%), making sure seniors can get needed care (51% v. 32%), and lowering drug costs (49% v. 30%).
Not surprisingly, majorities of partisans trust their own party to do a better job on each of these issues. Independents are more likely to trust the Democrats than Republicans, though about a third (32%) say they don't trust either party when it comes to handling health care.
Large Majorities across Parties Favor Government Negotiations to Lower Drug Prices, Though Counterarguments Significantly Dampen Support
As Congress weighs options to lower what people pay for prescription drugs, large majorities continue to favor a range of actions, including allowing the government to negotiate with drug companies to get a lower price for people with Medicare (88%), or for both people with Medicare and private insurance (85%). This includes large majorities of Democrats, Republicans and independents.
About seven in 10 (72%) – including a similar share of Republicans (69%) also favor increasing taxes on drug companies that refuse to negotiate with the government.
The poll also tests common arguments made for and against allowing the federal government to negotiate with drug companies to obtain lower prices and finds that some arguments can significantly affect public support.
For example, two thirds (65%) say they oppose government negotiations after hearing the argument that it could limit access to new prescription drugs, and nearly as many (62%) oppose it after hearing it could lead to less research and development of new drugs. On the flip side, support is as high as 89% when people are told that government negotiations could help people save on their drug costs.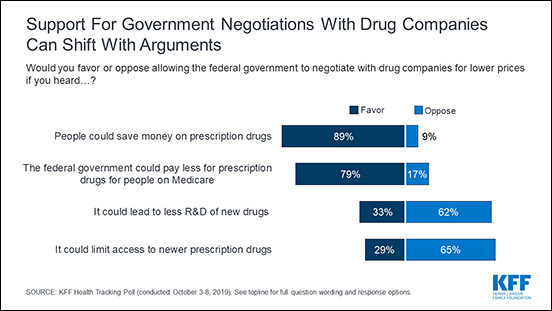 Other proposals aimed at lowering prescription drug costs are also popular, including: placing an annual limit on out-of-pocket costs for seniors in Medicare drug plans (81%); allowing Americans to buy drugs imported from licensed Canadian pharmacies (78%); allowing Medicare to limit drug companies' price increases based on annual inflation rates (76%); and setting Medicare prices based on prices in other countries with more government control (62%). Majorities of Democrats, independents and Republicans favor each of these options.
The public is divided on whether Congress can pass legislation on issues such as drug costs and surprise medical bills at the same time it is working on impeachment, with nearly equal shares saying Congress can do both (45%) as saying impeachment will prevent action on those issues (47%). Most Republicans (78%) and just over half of independents (53%) say impeachment will keep Congress from passing such legislation, while most Democrats (79%) say Congress can do both.
Nearly Two Thirds of the Public Do Not Want the Courts to Overturn the ACA's Pre-Existing Condition Protections, Though Nearly Half of Republicans Do
The poll also looks at the public's views on a pending court case that could overturn all or parts of the Affordable Care Act. A federal judge in Texas last year ruled in favor of conservative state attorneys general that the entire law was invalid since Congress zeroed out the penalty. The Trump Administration subsequently expressed its support for eliminating the entire ACA, including the provisions that prevent insurance companies from discriminating against people with pre-existing conditions. An appeals court is now weighing its decision in the case, and the results could eventually end up before the Supreme Court.
The poll finds the public narrowly divided on whether the Supreme Court should overturn the entire ACA, with 43% favoring such a decision and 48% opposing it. This reflects partisan views of the law itself, with most Republicans (75%) wanting it overturned, most Democrats (69%) wanting to keep it, and independents falling in between (51% want to keep it, 40% want it overturned).
At the same time, most (63%) do not want to see the Supreme Court overturn the law's protections for people with pre-existing condition protections. This includes most Democrats (71%) and independents (73%). Among Republicans, 47% say they want the court to overturn those protections and 42% say they do not.
The poll finds half (51%) of the public views the ACA favorably this month, while 40% view it unfavorably. The split is similar to other KFF polls over the past two years since President Trump and Republicans in Congress attempted to repeal the 2010 law.
Designed and analyzed by public opinion researchers at KFF, the poll was conducted October 3-8, 2019 among a nationally representative random digit dial telephone sample of 1,205 adults. Interviews were conducted in English and Spanish by landline (300) and cell phone (905). The margin of sampling error is plus or minus 3 percentage points for the full sample. For results based on subgroups, the margin of sampling error may be higher.