With a divided Congress expected to weigh spending cuts during its debt ceiling and budget debates, the latest KFF Health Tracking Poll finds that the public has broad concerns about Medicare's sustainability for the future but mostly views the debate about Medicare cuts as largely politics.
About eight in 10 (81%) adults – including similar shares of Democrats, independents and Republicans – say they worry Medicare will not be able to provide the same level of benefits in the future as it provides to seniors today. Many (73%) believe changes need to be made to Medicare to keep it going. At the same time, a large majority (79%) says the back-and-forth between Republicans and Democrats about Medicare cuts is more about both sides playing politics, while one in five (19%) say the debate reflects actual policy plans.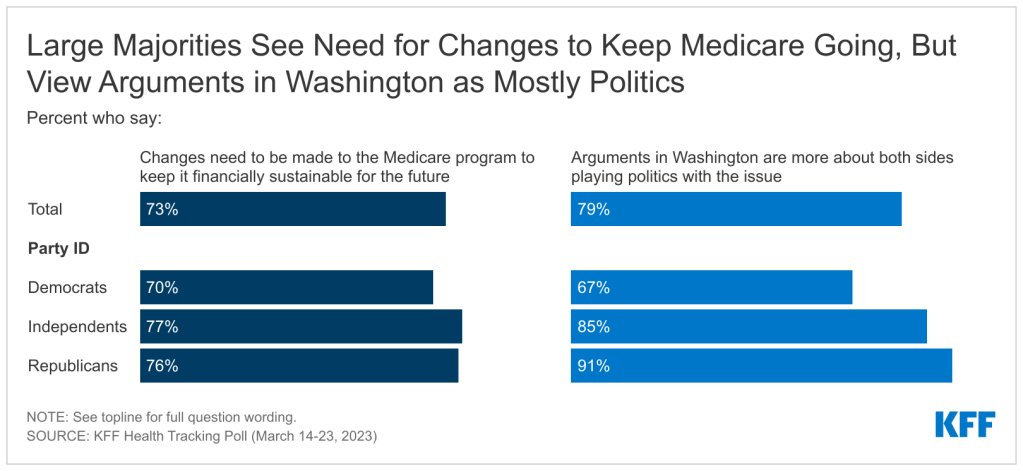 Overall, about eight in 10 adults (81%) view Medicare positively, including similarly large majorities of Democrats, independents and Republicans.

Three in four (76%) also view the Medicaid program favorably, including two-thirds of Republicans (65%). Most (69%) say that Medicaid is working well for the low-income people it covers, including similar shares across partisans.
About two thirds (66%) of the public say they have a connection to the Medicaid program, either because they have been covered through Medicaid or because they have a child, family member or close friend who has. Republicans with a personal connection to Medicaid are more likely than those who lack such a connection to view the program favorably (70% v. 55%).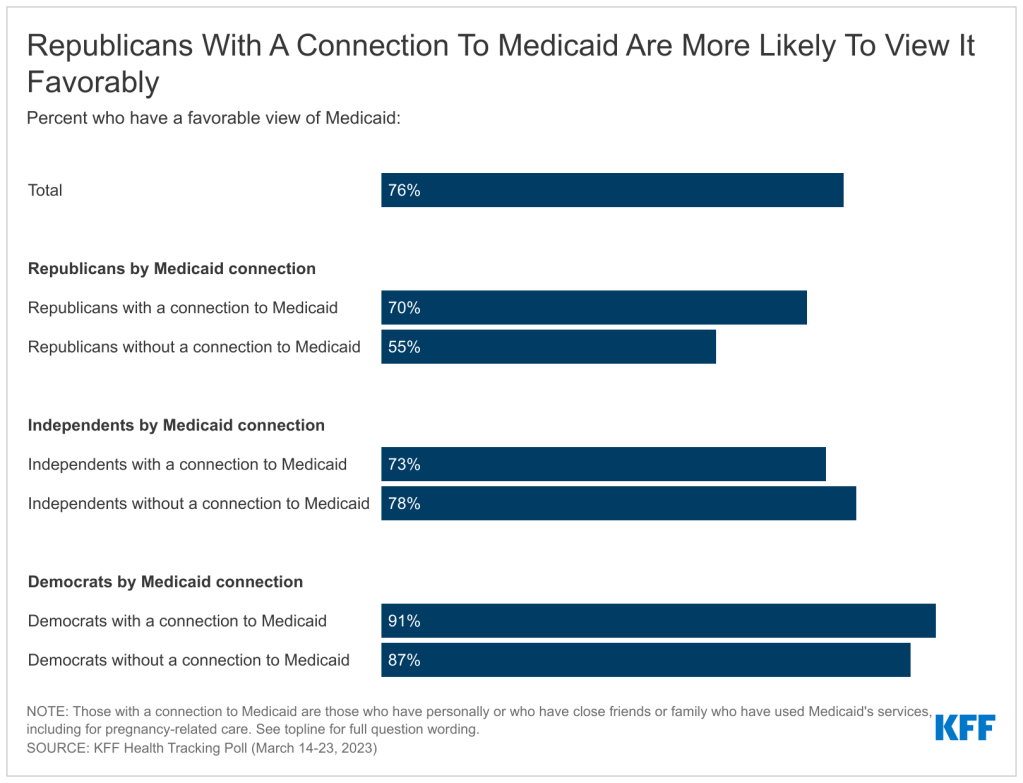 In addition, most of the public view Medicaid primarily as a health insurance program (61%) rather than a welfare program (37%), though there are partisan differences.

Most Democrats (79%) and independents (60%) view Medicaid primarily as health insurance, while Republicans are narrowly more likely to view it as a welfare program (54% v. 45%). Among Republicans, those with a personal connection to Medicaid mostly view it as health care (55%), while those without such a connection mostly view it as welfare (73%).
Other findings include:
Most of the public views the Affordable Care Act (ACA) favorably (62%), though with a big partisan divide. Most Republicans (70%) continue to hold unfavorable views of the law, while most Democrats (90%) have favorable views.
About two-thirds (65%) of people living in the 10 states that have not approved the ACA's Medicaid expansion want their state to do so to cover more low-income uninsured residents.
METHODOLOGY

Designed and analyzed by public opinion researchers at KFF, the survey was conducted from March 14-23, 2023, online and by telephone among a nationally representative sample of 1,271 U.S. adults, in English and in Spanish. The margin of sampling error is plus or minus 3 percentage points for the full sample. For results based on other subgroups, the margin of sampling error may be higher.