A Kaiser Family Foundation poll of Kentucky residents finds that after much discussion of the issue in the state, health care is the top issue residents want state lawmakers to address, and a strong majority opposes scaling back the state's Medicaid expansion to cover fewer people as new Gov. Matt Bevin proposed during his winning campaign.
About seven in ten Kentuckians (72%) say they would prefer to keep the state's Medicaid expansion as it is today rather than change it to cover fewer people. A much smaller share (20%) say they would prefer to scale back the expansion to cover fewer people.
Taken before Gov. Bevin's inauguration on Tuesday, the poll finds Republicans in the state are more divided about the Medicaid expansion, but a majority (54%) favors keeping it over changes that would reduce the number of people with coverage. Among those who say they voted for Gov. Bevin on Nov. 3, somewhat fewer (43%) support the Medicaid program as it exists, while half (50%) say they want it scaled back to cover fewer people.
"Kentuckians don't particularly like the Affordable Care Act, but they do like their state's Medicaid expansion and marketplace, and most want to keep them," Foundation CEO and President Drew Altman said. "The findings in a red state may show other governors considering expansion that it could be equally popular with their state's residents, and illustrate to Republicans in Washington how difficult it may be to take away health coverage from people who have it."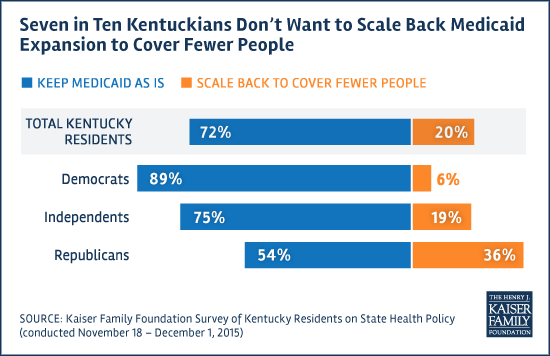 When read arguments in support of scaling back Medicaid expansion, relatively few residents change their minds, and a majority continues to oppose covering fewer people. For instance, after being told that the incoming governor has called the current Medicaid program "unsustainable" and "unaffordable," 59 percent still say they want Medicaid kept as it is today, while 8 percent change their mind, bringing the share who want the program to cover fewer people up to 28 percent.
A narrow majority (52%) also say they want the governor-elect to keep Kynect, while a quarter of residents (26%) want him to switch to the federal marketplace. Majorities of Democrats (70%) and independents (52%) prefer to keep Kynect, while Republicans are more evenly divided (38% want to switch to the federal marketplace and 35% want to keep Kynect). Among those who report voting for Gov. Bevin, twice as many want to switch to the federal marketplace as want to keep the state-run marketplace (53% versus 24%).
Overall, about half of Kentuckians (49%) view the Affordable Care Act unfavorably, while fewer (41%) report a favorable view.  Residents also are more likely to see the law's coverage expansions as a net drain on the state's finances, as Gov. Bevin has argued. Twice as many say the programs' impact on the state budget has been negative (37%) as say it has been positive (18%). Majorities among Republicans (57%) and those who report voting for Gov. Bevin (66%) say the coverage expansions are having a negative impact on the state budgets.
During his inaugural speech Tuesday, Gov. Bevin said he plans to reshape Kentucky's Medicaid expansion through a federal waiver similar to the one in Indiana. During his campaign, he suggested changes including limiting new enrollment, tightening up eligibility and requiring enrollees to pay more. He also said Tuesday that he would end the state-run health insurance marketplace, Kynect, requiring eligible residents instead to use the federal Healthcare.Gov marketplace to obtain subsidized private health insurance.
This is second time the Foundation has surveyed Kentucky residents, following a survey conducted in partnership with the New York Times in April 2014. The new survey finds Kentucky residents rank health care as the top issue for state policymakers to address, with about a quarter (24%) naming it as one of their top two issues in an open-ended question. Fewer name jobs (14%), education (11%), crime (7%) or any other issue facing the state. Among those who say they voted in the gubernatorial election, health care is named as a top priority a larger share of those who report voting for the Democratic nominee Jack Conway (42%) than of those who say they voted for Gov. Bevin (28%).
The poll also probes Kentucky residents' awareness and knowledge about the coverage expansion in their state, which has seen a significant reduction in its uninsured rate. Most residents (61%) say that the Medicaid expansion and Kynect have reduced the number of uninsured residents in their state, though almost four in ten (37%) believe the programs have led to many Kentucky residents becoming uninsured.
Residents' views are also somewhat divided when it comes to how Kynect and Medicaid expansion have affected health insurance affordability and access. Over a third (36%) say the programs have made insurance more affordable for people in Kentucky, but about the same share (32%) say they've made it less affordable. Views are also divided on access to insurance: 41 percent say Kynect and Medicaid expansion have made it easier for people in the state to get and keep health insurance, while somewhat fewer (29%) say they've made it harder.
The poll was designed and analyzed by public opinion researchers at the Kaiser Family Foundation and was conducted from Nov. 18 to Dec.1 among a representative random digit dial telephone sample of 1,017 Kentucky residents. Interviews were conducted by landline (401) and cell phone (616). The margin of sampling error is plus or minus 4 percentage points for the full sample. For results based on subgroups, the margin of sampling error may be higher.