California's Uninsured Struggle With Costs and Access And Say They Want Insurance, But Most Have Heard Little About The Affordable Care Act, And Many Who Are Likely To Be Eligible For Medi-Cal or Exchange Subsidies Don't Know It
Many Undocumented Immigrants in CA Think They Will Get Coverage Through the ACA But Won't
Menlo Park, Calif. – California's uninsured are skipping medical care, struggling with costs and want coverage, but many report knowing little about the Affordable Care Act's new coverage options. The majority who are likely to be eligible for subsidies in the state's new insurance marketplace don't realize it, and almost half who are likely to be eligible for Medi-Cal are similarly unaware, according to the first wave of a comprehensive panel survey which will follow the same 2,000 randomly selected uninsured Californians as they and their families experience Obamacare over the next two years.
Many undocumented immigrants among the uninsured have the reverse problem. Almost half believe they will be eligible for either Medi-Cal coverage or exchange subsidies under the law although they won't be.
The first wave of the Kaiser Family Foundation's panel survey project was in the field July 11 to August 29 to gauge the circumstances of uninsured people in California before open enrollment for the ACA begins Oct. 1, as well as their familiarity with the law and the ways it will affect them.
Each wave of the survey will produce data at a different point in the implementation process. Drawing on the individuals in the survey panel, the Foundation will also produce representative profiles of the uninsured and their families and how they are affected by the changes brought about by the law. The uninsured people in the panel who have volunteered to do so can be made available to news organizations interested in profiling them as they cover the implementation of Obamacare. The Foundation's news service, Kaiser Health News, will also be undertaking a special reporting project based on the panel survey.
"As we follow these randomly selected 2,000 uninsured residents of our home state through their experiences with the ACA, we will have an unprecedented opportunity to assess the impact of the law on people's lives as well as give them a voice in the public verdict about the law," said Drew Altman, president of the Foundation, which is based in Menlo Park, Calif.
The first survey finds that nearly three-quarters of uninsured people whose income would put them in line to receive subsidies in the state's marketplace, Covered California, either said they do not know if they are eligible to get financial assistance to help pay for health insurance (31%) or think they will not be eligible for assistance (43%). And 47 percent of the uninsured with incomes that would make them eligible for Medi-Cal either don't know if they will qualify (21%) or believe they will not (26%).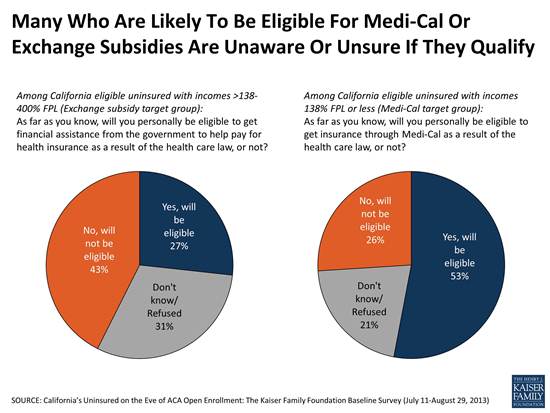 California's Uninsured
About two-thirds of the eligible uninsured — U.S. citizens or legal permanent residents who would be eligible to take up the new coverage options in the ACA — have gone without coverage for two years or more, and roughly one in five have never had health insurance. Cost is the reason they cite most, followed by job loss.
Although the majority are employed, most of California's uninsured (57%) describe themselves as financially insecure, with 84 percent saying their family finds it difficult to afford health care. Nearly two-thirds (64%) say they've gone without needed health care because of cost. Half have skipped a recommended medical test or treatment, and four in 10 have not filled a prescription, cut pills in half or skipped doses of medicine.
Four in 10 say they have had trouble paying the medical bills they did incur. And three-quarters say they are "very worried" about being unable to pay medical bills if they were in an accident or had a serious illness.
"The health cost burdens and access barriers California's uninsured report to us in this pre-enrollment survey are striking. Whether you favor or oppose Obamacare, there should be no question about their need for coverage," Altman said.
Views and Awareness of ACA
Overall, California's eligible uninsured are more likely to hold a favorable view of the ACA (48% view it favorably vs. 30% unfavorably) than are the uninsured nationally (36% favorable, 38% unfavorable, according to the August Kaiser Health Tracking Poll). Moreover, more than twice as many of California's eligible uninsured believe the law will improve their ability to get and keep health insurance (40%) as believe it will make getting insurance more difficult (17%). A little more than a third (37%) don't expect the law to make a difference either way.
As of the end of August, about one in five eligible uninsured (22%) reported seeing an ACA-related ad, with TV the most frequently named medium, followed by radio. Overall, six percent of the uninsured say such advertising had prompted them to seek more information about the law. Seventy percent of the uninsured said they lack enough information to understand how the ACA will affect their family.
"The uninsured face a steep learning curve," said Mollyann Brodie, a Kaiser Senior Vice President and head of the Foundation's Public Opinion and Survey Research team. "The outreach and enrollment campaigns have intensified since we completed this first wave survey, and this group really needs that information and assistance to understand their options under the ACA."
California's uninsured want coverage
The uninsured say they need coverage, and the survey finds they would want to sign up for it if their confusion over their eligibility can be cleared up. Eight in 10 uninsured Californians eligible for coverage in the expanded Medi-Cal program or through Covered California say they do feel they need to have health insurance coverage. That includes 72 percent of those ages 19 to 25, a group considered important to the success of the new insurance marketplaces.
Nine in 10 (89%) in the Medi-Cal eligible income group say that if told they qualified for the program they would want to enroll. More than six in 10 uninsured Californians have a favorable view of Medi-Cal, with many saying they have been on Medi-Cal at some point or know someone who has participated in the program.
Forty-three percent of the eligible uninsured are not aware the ACA contains an individual mandate. When told of the requirement to have health coverage, about half of California's eligible uninsured say they plan to get it (54%). The other half say either they won't get coverage (32%), that it will depend on the cost (8%) or that they simply don't know what they will do (7%).
Undocumented and uninsured
The first wave survey finds that many of California's uninsured undocumented immigrants, 63 percent of whom have a favorable view of the ACA, have misplaced expectations of the help they will get from the law. About half (49%) say they believe they will personally be eligible to get insurance through Medi-Cal as a result of the health law. And 43 percent believe they will be eligible to shop for health insurance in Covered California as a result of the law.
"The confusion over eligibility cuts both ways," said Claudia Deane, an Associate Director for Public Opinion & Survey Research at the Foundation. "Some uninsured people are in for a pleasant surprise when they learn they may qualify for help. Still others who think they are on track to receive assistance, including many undocumented immigrants, may be disappointed to learn they are not eligible."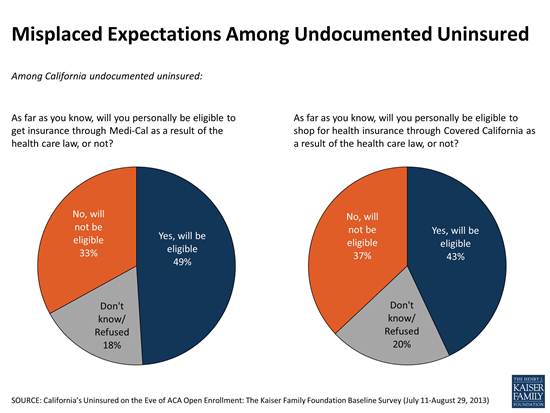 A very high percentage of the undocumented uninsured (81%) report difficulty affording health care, and 46 percent say they have gone without needed care because of the cost. Concern about their inability to pay bills in the case of a severe and unexpected illness is high in this group, with 86 percent saying they are "very worried." Eighty-two percent of the undocumented uninsured says health insurance is something that they need.
Next wave
The next wave of the Kaiser panel survey will revisit the same group of Californians after the ACA's six-month open enrollment period ends in March 2014 to learn, among other things, whether they have signed up for coverage or remain uninsured, what choices they made, who enrolled in Medi-Cal and why, who shopped for insurance in the state's new marketplace and how consumers evaluate the experience and the coverage they obtained. A third and fourth wave of surveys and interviews will follow over the next 18 months to fully capture the views and experiences of California's uninsured throughout the first years of the ACA's coverage expansion. Further waves may be conducted in the future.
Methodology
The survey was designed and analyzed by public opinion researchers at the Foundation. Fieldwork was conducted in English and Spanish via telephone by SSRS, an independent research company, from July 11 through August 29, 2013, among a representative sample of 2,001 adults ages 19 to 64 living in California, who reported having been without health insurance for at least two months at the time of the interview. Of the 2,001 respondents, 990 were interviewed via landline, and 1,011 via cell phone. The margin of sampling error is plus or minus 4 percentage points for the eligible uninsured, and plus or minus seven percentage points for the undocumented uninsured. The full methodology, question wording, results, charts and a brief on the poll can be viewed online.