As the Nov. 1 start of the Affordable Care Act's fourth open enrollment period approaches, a new Kaiser Family Foundation analysis estimates that 11.7 million people who remain without health insurance are eligible for Medicaid in their state or for tax credits to purchase health insurance through their state's Affordable Care Act marketplace.
While millions of people have gained coverage under the ACA and the nation's uninsured rate has fallen to a record low, the new analysis examines how many of the nation's estimated 27 million people under age 65 who remain uninsured could receive financial assistance under the law, including state-specific estimates.
The analysis finds that, based on income and other factors, about 43 percent of this group are eligible for financial assistance through the ACA, either by enrolling in Medicaid (6.4 million) or through subsidies for purchasing coverage through the marketplace (5.3 million). The 15.5 million other people who remain without insurance are likely ineligible for either Medicaid or tax credits due to income, immigration status or availability of employer coverage.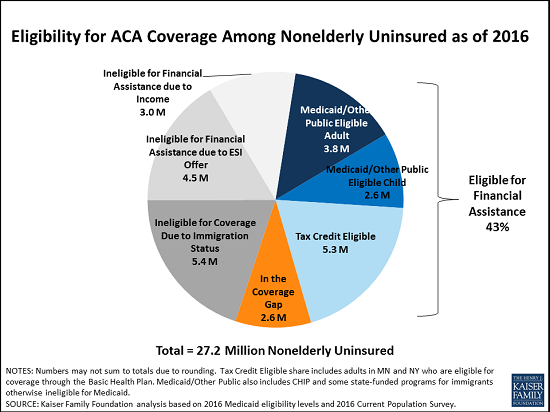 This includes 2.6 million poor adults – about one in 10 nonelderly uninsured people– who fall into a coverage gap in the 19 states that have not implemented the ACA's Medicaid expansion. These individuals would become eligible for Medicaid if their state were to expand its Medicaid program as the ACA envisioned, but otherwise are likely to remain uninsured as they make too little money to qualify for marketplace tax credits and lack any other affordable coverage options.
The analysis shows wide variation among states in terms of the share and number of uninsured nonelderly residents eligible for financial help under the ACA. The states with the largest shares eligible for help are West Virginia (70%), Louisiana (67%), Vermont (65%) and Montana (65%).  The states with the largest numbers eligible for help are California (1.3 million), Texas (1.2 million), Florida (860,000) and New York (637,000). Two of these, California and New York, are Medicaid expansion states, while the other two, Texas and Florida, are not.
The analysis, Estimates of Eligibility for ACA Coverage among the Uninsured in 2016 , includes detailed breakouts nationally and by state.