Pulling it Together: A Primer on Health in the Election
There is a lot of talk in polling and political circles and some speculation in the media about the role of health reform in the midterm elections. We regularly measure what the public thinks about health reform and you see reports from our monthly tracking polls about that. But whether those opinions will translate into an impact on people's votes in the upcoming election is an entirely different question.
First, to understand what might happen in an election it is most useful to look at people who are actually going to vote, so we and others switch to samples of "likely voters" not the public in general or even registered voters as we get closer to an election. (It is important not to poll likely voters too early, before people have really focused on an upcoming election.) When we asked likely voters what one issue would be most important to their vote, no surprise, 38 percent picked the economy and jobs. Health reform was picked by 10 percent and was clumped with a number of issues as secondary concerns, including dissatisfaction with government and the budget deficit. The list was no different for seniors who tend to come out to vote in larger numbers in midterms or for independents.
Second, issues themselves, whether health reform or education or the environment or any of the major issues, are not the primary factor influencing voting decisions, especially in midterm elections where there are no presidential candidates to frame clear differences on national issues. We asked likely voters what big picture factors would influence their vote. In order of importance their answers were: the general direction of the nation (picked by 37 percent), specific national issues (21 percent), local and state issues (19 percent), and the candidate's character and experience (19 percent). A candidate's stance on issues are just one of many factors influencing voting in a midterm election. And even when it is a factor a candidate's position on an issue is often more a proxy for voters of the candidate's general world view (whether the candidate is for more government or less, for the little guy or pro business, and so forth). Most voters do not dissect candidates' issue positions like experts or the media do.
We have seen many times in the past that our issue ranks second or third or fourth in polls on the public's issue priority list but it has almost never been a factor in elections according to exit polls and other analyses. Think of it this way: if health reform (or the absence of it) truly influenced voting we probably would have seen action on health reform long before this year.
Third, there are relatively few votes left to sway with arguments about health reform in the next few months. Most Democrats currently support the law and most Republicans oppose it, and there are few independents remaining who are not already tilting Democratic or Republican to be moved with arguments about the health reform law. About a third of independents – a group which makes up about a third of the electorate – are closet Democrats; they tilt towards the Democrats and a strong majority of them support health reform. About a third of independents are closet Republicans; they lean Republican and oppose the law. That leaves a relatively small group of independents in the middle and they split about fifty/fifty on the health reform law. You can see this breakdown of independents from our September poll below.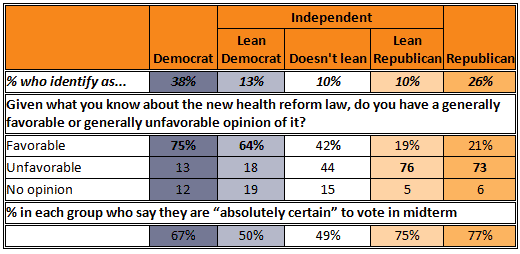 Source: Kaiser Family Foundation Health Tracking Poll (conducted September 14-19, 2010)
So how could health reform play a role in the election? Possibly by influencing turnout at the margin if health reform serves as a rallying point for larger complaints a slice of the electorate appears to have with Washington and government today. For some on the right health reform has become the kind of issue fluoridation once was – it is symbolic of bigger things they are worried about. (On this theme I recommend an old but great book called The Symbolic Uses of Politics by Murray Edelman).  We asked those who said they were angry about the law why they were angry and the vast majority (77 percent in September) answered that they were angry about the general direction in Washington; health reform was just one example of bigger things they are upset about.
To the extent that health reform influences the election this will be how. It will be used by Republicans and conservatives as a symbol of discontent with Washington to build enthusiasm among their base and encourage turnout.  But predicting turnout is notoriously difficult. Among likely voters we found a modest gap (41 percent vs. 30 percent) between the percentage of Republicans and Democrats who said health reform made them more interested in voting. Democrats overwhelmingly support the law, but some wanted it to go further, and it does not touch a deeper symbolic nerve for liberals as it does for conservatives – hence the modest health reform enthusiasm gap and its value as a rallying cry for conservatives.
As you can see in the chart, in our September poll we found a ten percentage point gap between the percentage of Republicans and Democrats who said they were "absolutely certain" to vote in November and a notable twenty-five percentage point gap between Republican-leaning independents and independents who lean towards the Democrats. It is impossible to say how much of a role health reform as a symbolic issue is playing in these differences or, with campaigns heating up, if they will still be there in November.
Health reform has become like World War One, with fixed lines not likely to move much any time soon. Democrats have a good case to make with voters because so many of the major provisions of the law are popular with the public, especially the early deliverables being rolled out now, although their message is muted by confusion about the law which our polls show has been rising.  But Republicans have weapons too because the requirement that people buy insurance remains unpopular even though it doesn't take effect for over three years and the law can be used as a lightning rod for voter discontent with Washington. The overall result is the rough stalemate we see on health reform in the polls with the public about evenly split on the law along traditional partisan lines. As I have written elsewhere http://www.washingtonpost.com/wp-dyn/content/article/2010/09/22/AR2010092204604.html, ultimately the public verdict on the law will be based much more on people's experiences with it and the experiences of their families and friends as implementation slowly unfolds, not the political argument and spin we see today surrounding the midterm election.
Health reform could have a small impact at the margin in this election, most probably on turnout, although even that is not certain. To the extent there is an anti health reform vote it appears that it will be more a referendum on Washington in bad economic times than on the substance of the law itself, and other factors, most notably general perceptions of the direction of the nation in a bad economy, issues specific to local elections, and voters feelings about the candidates themselves will decide local races as they almost always do in midterm elections.