How Build Back Better Would Affect Drug Costs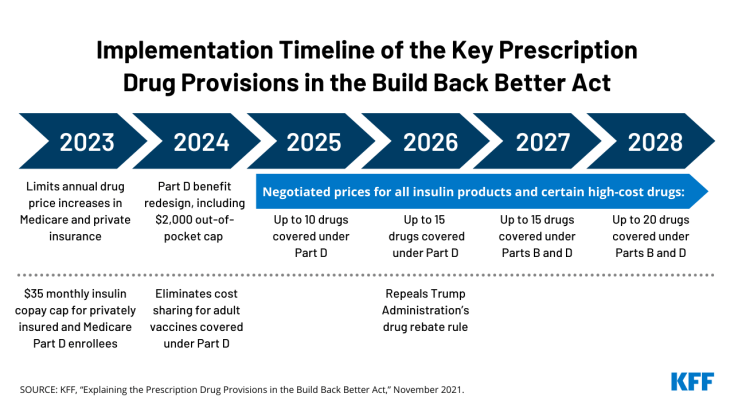 On November 19, 2021, the House of Representatives passed H.R. 5376, the Build Back Better Act (BBBA), which includes a broad package of health, social, and environmental proposals supported by President Biden. The BBBA includes several provisions that would lower prescription drug costs for people with Medicare and private insurance and reduce drug spending by the federal government and private payers.
The provisions would allow the federal government to negotiate prices for some high-cost drugs covered under Medicare; require inflation rebates to limit annual increases in drug prices in Medicare and private insurance; cap out-of-pocket spending for Medicare Part D enrollees along with other Part D benefit changes; limit monthly copays for insulin to $35 for people with Medicare and private insurance; improve coverage of adult vaccines in Medicare, Medicaid, and CHIP; and repeal the Trump Administration's drug rebate rule.
These provisions would take effect over the next several years, beginning in 2023. The BBBA, including these provisions, may be modified as the Senate considers the legislation.
Source
Explaining the Prescription Drug Provisions in the Build Back Better Act