Two-Thirds of the Public Say the U.S. Should Play a Major Role in Distributing COVID-19 Vaccines Globally, But Not Most Republicans
Most of the Public See Many Health Policy Issues As Important Priorities for Congress, Though Drug Prices Emerge As a Top Bipartisan Priority
With increased attention to the global need for COVID-19 vaccines and the Biden administration's announcement today about how it plans to distribute the first portion of the 80 million doses it will share by the end of this month, the latest KFF Health Tracking Poll finds that two-thirds of the public (66%) say that the U.S. should play at least a "major role" in distributing COVID-19 vaccines to other countries, including about a quarter (27%) who say it should play a "leading role."
Nearly 9 in 10 Democrats support the U.S. taking at least a "major role" (87%), while most Republicans (57%) say the U.S. should play a "minor role" or "no role at all," a larger share than the 41% who want the U.S. to play a "leading" or "major role."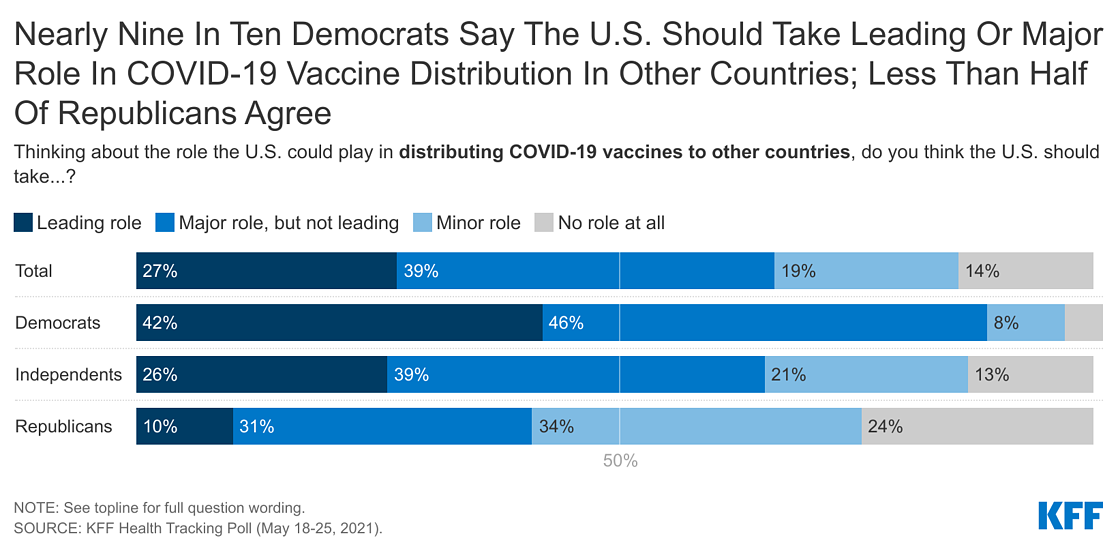 The shares who say the U.S. should take at least a major role increase when people are told that the U.S. has enough COVID-19 vaccine to help other countries without hurting its own supply (78%), that the pandemic is much worse in other countries and they need access to the vaccines to stop its spread (77%), or that providing vaccines to other countries could help the U.S. achieve the immunity necessary to curb the pandemic (76%). After hearing each of these messages, at least half of Republicans say the U.S. should take a leading or major role in vaccine distribution overseas.
The poll also gauges the public's health policy priorities, and finds large shares of the public consider each of nine proposals tested as "top" or "important" priorities for Congress.
This includes at least 8 in 10 who say so about allowing the federal government to negotiate lower prices directly with drug makers (92%), expanding Medicare coverage to include hearing aids, dental and vision coverage (90%), placing a limit on out-of-pocket costs that seniors have to pay each year for things like prescription drugs (88%), and continuing efforts to make sure U.S. residents are able to receive a COVID-19 vaccine (81%).
Other priorities for Congress include expanding public health coverage for low-income people in states that have not expanded their Medicaid program (78%), creating a public option to compete with private insurance (71%), or lowering the age of Medicare eligibility (66%).
Democrats are generally more likely than Republicans to prioritize each of these health issues as priorities for Congress. The policies aimed at addressing drug costs are the only ones that majorities of Democrats, independents, and Republicans identify as "top" priorities.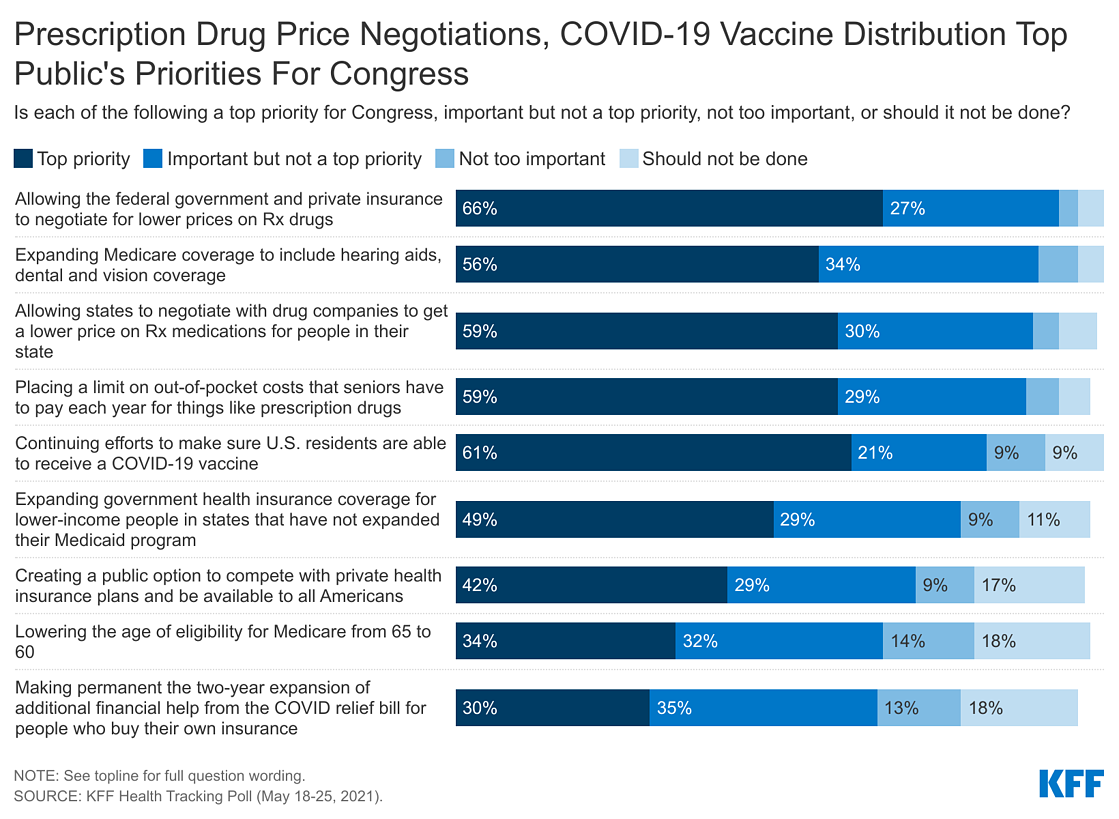 When asked directly whether they support or oppose allowing the federal government to negotiate with drug makers to reduce prices for both Medicare and private insurance, the vast majority of the public (88%) is in favor. The poll suggests those views could change in a national debate with arguments being made for and against the approach.
Support inches higher (to 90%) when the public hears that people could save money on their prescription drugs if this policy were implemented. On the flip side, nearly two thirds (65%) say they oppose such a policy after being told that "it could lead to less research and development of new drugs" or that "it could limit people's access to newer prescription drugs." These arguments are similarly effective with Democrats and Republicans.
Other findings include:
The COVID relief law enacted in March provides additional financial assistance to people who buy their own health insurance through the Affordable Care Act's marketplace. Few (7%) of those who could be eligible for this assistance are aware of this fact.
Far more continue to view the Affordable Care Act favorably (53%) than unfavorably (35%). This reflects a huge partisan divide, with most Democrats (85%) and a narrow majority of independents (54%) viewing it favorably, and most Republicans (77%) viewing it unfavorably.
Larger majorities, including most Republicans, view both Medicare (78%) and Medicaid (74%) favorably.
Designed and analyzed by public opinion researchers at KFF, the KFF Health Tracking Poll was conducted from May 18-25 among a nationally representative random digit dial telephone sample of 1,526 adults. Interviews were conducted in English and Spanish by landline (248) and cell phone (1,278). The margin of sampling error is plus or minus 3 percentage points for the full sample. For results based on subgroups, the margin of sampling error may be higher.