Six Months ahead of the Midterm Elections, Democratic and Republican Voters' Views about President Trump Outweigh their Views on Issues, Including Health Care
Voters' Biggest Health Care Concern is Their Costs – Not the Affordable Care Act or Single Payer
Who are the "Health Care Voters"? Mostly Women, and Mostly Planning to Vote Democratic
As primary season for the 2018 midterm elections heats up, the latest Kaiser Family Foundation poll suggests the elections are shaping up more as a referendum on President Trump than on health care or any other issue.
When asked what will make the biggest difference in how they vote in the Congressional elections, larger shares of Democrats and Republicans cite candidates' support for or opposition to President Trump (30% of Democrats, 32% of Republicans) and candidates' character and experience (27% of Democrats, 22% of Republicans) than say national issues (21% of Democrats, 20% of Republicans).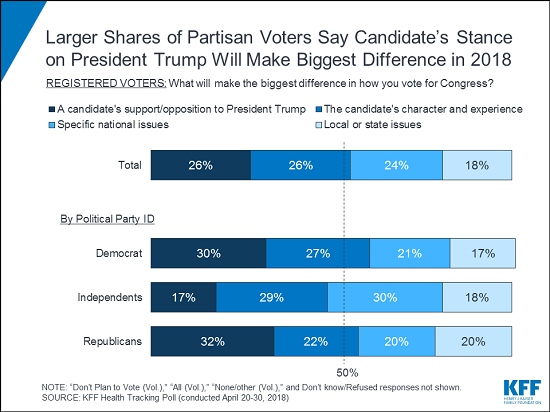 At the same time, when asked what issue they want to hear the 2018 candidates discuss on the campaign trail, health care ranks among the top issues for voters, particularly Democrats.
Twice the share of Democrats (30%) as Republicans (15%) name health care as a "most important" issue for the 2018 candidates to talk about. For Democrats, health care is the top issue, slightly ahead of gun policy (28%) and the economy and jobs (23%). Independents also rank health care among their top issues, with about one in five naming the economy and jobs (22%), health care (19%) and gun policy (19%) as a "most important" issue for the candidates to discuss.
For Republicans, health care (15%) ranks fourth behind the economy and jobs (24%), immigration (22%) and gun policy (19%), and similar to immigration (14%) and tax cuts and tax reform (14%). The relatively low ranking suggests health care may plan a less prominent role in Republican campaigns compared to the past four election cycles, when Republicans often focused on their opposition to the 2010 Affordable Care Act.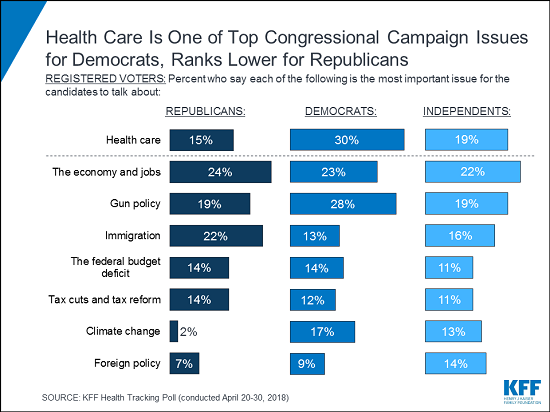 Among Health Care Issues, Voters are Most Focused on Lowering their Costs, Including Drug Prices
Large majorities of Republican (66%), Democratic (78%) and independent voters (72%) say that if a candidate for Congress supports bringing down prescription drug costs, they would be "more likely" to vote for that candidate. Similar large majorities across parties say they would be more likely to vote for a candidate that wants to lower health care and insurance costs.
Other issues – including supporting the ACA, repealing the ACA or supporting a national health plan – split partisans, with Democrats and Republicans on opposite sides.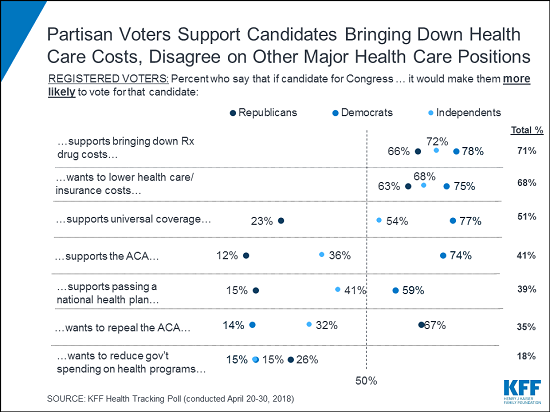 Partisanship similarly continues to drive overall views of the ACA.  The poll finds about half (49%) of the public and a large majority of Democrats (79%) hold a favorable view of the law, while 43 percent of the public and a large majority of Republicans (79%) hold an unfavorable view.
Who are the Health Care Voters?
The new survey also takes a deeper look at those voters who say health care will be a "most important factor" to their vote in the 2018 Congressional elections – nearly a quarter (23%) of all voters. Over the next six months, we will be tracking what is driving this group of health care voters.
Health care voters are more likely to be women, lean liberal, identify as Democrats, and are much more likely to disapprove of President Trump's job performance than other voters (70% compared to 49%). Health care voters are also more likely to say they support Democrats in Congressional elections (59% compared to 42%) but are not more likely to say they're more enthusiastic about voting this year (38% compared to 34%).
When asked to say in their own words what specific health care issues they most want to hear the 2018 candidates discuss, health care costs are the top issue mentioned by both Democratic-leaning (31%) and Republican-leaning (55%) health care voters. Other health care issues vary in importance by partisanship, with fewer health care voters mentioning single-payer (5%) or the Affordable Care Act (8%). Health care costs are also the top health care issue mentioned by voters overall.
Designed and analyzed by public opinion researchers at the Kaiser Family Foundation, the poll was conducted from April 20-30, 2018 among a nationally representative random digit dial telephone sample of 2,000 adults. Interviews were conducted in English and Spanish by landline (699) and cell phone (1,301). The margin of sampling error is plus or minus 3 percentage points for the full sample. For results based on subgroups, the margin of sampling error may be higher.