At Five Year Anniversary of the ACA, Gap Between Favorable and Unfavorable Views Among The Public Narrows to Smallest Spread in More Than Two Years
Most Expect Negative Consequences if Supreme Court Prohibits Subsidies in States Without Their Own Insurance Exchanges; Two Thirds of the Public and Those in Affected States Want Congress or Their State to Close Any Gaps
As April 15 Tax Deadline Nears, Nearly Half Unaware Insurance Reporting Requirement Starts This Year
Five years after President Obama signed the Affordable Care Act, this month's Kaiser Health Tracking Poll finds the closest split between favorable and unfavorable views of the law since Fall 2012 and a significant uptick in favorable views from the low in November 2013 during the law's troubled rollout. The poll finds 43 percent of the public view the law unfavorably and 41 percent view it favorably.
While most Americans continue to say the law has not had a direct impact on their families, the March poll finds a narrower gap than in recent polls between the shares with positive and negative perceptions of the impact on them: 19 percent of the public says the law has helped their families and 22 percent say it has hurt them. Republicans are more likely to report being hurt and Democrats are more likely to report being helped, consistent with previous tracking polls.
The Foundation's interactive graphic allows users to explore changes in the public's views of the ACA over the past five years, including breakouts by party identification, race/ethnicity, age, gender, insurance status and income.
On March 4, the Supreme Court heard oral arguments in the King v. Burwell case about whether or not the health care law bars financial assistance to low-and moderate-income people in states that chose to rely on the federal health insurance marketplace rather than establish a state-run marketplace.
Even after the proceedings, the case is not on the public's radar, as more than half (53%) say they have heard nothing about the case and another quarter (25%) say they have heard only a little. About one in five (22%) say they have heard at least something about the case, up somewhat since January (14%).
When asked for their views on the potential impact of the case, majorities of the public say that a Supreme Court ruling in favor of the plaintiffs to restrict subsidies would have a negative impact on the country (62%) and the uninsured (57%).  This includes majorities of Democrats, Republicans and independents. In addition, about half of the public (51%) say such a ruling would negatively impact people receiving government assistance to buy insurance, and just under half (45%) say it would negatively impact their state, including 46% of those in states potentially affected by such a ruling.
If the Supreme Court does limit financial help to people in states with state-run marketplaces, about two-thirds of the public (65%) say that Congress should pass a law so that people in all states can be eligible for health insurance subsidies. Majorities of Democrats (81%) and independents (67%) favor Congressional action, while Republicans (56%) prefer Congress not act on the issue (with 39% favoring action). Arguments for and against Congressional action do little to move public opinion on this question.
At the same time, more than half of the public (56%) say they are "not at all" confident that Democrats and Republicans in Congress can work together on any issues raised by the ruling and 51 percent are "not at all" confident that Republicans in Congress and President Obama can work together.
When people in potentially affected states were asked how policymakers should respond at the state level, 69 percent say their states should act to create their own marketplace if necessary so residents could continue to access financial help.  This includes majorities of Democrats (82%), Republicans (58%) and independents (70%) in these states.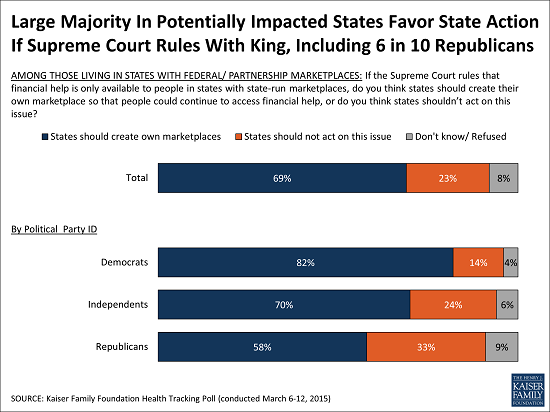 This April also marks the first tax season when Americans are required to report their health insurance status on their tax return and potentially pay a penalty if they did not have coverage in 2014.
The poll finds majority of the public (53%) and the uninsured (57%) are aware that this is the first year they are required to report their health insurance status on their taxes; 32 percent of the public incorrectly names a different year, while 16 percent says they don't know when it starts.  Similarly, a majority of the public (55%) is aware that people who got financial help from the government to pay for health insurance could owe money if their income or family size changed during the year, while smaller shares answer incorrectly (23%) or say they don't know (22%).
In recent weeks, the federal government announced a special enrollment period during tax season, which allows people who owe the penalty because they were uninsured last year to buy coverage for this year. When asked their opinion on such a policy for the future, most (58%) say that uninsured people should be able to enroll in health insurance to avoid paying the fine again next year, while three in 10 (29%) oppose it, saying it would be unfair to those who signed up for coverage during the regular enrollment period.
The latest tracking poll was designed and analyzed by public opinion researchers at the Kaiser Family Foundation and was conducted from March 6-12 among a nationally representative random digit dial telephone sample of 1,503 adults. Interviews were conducted in English and Spanish by landline (600) and cell phone (903). The margin of sampling error is plus or minus 3 percentage points for the full sample. For results based on other subgroups, the margin of sampling error may be higher.