In roughly 1 of every 6 emergency room visits and inpatient hospital stays in 2017, patients came home with at least one out-of-network medical bill, a new KFF analysis finds.
More specifically, 18 percent of all emergency visits and 16 percent of in-network hospital stays had at least one out-of-network charge, leaving patients at risk for surprise medical bills, according to the analysis of claims data from large employer plans. The analysis also finds the incidence of such charges varied greatly by state, for both emergency visits and hospital stays. For instance, emergency care visits were more likely to result in at least one out-of-network charge in Texas, New Mexico, New York, California and Kansas, and less likely in Minnesota, South Dakota, Nebraska, Alabama and Mississippi.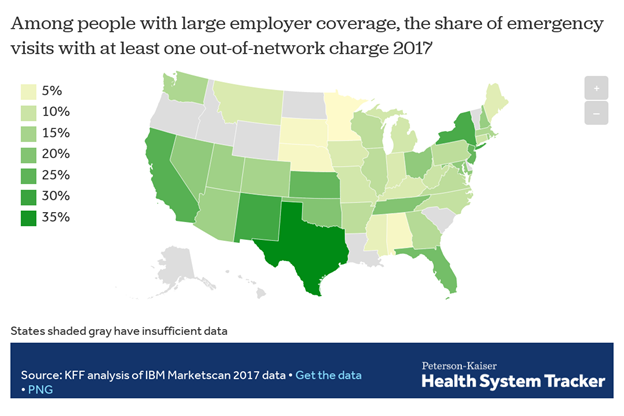 The findings come at a time when policymakers of both major political parties in Washington have vowed to pass legislation to protect consumers against surprise medical bills. At the same time, more than a dozen states have enacted or implemented comprehensive laws to combat the problem for people enrolled in state-regulated plans. Due to limits imposed by federal law, it remains the case that people with large employer coverage generally are not protected by state surprise billing laws if their plan is self-insured. The analysis summarizes key provisions in states' laws and describes the major features of bipartisan federal legislation under consideration in the House and Senate.
Surprise medical bills generally arise in two forms. In one, the patient is required to pay a greater share of costs under her health plan because the medical services performed were out-of-network. In the other, an out-of-network physician or other provider "balance bills" the patient in an attempt to collect the difference between the amount the provider charged for services and the amount the health plan was willing to pay. Surprise bills are the result of situations beyond a patient's control, such as emergency care or treatment by an out-of-network provider at an in-network facility. Most of the potential surprise out-of-network emergency charges observed in this study were from doctors and other out-of-network professionals, rather than from the hospital or emergency facility. Due to limitations in the available data, KFF researchers were not able to estimate the dollar amounts of surprise bills.
KFF polling has shown that two-thirds of Americans says they are either "very worried" (38%) or "somewhat worried" (29%) about being able to afford their own or a family member's unexpected medical bills. More than three quarters of Americans want the federal government to take action to address surprise bills, though opinion is divided over who should shoulder the cost – providers, insurers or both.