For the first time in a decade, states are reporting no overall growth in Medicaid enrollment last year and expecting minimal growth this year amid a stronger economy, a new Kaiser Family Foundation survey finds.
The 18th annual 50-state survey of Medicaid directors reveals that enrollment was flat in state fiscal year (FY) 2018 (down an average 0.6 percent), and states are budgeting for minimal increases during FY 2019 (up an average 0.9 percent).
States largely attribute the enrollment slowdown to a strengthening economy, resulting in fewer new low-income people qualifying for Medicaid. Some states also cited new efforts and systems to verify enrollees' continued eligibility for the program as a factor.
At the same time, average combined federal and state Medicaid spending grew by 4.2 percent in FY 2018, similar to the previous year's growth, and states project an average 5.3 percent increase in Medicaid spending in FY 2019.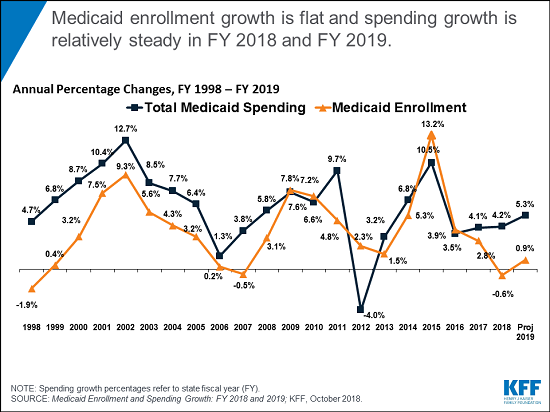 The gap between enrollment and spending growth in part reflects lower enrollment growth for children and adults, who are relatively inexpensive to cover, compared to seniors and people with disabilities, who have more expensive needs. Other factors include:
High costs for prescription drugs, particularly specialty drugs such as hepatitis C antivirals, hemophilia factor, and some oncology, mental health and HIV drugs.
Increased spending on substance-use treatment, mental health services, and long-term care for seniors and people with disabilities; and
Policy decisions in many states to raise payment rates for certain Medicaid providers, such as nursing facilities, home- and community-based services, managed care organizations, and physicians.
In FY 2018, state spending grew slightly faster (4.9 percent) than total Medicaid spending (4.2 percent), as this was the first full state fiscal year that states were responsible for a share of the Affordable Care Act's Medicaid expansion. Despite a modest increase in the state share of the expansion costs, states' adopted budgets for FY 2019 anticipate that state spending for Medicaid will grow more slowly than total Medicaid spending (3.5 percent compared to 5.3 percent).
The annual survey provides an in-depth, state-specific examination of changes taking place in Medicaid programs.  Some common themes include:
Changing eligibility.  In response to the Trump administration's encouragement, a growing number of states are pursuing federal waivers to add work requirements to Medicaid that are likely to result in enrollment declines.  In FY 2019, eight states are planning to implement work or community engagement requirements, though some still are awaiting federal approval to implement.  Three states (Idaho, Nebraska and Utah) could adopt the ACA Medicaid expansion through November 2018 ballot initiatives.
Controlling drug costs. In FY 2018, 22 states reported new or enhanced pharmacy cost-containment initiatives, and 19 plan to implement such initiatives in FY 2019. These changes often aim to boost rebate revenue or implement new prior authorization requirements, step therapy or other utilization controls.
Focusing on quality and value. States are continuing to focus on delivery system changes and managed care requirements to improve quality, outcomes and value.  Nearly all states with comprehensive, risk-based managed care reported various quality initiatives. An increasing number of states (23 in FY 2018) are setting targets for alternative provider payment arrangements in managed care contracts. Many states encourage or require managed care organizations to screen enrollees for social needs, and about one-third of all states report initiatives for FY 2018 and FY 2019 that address social determinants of health outside of managed care.
Reducing opioid risks.  All 50 states and the District of Columbia reported at least one pharmacy-management strategy aimed at addressing the opioid epidemic, including quantity  limits on opioid drugs (50 states), clinical criteria claims system edits (48 states), step therapy (39 states) and other prior authorization requirements (44 states). In addition, most states that use managed care to deliver drug benefits require those organizations to follow some or all of these opioid policies.
Expanding benefits. In FY 2018, 19 states expanded their Medicaid benefits, and 24 plan to do so in FY 2019. The most common benefit enhancements involve substance use and mental health services, including waivers to allow Medicaid to pay for care in institutions for mental disease.
The findings are included in two reports:
The 50-state survey, conducted by analysts at KFF and Health Management Associates in partnership with the National Association of Medicaid Directors (NAMD), will be discussed today at a briefing held jointly by KFF and NAMD. An archived webcast of the briefing, as well as copies of presentation slides and other materials, will be available online later today.