The Good and Bad of Those Ubiquitous Drug Ads
This was published as a Wall Street Journal Think Tank column on October 28, 2015.
We've all seen the drug ads on TV and elsewhere. Drug X will make you feel better and help you take control of your life. But almost every drug seems to have an impossibly long list of potential side effects, including in a small number of cases the scariest ones like cancer or death.
A new survey of the public out Wednesday suggests the impact of drug ads may be both good and bad. A significant number of people go to their doctors and ask for a specific drug because they've seen an ad, but only some people get the drugs after their physicians sort through treatment options with them. Based on a survey of the public, we can't say how often this is a good thing or a bad thing medically; we almost certainly can say that more drugs are prescribed as a result of the ads.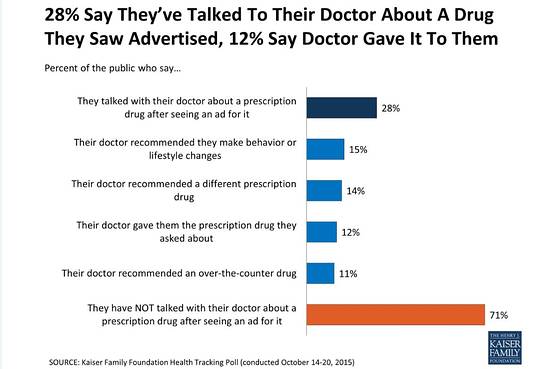 As the chart shows, 82% of the American people say they have seen a drug ad, and about three in 10 say they have talked with a doctor about the advertised drug. However, doctors don't automatically prescribe the drug: 15% of those surveyed say the doctor recommended changes in behavior or lifestyle; 14% say the doctor recommended a different prescription drug; 11% say the doctor recommended an over-the-counter option; and 12% say the doctor gave them the drug they saw in the ad.
Half of the public (51%) thinks drug ads are mostly a good thing even as most–about six in 10–think the drug companies spend too much on advertising. But the public has mixed views about how informative they think the ads are. Half say the ads do a good job of telling consumers which condition the drug is actually designed to treat; 47% that they tell consumers about the benefits of the drug; and 44% about side effects. Just 24% say they tell consumers how effective the drug is compared to other treatments and just 11% say they are good at telling consumers about their typical cost.
It's a mixed picture on drug ads and we don't have enough information to say if we would be better off with or without them. But in the end, the public would like greater assurance that drug ads are accurate. A striking 89% of the public, including 90% of Republicans, would like the FDA to review drug ads for accuracy and clarity before they run, which the FDA does not do today.