As part of the Kaiser Family Foundation's ongoing efforts to track the public's knowledge of the Zika virus outbreak and attitudes towards Zika-related issues, the September Kaiser Health Tracking Poll examines whether the public is taking precautions in order to protect themselves from getting Zika.
The poll finds people in the South are more likely to report taking action to reduce the number of mosquitoes in and around their homes. For example, a larger share of Southerners report that they removed standing water from around their home (57%) and that they had a pest control company spray outside their home (24%) than the share of residents in any other region of the country.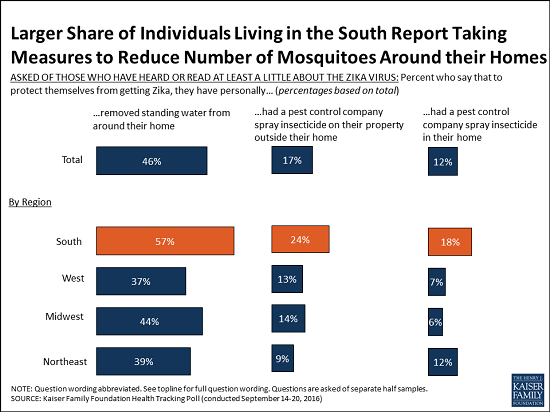 The survey finds that the most common precautions that Americans say they are taking are wearing mosquito repellent, removing standing water around their home, and avoiding travel to countries where people are being infected with the Zika virus by mosquitoes.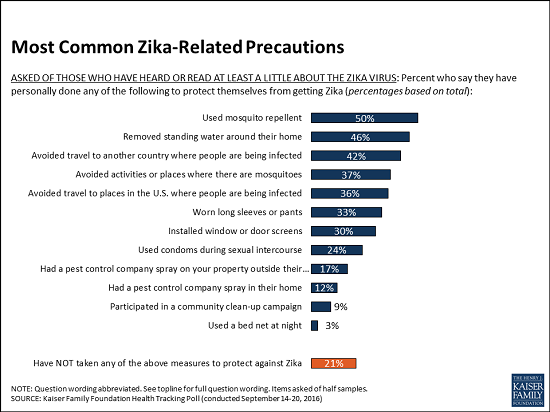 As in other recent months, the Zika virus outbreak is one of the top health policy news stories, with 61 percent of the public saying in September they were closely following news about it. While the vast majority of the public have heard or read at least a little about the virus, very few (2%) say they know anyone whose health has been affected by the virus, the poll finds.
Designed and analyzed by public opinion researchers at the Kaiser Family Foundation, the poll was conducted from September 14-20 among a nationally representative random digit dial telephone sample of 1,204 adults. Interviews were conducted in English and Spanish by landline (421) and cell phone (783). The margin of sampling error is plus or minus 3 percentage points for the full sample. For results based on subgroups, the margin of sampling error may be higher.