The Legal Battle Against Federal Vaccine Mandates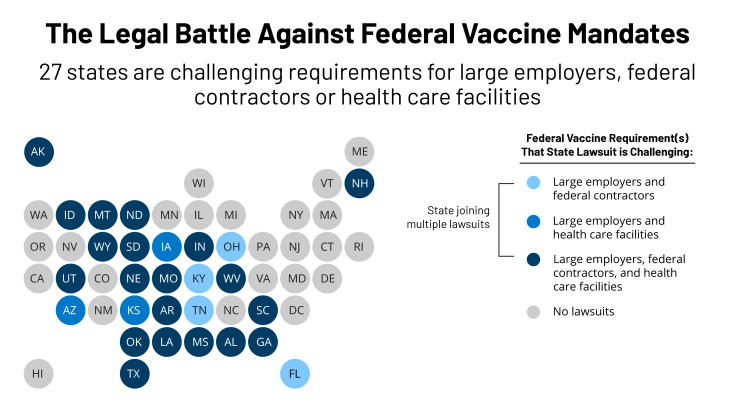 The Biden administration this fall announced a set of vaccination requirements for workers aimed at helping to bring the COVID-19 pandemic under control. While many states and private businesses have implemented similar and sometimes tougher mandates, Republican officials have broadly criticized the administration's policies as an overreach of federal power.
Twenty-seven Republican-controlled states have joined lawsuits challenging at least two aspects of the Biden administration's vaccination requirements, while the vast majority are part of three lawsuits, according to our updated State COVID-19 Data and Policy Actions tracker. Each of the 27 states are suing to block required vaccinations or weekly testing for workers at companies with at least 100 workers, 24 states are challenging mandated vaccinations for federal contractors without a testing option, and 23 states are challenging a similarly strict vaccination mandate for most health care facilities. Twenty-one states are challenging all three requirements.
A federal appeals court earlier this month halted the vaccine or test requirement for larger employers, but the legal battle over this policy and the others will continue in the coming weeks. The Biden administration has sought to make its vaccine requirements effective Jan. 4.
Source