As COVID-19 cases rise across much of the country, most Americans think that the president is intervening with the public health agencies working to address the pandemic, the latest KFF Health Tracking Poll finds.
Similar majorities say both that President Trump is intervening with the Food and Drug Administration's efforts to review and approve a coronavirus vaccine (55%) and that he is in intervening with the Centers for Disease Control and Prevention's efforts to issue coronavirus guidelines and recommendations (54%). In each case, most of those who believe President Trump is intervening say it is a bad thing.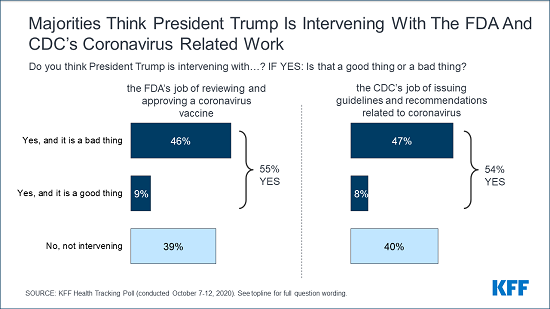 There are partisan differences. Most Republicans say the president is not intervening, while most Democrats think President Trump is intervening, and that it is a bad thing.
Majorities are also at least somewhat worried that political pressure from the White House will lead the FDA to rush to approve a vaccine without making sure it is safe and effective (62%).
In spite of these concerns, large majorities of the public have at least a fair amount of trust both in the FDA to ensure any vaccine is safe and effective (71%) and in the CDC to provide guidelines and recommendations based on scientific evidence (72%). In each case, majorities across party lines trust the agencies, though Democrats are more likely than Republicans to trust the CDC "a great deal."
The poll also finds two thirds (66%) of the public are now worried that they or someone in their family will get sick from COVID-19, up 13 percentage points from April when slightly more than half (53%) were worried. Women are more likely than men (73% v. 58%) to worry about the risk. Among partisans, twice as many Democrats as Republicans (87% v. 42%) worry about this risk.
The poll also gauges the impact of President Trump's recent COVID-19 diagnosis and treatment on the public's willingness to engage in preventive measures.
About 3 in 10 say it has made them more likely both to practice social distancing (31%) and wear face masks (31%). About twice as many Democrats as Republicans say President Trump's diagnosis makes the more likely to practice social distancing (44% vs. 20%) and wear face masks (40% vs. 20%).
"At a time when President Trump is aggressively downplaying the pandemic, his diagnosis and hospitalization appear to have had the opposite effect, scaring some Americans, including Republicans, to take more precautions such as wearing masks," KFF President and CEO Drew Altman said.
About 4 in 10 adults (42%) think the worst of the coronavirus outbreak is yet to come, while a third say the worst is behind us (33%), and one in five don't think it is a major problem. The share who say the worst is yet to come remains well below its peak in July (60%).
Designed and analyzed by public opinion researchers at KFF, the poll was conducted from Oct. 7-12 among a nationally representative random digit dial telephone sample of 1,207 adults. Interviews were conducted in English and Spanish by landline (290) and cell phone (917). The margin of sampling error is plus or minus 3 percentage points for the full sample. For results based on subgroups, the margin of sampling error may be higher.