Most Parents Say Their Kids Will Go Trick-or-Treating for Halloween; 1 in 8 Won't Due to COVID-19
With the Biden administration moving to require large employers to require COVID-19 vaccinations and require weekly testing for unvaccinated workers, the latest KFF COVID-19 Vaccine Monitor report finds a quarter (25%) of workers say their employer has a vaccine requirement, up from 9% in June.
About a fifth (21%) of workers say that they want their employer to require vaccinations even though they don't, while about half (51%) say they don't want their employer to require it.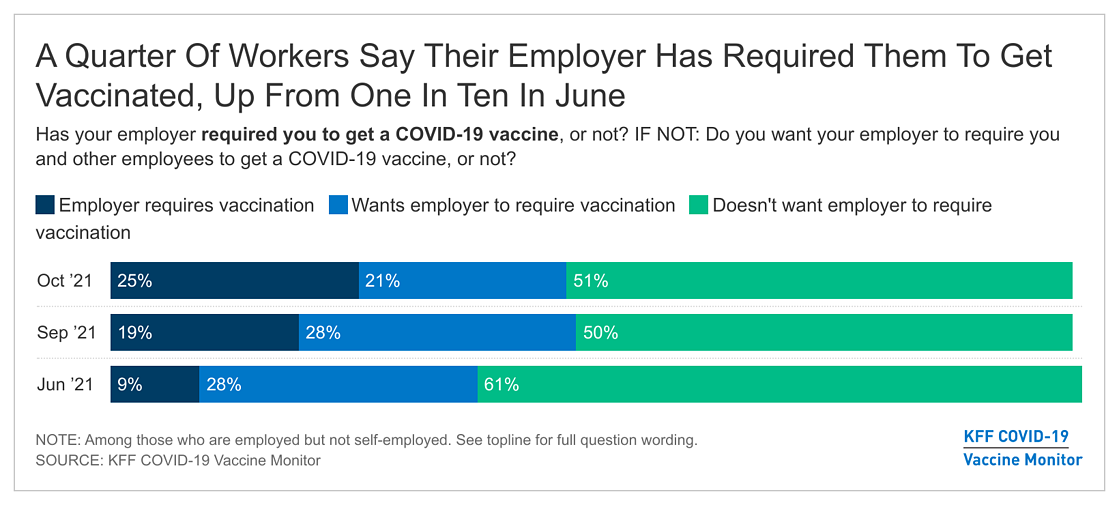 Despite widespread news reports of employees leaving their jobs due to workplace vaccine mandates, 5% of unvaccinated adults (1% of all adults) say they left a job because an employer required them to get vaccinated. A larger share (24%) of adults say they know someone who has a left a job due to a vaccine mandate, with Republicans about twice as likely as Democrats to say this (32% vs. 14%).
When unvaccinated workers are asked what they would do if their employer required them to either get the COVID-19 vaccine or undergo weekly COVID-19 testing, 11% say they would be most likely to get the vaccine, nearly half (46%) would opt for weekly testing, and over a third (37%) say they would be likely to leave their job. This represents 1% of all adults who would get the vaccine if faced with an employer mandate and 5% who say they would leave their job.
If their employer did not offer an option for weekly testing, the share of unvaccinated workers who say they would get the vaccine increases to 17% (2% of all adults) and the share saying they would leave their job increases to 72% (9% of all adults).
About 6 in 10 unvaccinated workers (59%) say they would be likely to apply for an exemption if their employer implemented a vaccine requirement, including 27% who would apply for a religious exemption and 16% who would apply for a medical one.

Parents Remain Cautious about Vaccinating Their 5-11 Year Old Ahead of Federal Authorization
As federal regulators move toward making children ages 5-11 eligible for a COVID-19 vaccine, parents of kids in that age group cite a range of perceived concerns about the COVID-19 vaccines, including large majorities who are "very" or "somewhat" concerned that not enough is known about the long-term effects in children (76%) and that their child might experience serious side effects (71%).
Two thirds (66%) say they are concerned that a vaccine could negatively affect their child's fertility in the future, although the U.S. Centers for Disease Control and Prevention says there is no evidence that the COVID-19 vaccines cause fertility problems. About half (53%) worry their child might be required to get a vaccine even if they don't want them to.
Smaller but meaningful shares cite economic and access concerns, such as having to take time off work to get their child vaccinated and care for them if they experience side effects (35%), not being able to get the vaccine from a place they trust (25%), and having to pay out-of-pocket costs to get their child vaccinated (25%) even though the vaccine itself is free. Roughly half of lower-income parents (with household incomes less than $50,000 annually) say they worry about each of these issues.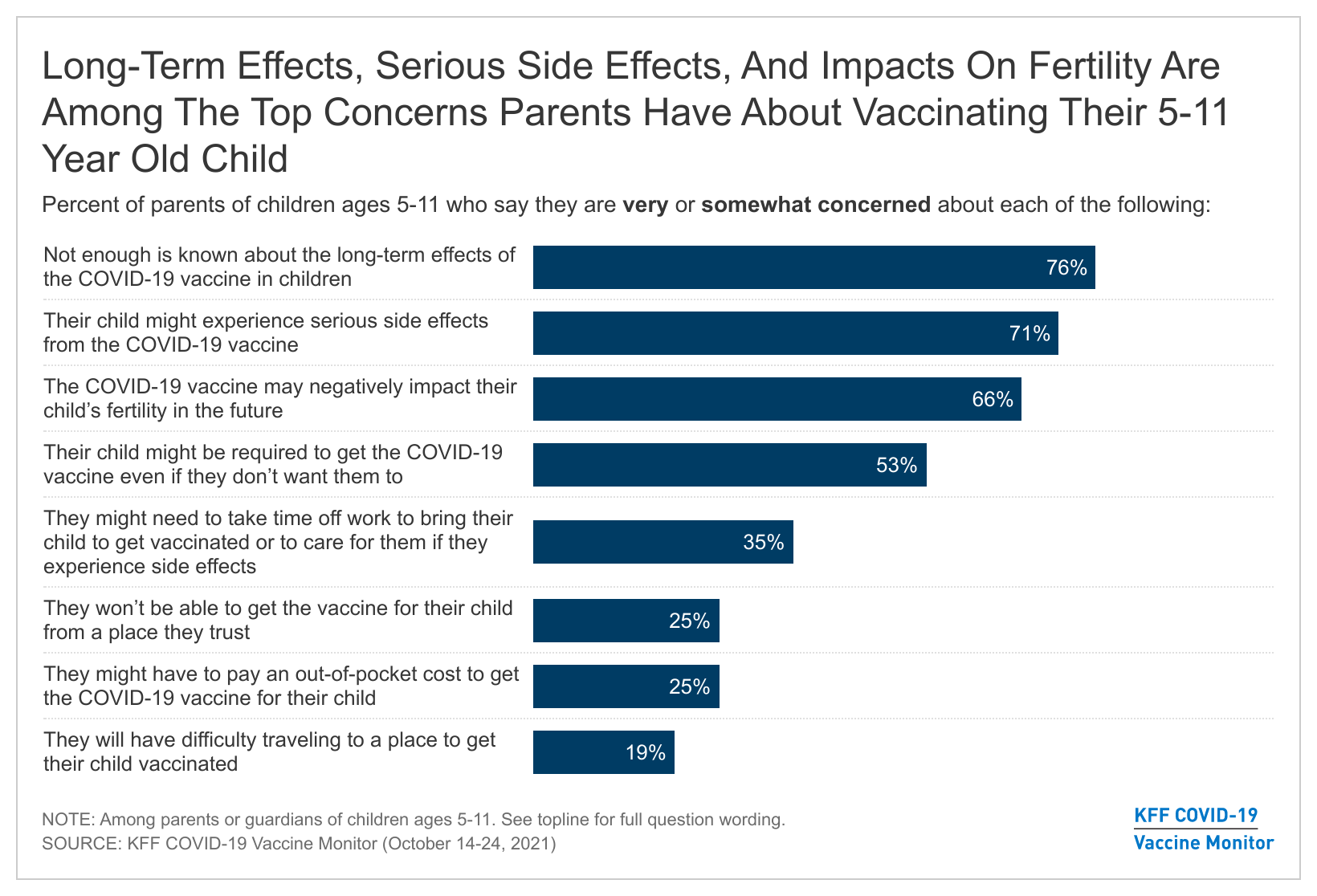 While the vaccine is not yet available for children ages 5-11, the report finds that nearly 3 in 10 (27%) parents of children in that age range say they would get them vaccinated "right away" once eligible, and another third (33%) say they would want to "wait and see" how it works in other children first. These shares are little changed since July.
The new report also suggests a slowdown in vaccine uptake among those already eligible.
Among parents of adolescent children ages 12-17, about half (46%) say their child has already received at least one dose of a COVID-19 vaccine, and another 4% say they plan to do so right away – little changed since September. About 3 in 10 (31%) say they will "definitely not" get their adolescent child vaccinated.
Among adults, 72% say they've gotten at least one dose of a vaccine, and another 2% say they will do so "as soon as possible," unchanged since September. An additional 5% say they want to "wait and see" before getting vaccinated, while 16% say they will "definitely not" get a vaccine and 4% say they will do so "only if required" for work or other activities.
There continues to be wide variation in vaccination rates across demographic groups, with the highest rates among Democrats (90%), those ages 65 and older (86%), and college graduates (83%). The lowest vaccination rates are among rural residents (58%), those who are uninsured (59%), and Republicans (61%).
Half of Americans, Including Two Thirds of Unvaccinated Adults, Say They've Resumed Normal Life
As the second holiday season since the pandemic approaches, the new report finds that half of the public say they have basically returned to normal life (43%) or never really changed their activity level to begin with (6%). This includes about two thirds of unvaccinated adults (65%) and three quarters (74%) of Republicans.
Most parents (56%) say their children will go trick-or-treating this Halloween, while about 1 in 8 (13%) say their children won't due to the pandemic. Those most likely to say their kids won't go trick-or-treating this year due to the pandemic include Hispanic parents (34%) and those who are Democrats or lean Democratic (29%).
About half of the public (48%) also plans to attend holiday gatherings with more than 10 people this year, and more than a quarter (28%) plan to travel for the holidays. Smaller shares say they won't attend large gatherings (22%) or travel (15%) this year specifically because of pandemic concerns.
Other findings include:
Majorities of the public say both that the spread of COVID-19 (57%) and the government restrictions on businesses to slow it (55%) are holding back economic growth in their area. Republicans are more than twice as likely as Democrats to say that government restrictions are hurting their local economy (76% vs. 33%).
Most fully vaccinated adults say they have gotten (10%), or will definitely (43%) or probably (24%) get a booster dose of the vaccine if federal health authorities recommend it. Fewer say they probably (12%) or definitely (9%) would not get a booster dose, including nearly 4 in 10 (38%) of fully vaccinated Republicans.
Many (40%) fully vaccinated adults say they are unsure whether they are currently eligible for a booster dose. This includes two thirds (67%) of those under age 30 and half (49%) of those who got their last dose less than six months ago.
Designed and analyzed by public opinion researchers at KFF, the KFF Vaccine Monitor survey was conducted from October 14-24 among a nationally representative random digit dial telephone sample of 1,519 adults. Interviews were conducted in English and Spanish by landline (168) and cell phone (1,351). The margin of sampling error is plus or minus 3 percentage points for the full sample. For results based on subgroups, the margin of sampling error may be higher.
The KFF COVID-19 Vaccine Monitor is an ongoing research project tracking the public's attitudes and experiences with COVID-19 vaccinations. Using a combination of surveys and qualitative research, this project tracks the dynamic nature of public opinion as vaccine development and distribution unfold, including vaccine confidence and acceptance, information needs, trusted messengers and messages, as well as the public's experiences with vaccination.