Majorities Oppose State Laws Criminalizing Abortion, Even Those Living In States Where Abortion Will Become Illegal If Roe Is Overturned
Misconceptions Around Abortions Persist With Most Women of Reproductive Age Unaware Of Medication Abortion And Many Confusing It With Emergency Contraception
More than a third (37%) of voters say that they would be more motivated to vote in November's Midterm Election if the Supreme Court overturns the Roe v. Wade decision establishing a constitutional right to an abortion, and this group is largely pro-choice and leans Democratic, finds a new KFF Health Tracking Poll focused on abortion issues.
Fielded after news broke about a leaked draft opinion in the pending Dobbs v. Jackson case that would overturn Roe, the findings suggest that a decision to overturn Roe could narrow a midterm voter enthusiasm gap, projected to favor the Republican party over the Democratic party. However, a majority of  voters (57%) say a ruling overturning Roe would not influence their motivation to vote in the midterms.
One in five of all voters (20%) say both that such a decision would make them more motivated to vote and that they would only vote for a candidate who wants to protect access to abortion. This group includes nearly four in ten Democratic voters (37%), Democratic women voters (38%), and a quarter of women voters under age 50 (25%).
Far fewer voters (4%) say they are both more motivated to vote by the Supreme Court decision and would only support candidates who want to limit access to abortions.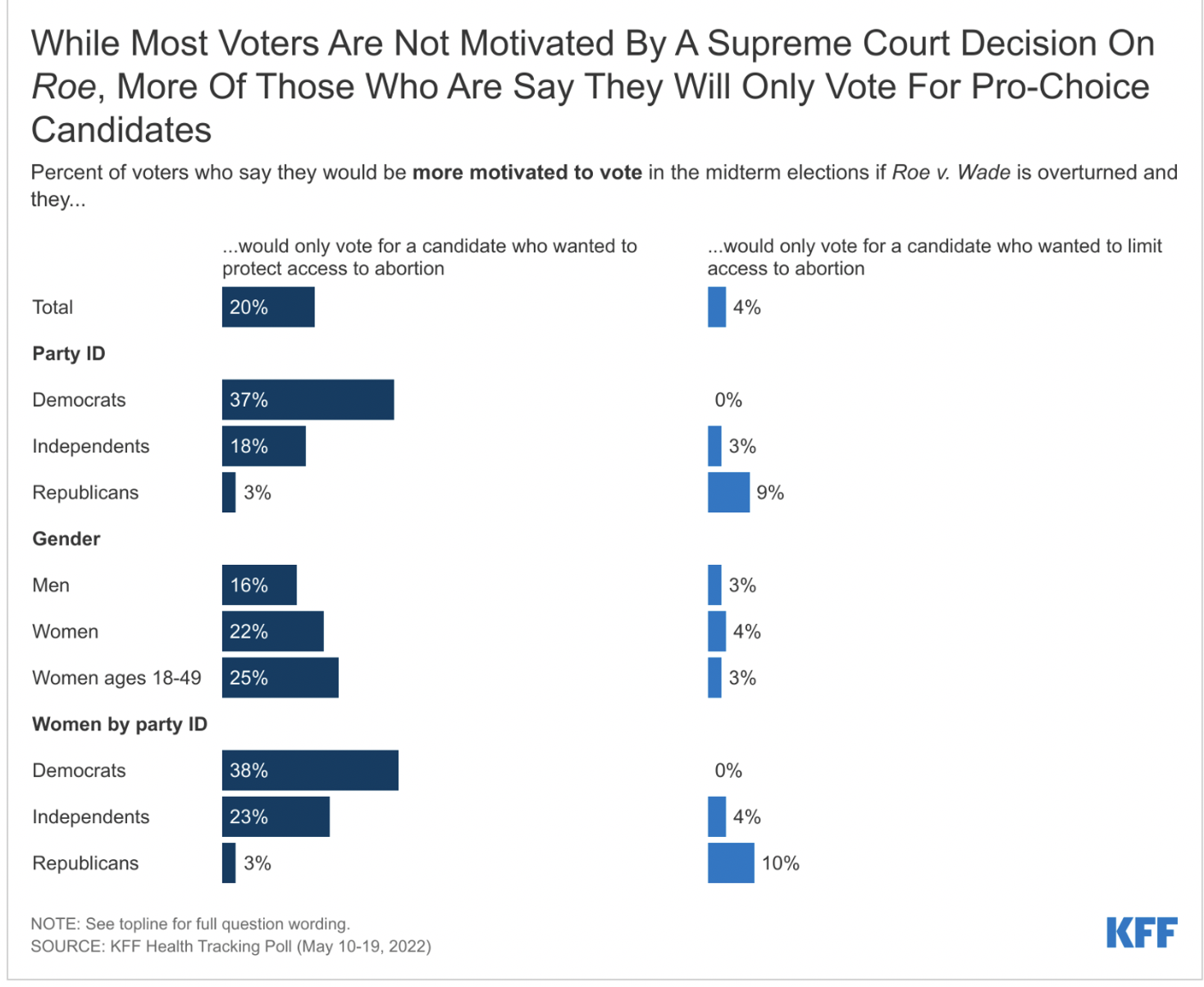 Nearly two thirds (64%) of the public overall say they do not want the Supreme Court to overturn Roe, while a third (33%) say they would like to see this happen. There are partisan differences, with most (61%) Republicans wanting to see Roe overturned, while a large majority of Democrats (85%) and most independents (62%) do not.
Partisan differences also exist on whether abortion should be a personal choice or regulated by law. Those who say it should be a personal choice include large majorities of Democrats (90%) and independents (74%), and about half (52%) of Republicans. Among women under age 50, eight in ten (79%) say that getting an abortion should be a personal choice, including a majority (59%) of younger Republican women. Overall, three quarters (74%) of the public say abortion should be a personal choice, while a quarter (25%) say it should be a matter of law.
Majorities Oppose States Criminalizing Abortion, Even in States with Existing Trigger Laws or Pre-Roe Abortion Bans
If Roe were overturned, states would set their own abortion policies without any federal constitutional standards, and 17 states already have laws in place that would effectively outlaw abortion in their state.
Less than half (45%) of those living in those 17 states are aware that abortion would become illegal in their states in Roe were overturned, with the rest either unsure (42%) or incorrectly believing abortion would continue to be legal (13%).
The survey finds that large majorities of the public, including those living in states with such trigger laws, oppose a variety of laws that would penalize abortion with either fines or prison time, including making it a crime:
For a woman to get an abortion (79% of the public opposes, including 74% of those in states with trigger laws).
For a woman to cross state lines to get an abortion (80% opposes, including 76% of those in states with trigger laws).
For a doctor to perform an abortion (73% oppose, including 69% of those in states with trigger laws).
Similar majorities (80% of the public, including 78% of those residing in states with trigger laws) say they oppose a law that would allow private citizens to sue people who provide or assist women in getting an abortion. (Texas and Oklahoma already have laws in effect that allow such lawsuits.)
In contrast,  two thirds (67%) of the public, support laws that require women to wait at least 24 hours after meeting with a health care provider and getting an abortion.
The public is more closely divided on laws that would prohibit abortions once cardiac activity (sometimes called a fetal heartbeat) is detected around six weeks, with a narrow majority (54%) opposing such laws and large minority (44%) favoring them.
Nationally, a slim majority (51%) of adults say they would favor employers covering expenses for an employee who has to travel out of state to obtain an abortion if one is not available where they reside, while nearly as many (47%) would oppose such a law.
In 16 states and the District of Columbia, there is a right to abortion codified in state laws. Nearly two thirds (64%) of residents in these states say they favor a law to require employer health plans to cover an abortion. A narrow majority (56%) oppose using public funds to cover the cost of abortion for people coming from out-of-state to get an abortion in their state.
Abortion Misconceptions Persist, With Most Unaware of Medication Abortion
The poll also finds that the public, including women under age 50, have significant knowledge gaps around abortion and emergency contraception.
Medication abortion using a pill called mifepristone now accounts for more than half of all abortions nationally, yet just of a quarter (27%) of adults overall and four in ten (40%) women under age 50 say they have heard of it.
In contrast, the vast majority (92%) of adults have heard of emergency contraceptive pills , sometimes called the morning-after pill or "Plan B."  However, a majority (73%) incorrectly believe emergency contraceptive pills can end pregnancy in its early stages. In reality, emergency contraceptive pills cannot end an established pregnancy.
The survey was conducted from May 10-19, 2022 among a nationally representative sample of 1,537 adults including 615 women between the ages of 18 and 49. Interviews were conducted in English and Spanish online (1,246) and by telephone (291). The margin of sampling error is plus or minus 3 percentage points for the full sample and 5 percentage points from the sample of women, 18-49. For results based on subgroups, the margin of sampling error may be higher.
Ahead of the final decision on the pending Supreme Court case on abortion access, you can find related KFF resources.