Compare Medicare Models Side-by-Side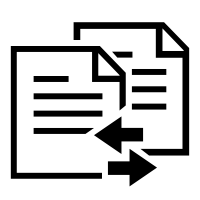 Compare models by various features, including:
Key Results
Details on Savings and Cost
Financial Arrangements
Beneficiary Numbers
See our video tutorial to walk through the Evidence Link's features.
Choose one to get started:
What is Medicare Delivery System Reform?
Policymakers, health care providers, insurers, and researchers continue to debate how best to introduce payment and delivery system reforms into our health care system to tackle rising costs, quality of care, and inefficient spending. Medicare has taken a lead in testing a variety of new models that include financial incentives for providers (such as doctors and hospitals) to work together to lower spending and improve care for patients in traditional Medicare. In general, the goal of these financial incentives is to link a portion of Medicare's payments for services to "value" as determined by provider performance on spending and quality targets.
Many of the new Medicare payment models are managed through the Center for Medicare and Medicaid Innovation (CMMI), which was established by the Affordable Care Act (ACA) and is housed within the Centers for Medicare & Medicaid Services (CMS). The ACA authorized an appropriation of $10 billion for CMMI through 2019 and for each subsequent decade in order to test innovative payment and delivery models across Medicare, Medicaid, and the Children's Health Insurance Program (CHIP). Additionally, the ACA authorized the Secretary of Health and Human Services to expand and/or extend models that demonstrate quality improvement without an increase in spending, or spending reduction without a decline in quality.
What are the Major Models in Medicare and Where Can I Learn More?
Three of the major Medicare payment models that CMS and CMMI are managing are accountable care organizations (ACOs), medical home models, and bundled payment models. Over 10 million Medicare beneficiaries are receiving care from various types of Medicare ACOs in 2017, and almost 2 million are receiving care from medical homes. Combined, these two models account for about 1 in 5 Medicare beneficiaries overall and 30 percent of all beneficiaries in traditional Medicare. Additionally, if counts of Medicare beneficiaries in bundled payment models were included (currently unavailable), then the share of beneficiaries in these major models would be even higher.
The Evidence Link synthesizes the latest available results on Medicare savings and quality improvements associated with each model. It describes key design features of the various programs running within each of these models, such as how providers are paid, the number of beneficiaries receiving care under each model, where models are being tested, and model timelines.
[See our video tutorial to walk through the Evidence Link's features.]
Accountable Care Organizations
ACOs are groups of doctors, hospitals, and other health care providers who voluntarily form partnerships to collaborate and share accountability for the quality and cost of care delivered to their patients.  In Medicare, payments to ACOs incorporate a variety of financial incentives for lowering Medicare costs and improving quality. Also see: 8 FAQs on Medicare ACOs
Medical Home Models
Medical homes are typically team-based primary care practices that provide the majority of their patients' health care either directly, or through coordination with other providers.  Medicare and other insurers that support medical homes generally pay monthly care management fees or provide other resources to support certain activities designed to enhance care quality and streamline the provision of care. Also see: 8 FAQs on Medicare Medical Home Models
Bundled Payment Models
In bundled payment models, Medicare establishes a total budget for all services provided to a patient throughout a given episode of care. If the episode's spending on services is below budget, the providers may share in Medicare savings; alternatively, if providers' costs exceed the budget, the providers may incur losses. In some cases, bundled payment models can span across multiple health care settings. Provider participation in some of the Medicare bundled payment models is voluntary; for other models, participation is mandatory for hospitals in selected areas of the country. Recently, CMS reduced the number of mandatory models that were originally scheduled to begin in 2018. Also see: 8 FAQs on Medicare Bundled Payment Models
What's the Evidence on Medicare Savings and Quality for Each Model?
So far, the evidence on Medicare payment and delivery system reforms has been mixed.  While some models are meetings and improving upon quality goals, overall net savings to Medicare has been relatively modest, with large variation in results between the major models as well as among the individual programs within each of them. For a detailed look at the available evidence on savings and quality, use our side-by-side comparison tools to compare your models of interest.
What are the Start and End Dates for Each Model?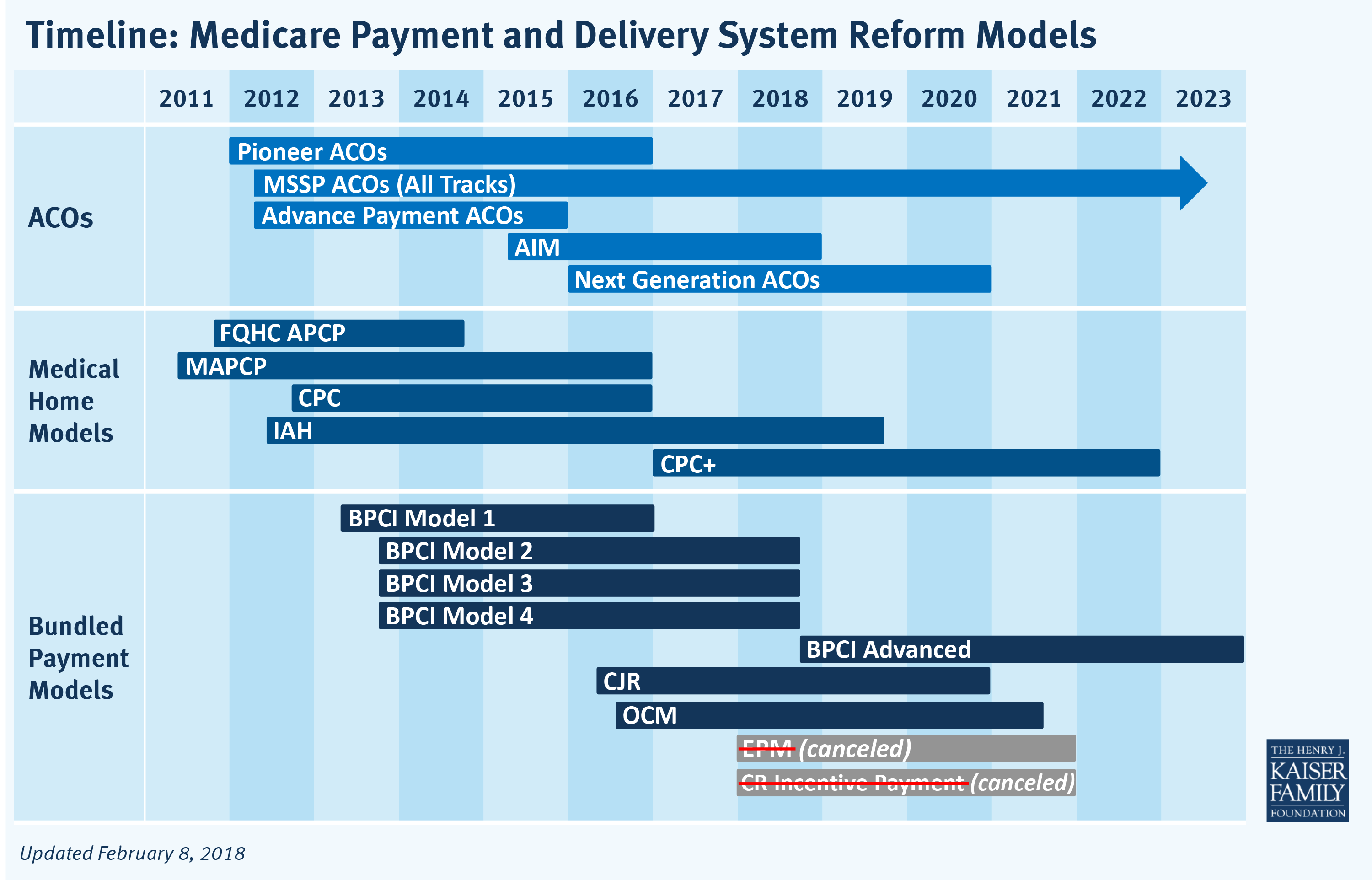 About the Evidence Link
The Kaiser Family Foundation's Evidence Link is an interactive resource that pulls together the latest available evidence on Medicare payment and delivery system reform models, with an initial focus on accountable care organizations (ACO), medical home models, and bundled payment models. The Evidence Link synthesizes the most up-to-date results from publicly-available data and evaluation reports to help policymakers, the media, researchers, and other interested analysts understand how the models work and which ones have more or less success in achieving Medicare savings and improving the quality of patient care. Users of the Evidence Link can select individual programs within each major model to see how they compare with respect to savings and quality results, basic structure, size, location, financial incentives for providers, and more.
Contact us with questions or suggestions and/or to stay updated on the Evidence Link.