During the COVID-19 pandemic, the U.S. population experienced the most significant two-year decline in life expectancy in roughly a century, according to new research by KFF, with data showing that COVID-19 deaths disproportionately impacted people of color and exacerbating longstanding racial disparities in life expectancy.

While overall U.S. life expectancy declined by 2.7 years between 2019 and 2021, American Indian and Alaskan Native (AIAN) people experienced a decline of 6.6 years, Hispanic people and Black people dropped 4.2 and 4 years, respectively, compared to a decline of 2.4 years for White people and 2.1 years for Asian people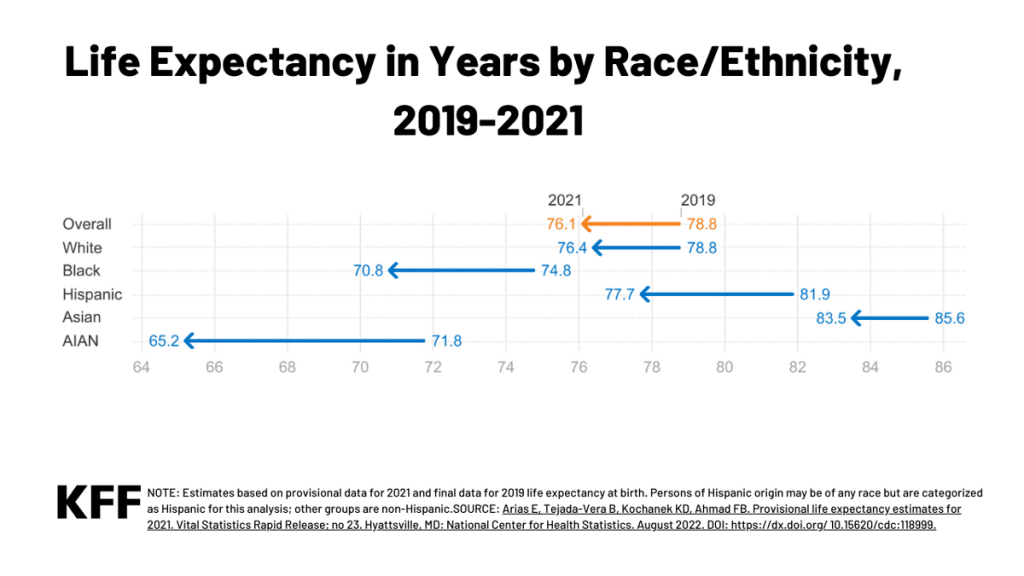 Cancer and heart disease continue to be the leading causes of death for the U.S. population and in 2020 COVID-19 joined them in the ranks, but the pandemic has coincided with other increases in causes of death. Liver disease rose to the ninth leading cause of death in 2021, reflecting a rise in alcohol-related deaths, with AIAN people experiencing the most significant increase in this cause of death.

Increases in drug overdose deaths were a major factor in the rise of unintentional injury deaths from 2019 to 2021, although its ranking did not fluctuate much within racial groups.
While suicide's ranking among the leading causes of death fell from 2019 to 2021, there was a significant increase in suicides among Black and White people and AIAN men.

Provisional 2022 data indicate a decrease in overall mortality from 2021, reflecting declines in COVID-19 deaths overall. However, AIAN and Black people continue to have higher COVID-19 death rates than White people.

Read the brief for a discussion about addressing underlying drivers of U.S. life expectancy racial disparities, including inequities in health insurance coverage, access to care, and social and economic factors that drive health.