A new KFF poll assessing the broad reach of the nation's opioids crisis on families across the United States reveals that three-in-ten adults (29%) say they or someone in their family have ever been addicted to opioids, including prescription painkillers and illegal drugs like heroin. Rural residents (42%) and White adults (33%) are among the groups hardest hit.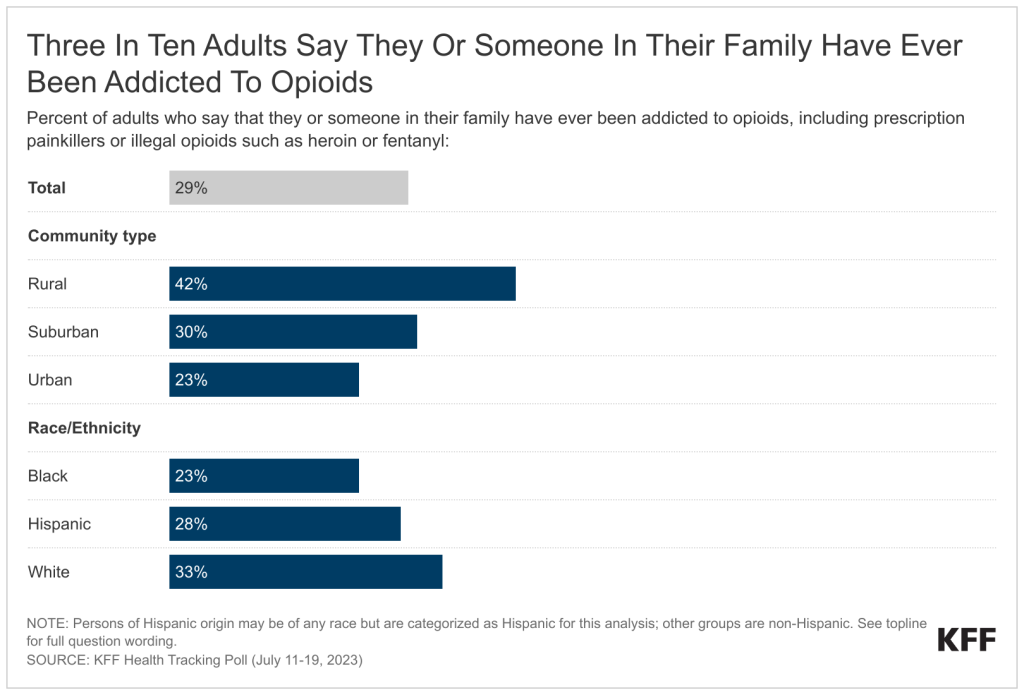 The poll also showed that the opioid crisis is part of a much larger picture of addiction affecting American families: two-thirds (66%) of the public report that either they or a family member has been addicted to alcohol or drugs, experienced homelessness because of an addiction, or experienced a drug overdose leading to an emergency room visit, hospitalization, or death. This includes one-in-five adults (19%) who say they have personally been addicted to drugs or alcohol, had a drug overdose requiring an emergency room visit or hospitalization, or experienced homelessness because of an addiction.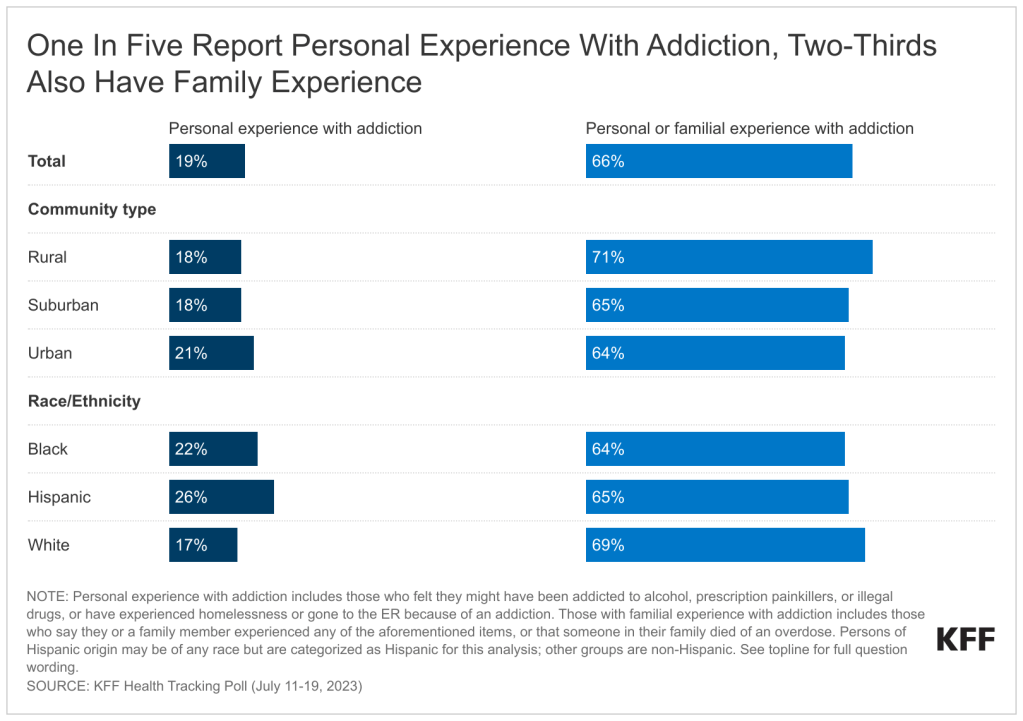 Less than half (46%) of those who report addiction in their families say the person suffering from addiction got treatment. A larger share of White adults (51%) than Black adults (35%) and Hispanic adults (35%) report that they or their family member received treatment.
Large shares of those whose families have been impacted by addiction say it had at least a minor impact on their relationship with their family (76%), their mental health (70%), or their family's financial situation (57%). On each of these questions, at least a quarter say it had a "major impact."
Among the public overall, half (51%) worry that someone in their family will experience substance use disorder, and one-third (32%) are worried that someone in their family will overdose on opioids, such as prescription painkillers or illegal drugs like heroin. About four-in-ten adults are worried that someone in their family will unintentionally consume the opioid drug Fentanyl (39%). Respondents in rural areas expressed more concern about these issues overall.
Most adults prescribed an opioid painkiller in the past five years say their doctor talked to them about the possible consequences of the drugs, including possible side-effects. Six in ten (60%) who say they were talked to about other ways to manage their pain also say their doctor has spoken to them about the possibility of addiction or dependence (57%).
In addition to gauging the public's experiences with addiction to drugs and alcohol, the poll examined public support for policies aimed at curbing drug overdoses. The public broadly supports two approaches aimed at reducing opioid overdoses, including majorities across partisans. Most people support addiction treatment centers in their community (90%) or making Narcan (naxolone), a medicine that can reverse an opioid overdose, freely available in places like bars, health clinics, and fire stations (82%). About half "strongly support" both policies, and they are also supported by at least three-quarters of Democrats, Republicans, and independents.
Fewer, but still nearly half (45%), support safe consumption sites where people can use illegal drugs monitored by trained personnel in an emergency. A majority of Democrats (61%), half of independents (49%), and fewer Republicans (23%) support safe consumption sites.
Designed and analyzed by public opinion researchers at KFF, the survey was conducted from July 11-19, 2023 online and by telephone among a nationally representative sample of 1,327 U.S. adults. Interviews were conducted in English and in Spanish. The margin of sampling error is plus or minus three percentage points for the full sample. For results based on other subgroups, the margin of sampling error may be higher.