Sept. 20 Event: Marketing Medicare – How Health Insurers and Brokers Use TV Ads to Attract Enrollees
Program:
Panel conversation featuring:
Speaker Bios (in order of appearance)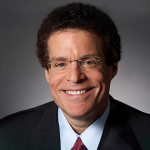 Drew Altman
President & Chief Executive Officer, KFF
Drew Altman is president and chief executive officer of KFF, a position he has held for more than 30 years. He is a leading expert on national health policy issues and an innovator in the nonprofit field.
Dr. Altman built KFF with the mission the organization pursues today–to serve as a nonpartisan source of trusted information for policymakers, the media, the health policy community, and the public. He is also founding publisher of KFF Health News, the largest health newsroom in the U.S., which reports on health issues and distributes its articles through major news outlets across the country.
Dr. Altman was commissioner of the Department of Human Services for the state of New Jersey, director of Health and Human Services at The Pew Charitable Trusts, vice president of the Robert Wood Johnson Foundation, and served in a senior position in the Health Care Financing Administration in the Carter administration. He is a member of the National Academy of Medicine and the Council on Foreign Relations.
Dr. Altman earned his doctorate in political science at the Massachusetts Institute of Technology and completed his postdoctoral work at Harvard University before moving on to public service. He holds an honorary doctorate from the Morehouse School of Medicine.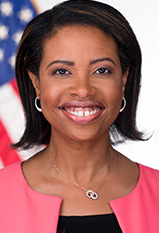 Chiquita Brooks-LaSure
Administrator, The Centers for Medicare and Medicaid Services (CMS)
Chiquita Brooks-LaSure is the Administrator for the Centers for Medicare and Medicaid Services (CMS), a federal agency which oversees the 3 Ms—Medicare, Medicaid and the Children's Health Insurance Program, and the Health Insurance Marketplaces.
A former policy official and key player in guiding the Affordable Care Act through passage and implementation, Brooks-LaSure has dedicated her career—in the federal government, on Capitol Hill, and in the private sector—to ensuring all people can access high-quality, equitable health care.
Under Brooks-LaSure's leadership, CMS oversees the healthcare coverage of more than 160 million people enrolled in the 3 Ms—nearly half the population of the United States.  Brooks-LaSure's foremost priority is improving the lives and safety of the people CMS serves.
She also leads CMS toward its vision of a healthcare system that puts people at the center of their care.  As the country's largest administrator of healthcare coverage—with its annual budget exceeding $1.3 trillion—CMS is at the forefront of transforming health care, driving innovations in health equity; affordability; maternity care; mental and behavioral health care; whole-person care; and pandemic response.
She received her A.B. from Princeton University and her Master's degree in Public Policy from Georgetown University. She is married with one daughter.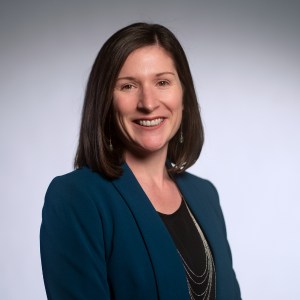 Jeannie Fuglesten Biniek
Associate Director, Program on Medicare Policy, KFF
Jeannie Fuglesten Biniek is an associate director for the Program on Medicare Policy at KFF. She focuses on providing analyses used to develop data-driven approaches to pressing national health policy issues, including the role of Medicare Advantage, the delivery and financing of care for people who are eligible for both Medicare and Medicaid, Medicare spending trends and efforts to reform provider payment. Her work has been published in Health Affairs and JAMA and cited by The Washington Post, The New York Times and USA Today, among others. Dr. Fuglesten Biniek has also testified on health policy issues before Congress.
She previously worked as an economist on the staff of the U.S. Senate Budget Committee during the passage and initial implementation of the Affordable Care Act. She also held positions at the Health Care Cost Institute, the Center on Budget and Policy Priorities, NERA Economic Consulting and Bienestar Human Services.
Dr. Fuglesten Biniek received a bachelor's in economics from UCLA, a master's in applied economics from Johns Hopkins University and a Ph.D. in health policy with a concentration in health economics from Harvard University.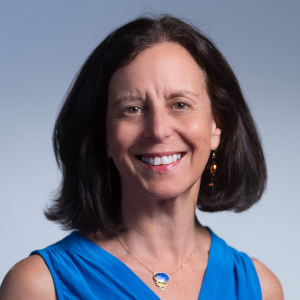 Tricia Neuman
Senior Vice President and Executive Director of the Program on Medicare Policy, KFF
Tricia Neuman is senior vice president of KFF and executive director of its Program on Medicare Policy. She oversees KFF's policy analysis and research pertaining to Medicare, and health coverage and care for aging Americans and people with disabilities. A widely cited Medicare policy expert, Dr. Neuman focuses on topics such as the health and economic security of older adults; the role of Medicare Advantage plans, Medicare and out-of-pocket spending trends; prescription drug costs, payment and delivery system reforms; and policy options to strengthen Medicare for the future. She has written numerous papers pertaining to Medicare, has been invited several times to present expert testimony before Congressional committees, and has appeared and been quoted as an independent expert by major national media outlets. Dr. Neuman was nominated by President Biden in 2022 to serve as a member of the Board of Trustees of the Medicare, Social Security, and Disability Insurance Trust Funds.
Before joining KFF in 1995, Dr. Neuman served on the professional staff of the Ways and Means Subcommittee on Health in the U.S. House of Representatives and on the staff of the U.S. Senate Special Committee on Aging, working on health and long-term care issues.
Dr. Neuman received a bachelor's degree from Wesleyan University, a master's in health finance and management from the Johns Hopkins School of Public Health, and a doctorate in health policy and management, also from the Johns Hopkins School of Public Health.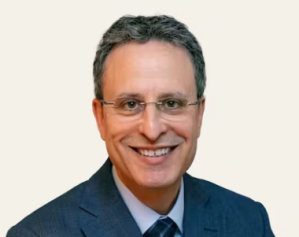 Mark Hamelburg
Senior Vice President, Federal Programs, America's Health Insurance Plans
Mark Hamelburg is the senior vice president of federal programs at America's Health Insurance Plans (AHIP). He has more than 30 years of private sector and government experience, including service as a senior official at the Centers for Medicare & Medicaid Services (CMS) and time at the Department of Treasury. Mr. Hamelburg currently leads AHIP's policy development and regulatory agenda for all of the industry's federal program participation. This includes popular programs such as Medicare Advantage, Medicare Part D, and Medicaid. At CMS, Mr. Hamelburg served as the director of the Medicare Part C (Medicare Advantage) and Part D Analysis Group in the Office of Legislation. Before that, he was the
director of the Employer Policy and Operations Group at CMS. Mr. Hamelburg has also served as an attorney-advisor in the Office of Benefits Tax Counsel at the Treasury Department. In addition to his work in public service, he has more than 15 years of experience in the private sector at law and consulting firms. In those roles he worked with a range of stakeholders on issues related to the delivery and payment of health care.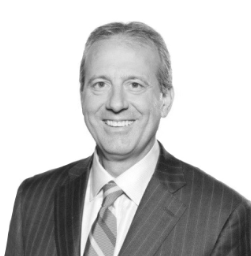 Christopher Graves
President & Founder, Ogilvy Center for Behavioral Science
As founder of the Ogilvy Center for Behavioral Science at Ogilvy Consulting, Chris works to boost the effectiveness of every client engagement through applying a deep understanding of the "Real Why" of human behavior. His work also decodes the "Hidden Who" of individuals at scale using proprietary new lenses of personality trait science, worldviews, and thinking styles. Previously, Chris served as Global CEO and Chair of Ogilvy Public Relations, and served two terms as the public relations industry chair. In his first career, he worked as a top news media executive at the Wall Street Journal and CNBC for more than 20 years. Chris has been honored with a Rockefeller Foundation Bellagio Residency as well as earned four annual Atticus Award honors (the highest thought leadership award among the more than 360 companies that make up WPP). He was named a "Top 25 Innovator" in the U.S. and named to the Hall of Fame by both Campaign Asia and ICCO (International Communications Consultancy Organization). He was elected life member of the Council on Foreign Relations in 2010.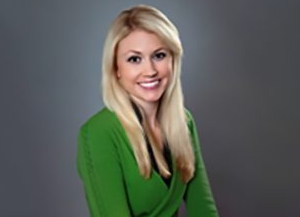 Lindsey Copeland
Director of Federal Policy, Medicare Rights Center
Lindsey Copeland joined the Medicare Rights Center as Federal Policy Director in 2017. Based in the Washington, DC office, Lindsey is responsible for formulating, directing, and implementing Medicare Rights' federal policy and advocacy agenda. She informs policymakers, stakeholders, and the press about the challenges facing people with Medicare, as well as the administrative and legislative policies the Medicare Rights Center supports to address these issues.