Show Me the Money: Options for Financing Health Reform
The Alliance for Health Reform and The Commonwealth Fund co-sponsored this event to examine options to finance coverage expansions and reforms to both the delivery system and insurance markets.
Panelists address the following questions: What options hold the most promise? How do the Congressional Budget Office (CBO) and the Office of Management and Budget (OMB) go about "scoring" various financing options? Are there credible options for financing reform? Is there room for bipartisan cooperation in paying for reform?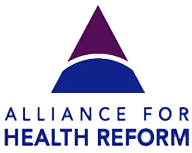 For more information, please visit the Alliance's event page.
Full version: Video
Please note: the video is no longer available. If you have an urgent need for the video, you may contact us (choose "problem with video" on the form) and we will try to locate the video. Include the URL for this page in your message to us.
For KFF reference:
/health_cast/player_kff.cfm?id=103
/health_cast/player_kff.cfm?id=104
/health_cast/player_kff.cfm?id=105
/health_cast/player_kff.cfm?id=106
/health_cast/player_kff.cfm?id=107
/health_cast/player_kff.cfm?id=108
/health_cast/player_kff.cfm?id=109
Speakers for this session:
Opening Remarks
Ed Howard, Alliance for Health Reform
Video
Rachel Nuzum
Commonwealth Fund
Video
Uwe Reinhardt
Health economist at Princeton University Vice president, public policy, National Council for Community Behavioral Healthcare
Video
Bill Hoagland
Vice president for public policy at CIGNA and former Senate Budget Committee staff director
Video
Mark McClellan
Senior fellow and director of the Engelberg Center for Healthcare Reform at the Brookings Institution; former administrator for the Centers for Medicare and Medicaid Services (CMS) and former commissioner of the Food and Drug Administration (FDA)
Video
Q & A
Video