Scoring Savings: How Can Quality Improvement Reduce Health Care Costs?
The Alliance for Health Reform and the United Health Foundation co-sponsored this briefing on reducing health care costs while improving quality.
Panelists engage in a full discussion of the issues looking at both federal spending and at national expenditures on health and address the following questions: How can the private sector contribute to a slowing of national health care expenditures? Are there examples of models that have been implemented in the marketplace and demonstrated they can save money? If incorporated into reform, how much of an impact would they have on the federal budget? What are the constraints that prevent the Congressional Budget Office from scoring such savings? What about the impact on total national health expenditures? What are the respective roles of providers, consumers and legislators in changing the way we do business in health care?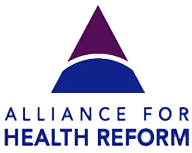 For more information, please visit the Alliance's event page.
Full version: Video
Please note: the videos are no longer available. If you have an urgent need for them, you may contact us (choose "problem with video" on the form) and we will try to locate them. Include the URL for this page in your message to us.
For KFF reference:
/health_cast/player_kff.cfm?id=90
/health_cast/player_kff.cfm?id=94
/health_cast/player_kff.cfm?id=91
/health_cast/player_kff.cfm?id=92
/health_cast/player_kff.cfm?id=96
/health_cast/player_kff.cfm?id=93
/health_cast/player_kff.cfm?id=95
Panelists include:
Welcoming Remarks
Ed Howard: Alliance for Health Reform, Moderator
Video
Len Nichols
Director of the Health Policy Program at the New America Foundation
Video
Simon Stevens
Executive vice president of the UnitedHealth Group and chairman of the United Health Center for Health Reform & Modernization
Video
Janet Marchibroda's Presentation
Chief healthcare officer for IBM
Video
Gail Wilensky
Senior fellow at Project HOPE
Video
Q & A
Video