Since its launch in July 2022, the 988 national suicide and crisis hotline has received about 4 million contacts, a 33 percent increase from the year before, according to a new KFF analysis of publicly available data through May 2023. The contacts include more than 2.6 million calls, over 740,000 chats, and more than 600,000 texts. The total number of contacts rises to almost 5 million when nearly 1 million additional contacts from the Veterans Crisis Line (VCL) are included, which were reported by the federal Substance Abuse and Mental Health Services Administration (SAMHSA), but aren't yet publicly available.
Overall, the 988 line steers callers who are suicidal or experiencing a behavioral health crisis to the renamed "988 Suicide & Crisis Lifeline," through which they can be connected to a local Lifeline counselor and may receive crisis counseling, resources, and referrals. Before 988, the Lifeline crisis hotline–established in 2005–was typically accessed through a 10-digit number, which was difficult for callers experiencing a mental health crisis to recall.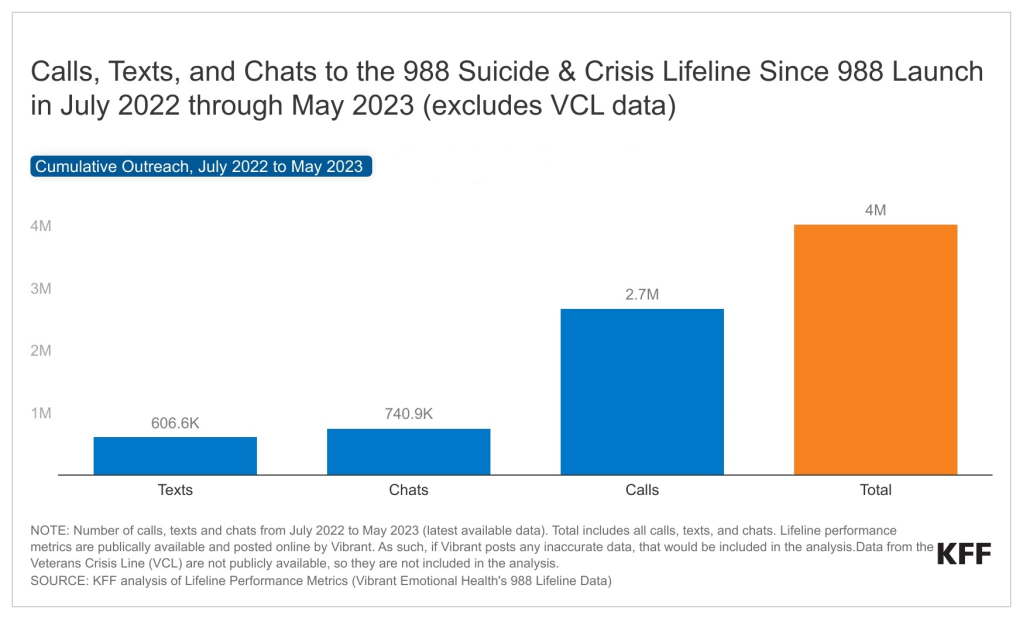 Since the 988 launch, there has been a notable increase in the rate of answered contacts, coupled with considerable decreases in waiting times for users. The 988 in-state answer rate varies widely across states, ranging from 55 percent in Alabama to 98 percent in Mississippi in April-May 2023, the latest data available. An in-state answer rate is a measure of the percentage of calls answered within state borders. 988 uses the caller's area code to route the call to the crisis center closest to that area code.
If local centers don't answer calls, they are redirected to out-of-state overflow facilities, which handle approximately 8 percent of all calls nationally. If national overflow facility counselors are not familiar with local resources, they may not be able to assist callers with treatment referrals or extra assistance, which can be better provided from local crisis centers.
Although the federal government spent money to assist with the implementation of 988, ongoing funding relies heavily on local and state funds. In May, the Biden administration announced an additional $200 million in funding opportunities to assist states in developing 988 infrastructure and related crisis services.
To date, six states have enacted legislation to fund crisis services through telecom fees, including California, Colorado, Nevada, Virginia, Washington, and most recently Minnesota. Furthermore, Oregon and Delaware are approaching final legislative approval, with new 988 telecom fees having passed in the legislature and awaiting the signature of the governor. Three other states have pending telecommunications fee legislation.