More than 49,000 people died by suicide across the country in 2022, a record number driven largely by an increase in the number of firearm-related deaths, a new KFF analysis of provisional CDC data shows.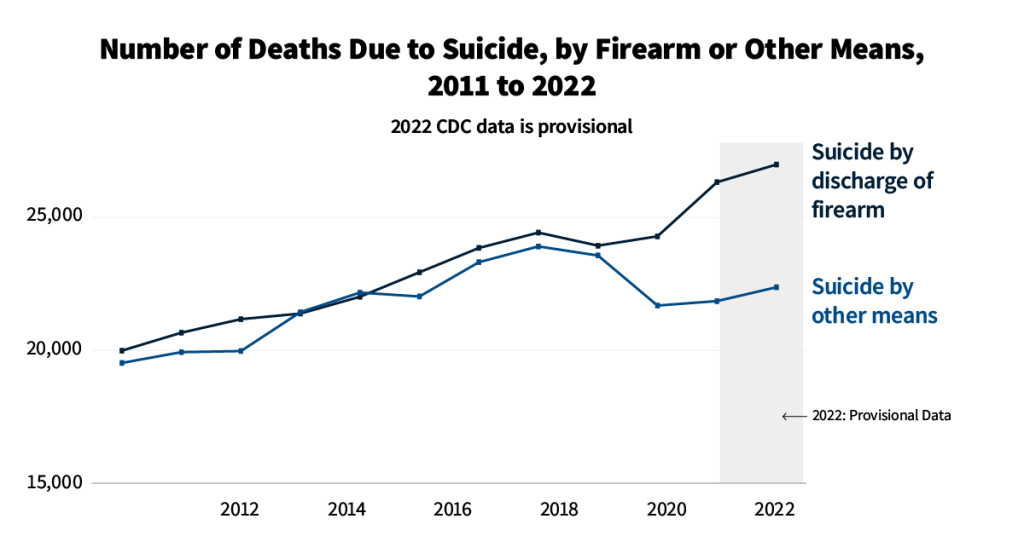 Firearm-related suicide deaths have been increasing in recent years and are now the most common method of suicide, accounting for 55% of all suicide deaths in both 2021 and 2022. Deaths from other suicide methods have remained relatively steady.
The recent increase in suicide deaths follows high levels of mental health symptoms during the COVID pandemic, financial stressors, and difficulty accessing needed mental health care—particularly for some populations.
Suicide deaths are increasing fastest among people of color, younger individuals, and people who live in rural areas. Between 2011 and 2021, suicide death rates increased substantially among people of color, with the highest increase among American Indian or Alaska Native people (70%), followed by Black people (58%) and Hispanic people (39%). The suicide death rate also increased among adolescents (48%), young adults (39%), and people who live in rural areas (26%) during the same period.
In July 2022, a three-digit crisis number, 988, launched nationally to provide an easy-to-remember way for people who are suicidal or experiencing a mental health emergency to connect with a crisis counselor and other resources. In its first year, 988 improved answer rates and reduced wait times while handling nearly 5 million contacts because of surging demand; however, its influence on overall suicide rates, particularly among people of color or other vulnerable populations, remains to be seen.
From 2011 to 2022, over half a million people (539,810) died by suicide, with 2022 showing the highest number of deaths on record. Within this period, the adjusted suicide rate increased by 16%. The rate increased by 37% since 1999.
Read "A Look at the Latest Suicide Data and Change Over the Last Decade" for more information about suicide death rates between 2011 and 2022.