As the U.S. tries to address rising rates of mental health issues, the impact of the new 988 national crisis hotline and other innovations will be limited if states don't have the underlying crisis services available when people are directed to them.
The core crisis services include crisis hotlines that connect individuals to trained counselors, mobile crisis units that provide in-person crisis support services, and crisis stabilization units that provide short-term observation and crisis stabilization in a non-hospital environment.
A new KFF survey finds that state Medicaid programs, as the single largest payer of behavioral health services in the country, are taking steps to help implement and fund crisis services, though gaps remain. The Medicaid population may be particularly affected by the availability and quality of such services, as 39 percent of enrollees have mild, moderate, or severe mental health or substance use disorder conditions.
State Medicaid programs also have access to new federal dollars to support, staff and expand crisis services, through the American Rescue Plan Act's (ARPA) mobile crisis intervention services option that started April 2022, and the option is available for five years.
Among the key findings of KFF's Behavioral Health Survey of state Medicaid programs:
• About three-quarters of responding states (33 of 45) do not cover all three core crisis services for adults under fee-for-service Medicaid, but most states cover at least one core crisis service (41 of 45).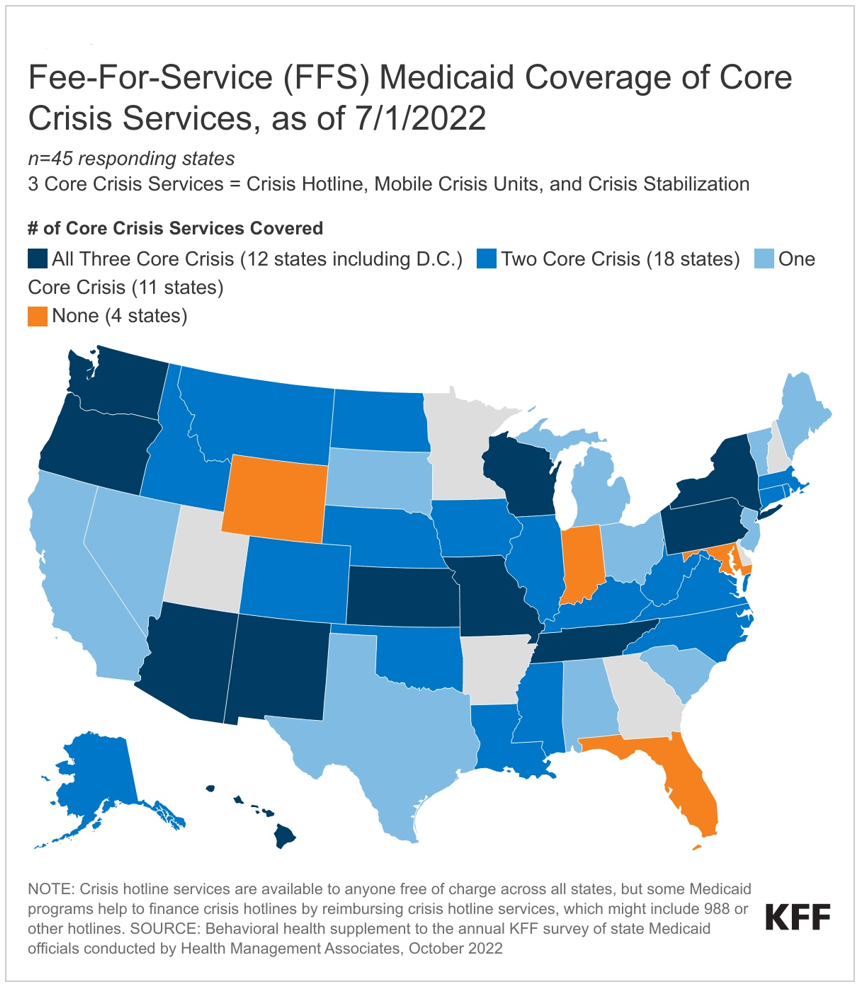 • Over half of responding states (28 of 44) report that they have taken up or plan to implement the American Rescue Plan Act (ARPA) mobile crisis intervention services option.
• Almost all responding states (38 of 44) reported experiencing or expecting at least one obstacle to implementing crisis services, particularly workforce shortages and geography-based challenges.
A second KFF analysis uses the survey findings to explore state Medicaid programs' delivery, administration, and integration of behavioral health care. Medicaid covers a disproportionate share of adults with mental illness and/or substance use disorder (22% vs. 18% of all non-elderly adults).
As states continue to expand behavioral health services coverage to close access gaps and address the COVID-19 pandemic's impact on mental health and substance use disorders, they may face continued upward budget pressures in behavioral health services spending due to increased utilization. States and analysts may further study the complex Medicaid behavioral health delivery system, examining access and outcomes associated with various delivery and financing mechanisms.
Moreover, numerous existing and proposed federal initiatives aim to employ strategic policies to enhance the accessibility, quality, and availability of behavioral health care. For example, the Consolidated Appropriations Act (CAA) passed workforce requirements that aim to increase the accessibility and availability of behavioral health care, including requirements for Medicaid provider network directories and funding for new psychiatry residency positions.
These two new analyses are the last in a series of six KFF issue briefs that report data from the Behavioral Health Supplement to our 2022 state Medicaid budget survey.