Two new KFF analyses examine how state Medicaid programs have utilized telehealth to increase access to behavioral health care during the pandemic and the strategies they are employing to address workforce shortages in behavioral health.
The studies come as the 2022 Bipartisan Safer Communities Act legislation requires the federal government to issue telehealth guidance by the end of 2023, and the omnibus spending bill that Congress passed last month included several provisions affecting behavioral health telehealth and workforce issues. They include requirements or funding related to provider directories, crisis services, virtual peer mental health supports, increases in new psychiatry residency positions, and expansions in access to providers who prescribe certain medications for opioid use disorder.
Both new analyses draw their findings from KFF's Behavioral Health Survey of state Medicaid programs, fielded as a supplement to our annual budget survey of Medicaid officials.
The first study finds that states' expansion of telehealth has taken a variety of forms, including the addition of audio-only coverage of behavioral health services; the expansion of the types of behavioral health services that can be delivered via telehealth (e.g., group therapy or medication-assisted treatment); and the expansion of provider types that may be reimbursed for telehealth delivery of behavioral health services (e.g., marriage and family therapists, addiction specialists, and peer specialists).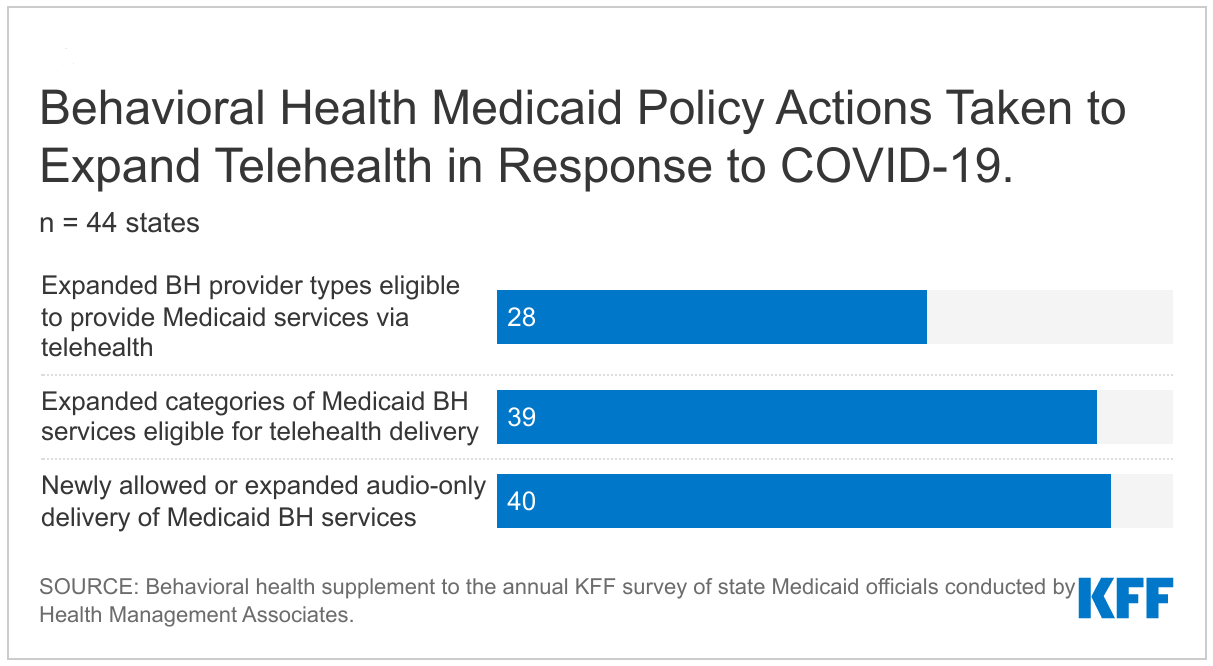 States reported high utilization of telehealth for behavioral health care across all or most populations served by Medicaid. Some states found that utilization was higher in rural areas, among younger enrollees, or among White individuals. Utilization has declined from peak levels but remains higher than before the pandemic. Most states report that they are likely to keep many of the pandemic-driven telehealth policy expansions in place.
Even as the pandemic exacerbated mental health and substance use issues among the public, documented workforce challenges raise barriers to care, in Medicaid and beyond. Nearly half of the US population – 47 percent, or 158 million people – live in a mental health workforce shortage area.
Workforce challenges are widespread and go beyond Medicaid, but shortages may be worsened in Medicaid, particularly given low participation rates among mental health providers.
The second KFF analysis finds that some state Medicaid programs are implementing strategies to address the behavioral health workforce shortage, including:
Increasing provider reimbursement rates—two-thirds of responding states reported rate increases, which may encourage providers to participate in Medicaid.
Extending the workforce by reimbursing for new provider types, loosening restrictions on in-person requirements, and targeting outreach to recruit new providers.
Reducing administrative burdens though steps that may include streamlining documentation, centralizing enrollment processes, and asking providers for their thoughts on Medicaid's administrative process.
Incentivizing provider participation through the adoption of measures such as prompt payment policies and loan repayment.
For more data and analyses about behavioral health, telehealth and Medicaid, visit kff.org