As the White House and Congress continue to debate new funding and other actions to address the nation's opioid epidemic, the latest Kaiser Health Tracking Poll finds that most Americans believe the federal government is not doing enough to combat the recent increases in the number of people who are addicted to prescription painkillers (66%) or heroin (62%).
State governments fare no better in the public's view, with similarly large shares saying they aren't doing enough to combat the twin problems of painkiller abuse (67%) and heroin abuse (61%).  Majorities say the same about doctors who prescribe prescription painkillers (63% and 56%, respectively), and individuals who use prescription painkillers or heroin (73% and 77%, respectively). Far fewer say police officers are not doing enough to combat painkiller abuse (37%) and heroin abuse (36%).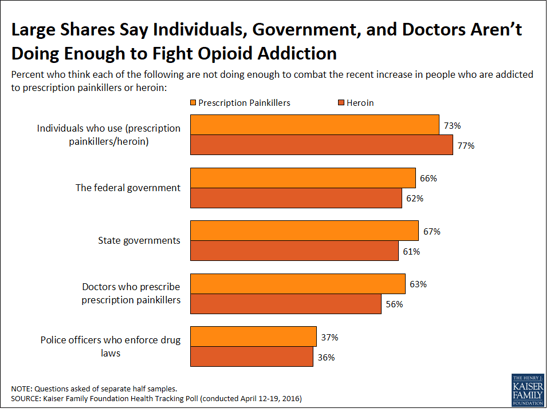 Prescription drug addiction also impacts much of the public on a personal level, with 44 percent saying they personally know someone who has been addicted to prescription painkillers, including 20 percent who say the person was a family member and 2 percent who say they themselves were addicted.
When asked about the potential effectiveness of various policy actions, over eight in ten Americans rate five strategies as "very" or "somewhat" effective: increasing pain management training for medical students and doctors (88%); increasing access to addiction treatment programs (86%); public education and awareness programs (84%); increasing research about pain and pain management (83%); and monitoring doctors' prescription painkiller prescribing habits (82%).
Smaller shares say three other strategies would be at least somewhat effective: encouraging people who are prescribed painkillers to dispose of any extras once they are no longer needed (63%); reducing the social stigma around addiction (60%), and putting warning labels on prescription bottles that explain the risk of addiction (49%).
The poll also assesses the public's views on expanding access to a drug (called Narcan or Naloxone) that can prevent people from dying if they experience an overdose of painkillers or heroin. Most Americans (59%) say the drug should only be available with a doctor's prescription, while just more than a third (36%) say it should available without one.
The poll also assesses the public's experiences and views involving access to mental health services.
One in five Americans (21%) say that they or someone in their immediate family once needed mental health services but did not get them. Those who did not get treatment cite several factors, including that they couldn't afford the cost (13% of the public overall); insurance wouldn't cover it (12%); they were afraid or embarrassed to seek care (10%); and they didn't know where to go to get care (8%).
The vast majority of the public (87%) say that the lack of access to care for people with mental health conditions is a problem, including almost three quarters (73%) who say it is a major problem. Substantial shares also think that people suffering from mental health conditions experience "a lot" of prejudice and discrimination, including about four in 10 (42%) who say so about people who suffer from depression and about a third (32%) who say so about people who suffer from anxiety.
Most people also are not aware of federal requirements that insurance plans apply the same set of rules for mental health benefits and substance abuse treatment as for other medical services in terms of copays, deductibles and coverage limits.  About four in 10 (43%) know that health plans must have the same rules for mental health benefits; three in 10 (30%) know this for substance abuse treatment.
Designed and analyzed by public opinion researchers at the Kaiser Family Foundation, the poll was conducted from April 12-19 among a nationally representative random digit dial telephone sample of 1,201 adults. Interviews were conducted in English and Spanish by landline (420) and cell phone (781). The margin of sampling error is plus or minus 3 percentage points for the full sample. For results based on subgroups, the margin of sampling error may be higher.