Ceasing payments for the Affordable Care Act's (ACA) cost-sharing reduction program could save $10 billion, but cost an additional $12.3 billion in premium tax credits – an estimated net increase of $2.3 billion, or 23 percent, in federal spending on marketplace subsidies – in 2018, if insurers continue to participate in ACA marketplaces, according to a new analysis from the Kaiser Family Foundation.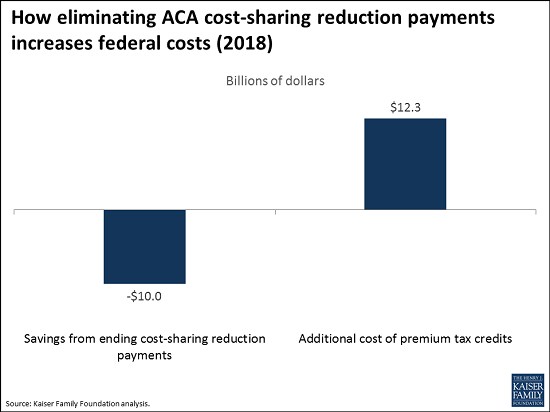 The cost-sharing subsidies, established to reduce out-of-pocket costs for ACA marketplace enrollees with lower incomes, are being challenged in a lawsuit from the U.S. House. With the lawsuit temporarily suspended, the Trump Administration and Congress are in a position to determine whether to continue the payments, which go to insurers to reimburse their costs for providing the cost-sharing reductions.
The Foundation's new analysis examines potential financial implications if the government stops cost-sharing reduction payments to insurers.
Without the payments, the analysis finds, the average ACA marketplace premium for silver plans would need to rise by 19 percent in 2018 for insurers to offset the lack of funding. Estimated premium changes vary for the 38 states that used healthcare.gov in 2016, ranging from 9 percent in North Dakota to 27 percent in Mississippi.
Changes to silver plan premiums in ACA marketplaces would affect how much the government owes to eligible enrollees in tax credits. Meant to reduce monthly insurance costs for people with lower incomes (from 100% to 400% of the poverty level), ACA premium tax credits are tied to the premium for the second-lowest cost silver plan in each geographic area.
According to the analysis, the government would owe an estimated additional $12.3 billion in tax credits in 2018, if cost-sharing reduction payments end and if insurers choose to continue offering plans in ACA marketplaces. The government would save $10 billion from stopping the payments, resulting in a net increase in federal costs of $2.3 billion. Extrapolating to the 10-year budget window (2018-2027) using the Congressional Budget Office's projections for cost-sharing reduction payments, the net increase in federal costs would be $31 billion.