Only 1 in 4 Potential Marketplace Customers Know When ACA Open Enrollment Ends; 1 in 5 Say They Would Buy a Short-Term Plan
A large majority of the public backs the Trump Administration's initiative to require prescription drug advertisements to include information about prices, but fewer support other administrative actions involving pre-existing conditions and contraception coverage, the latest KFF Health Tracking Poll finds.
Requiring drugmakers to include price information in their advertisements is a widely discussed element of the Trump Administration's plan to address high drug costs. Three-fourths (77%) favor it, and most (53%) continue to favor it, even after being told that the proposal could confuse consumers who may pay different prices for the same drug based on their insurance.
In other areas, the public shows less support for health policies promoted by the Trump administration, including its decision in June not to defend the Affordable Care Act's protections for people with pre-existing conditions as part of a pending lawsuit filed by conservative state attorneys general.
Most Americans say it is "very important" that the provisions in the ACA that prevent insurance companies from denying coverage (65%) or charging more (62%) to people with pre-existing conditions remain law, even after hearing that these protections may have led to increased insurance costs for some healthy people.
If the courts throw out those protections, a majority (70%) say they would want their state to establish such protections, even if it meant healthy people would pay more. This includes half (51%) of Republicans, as well as majorities of Democrats (87%) and independents (67%).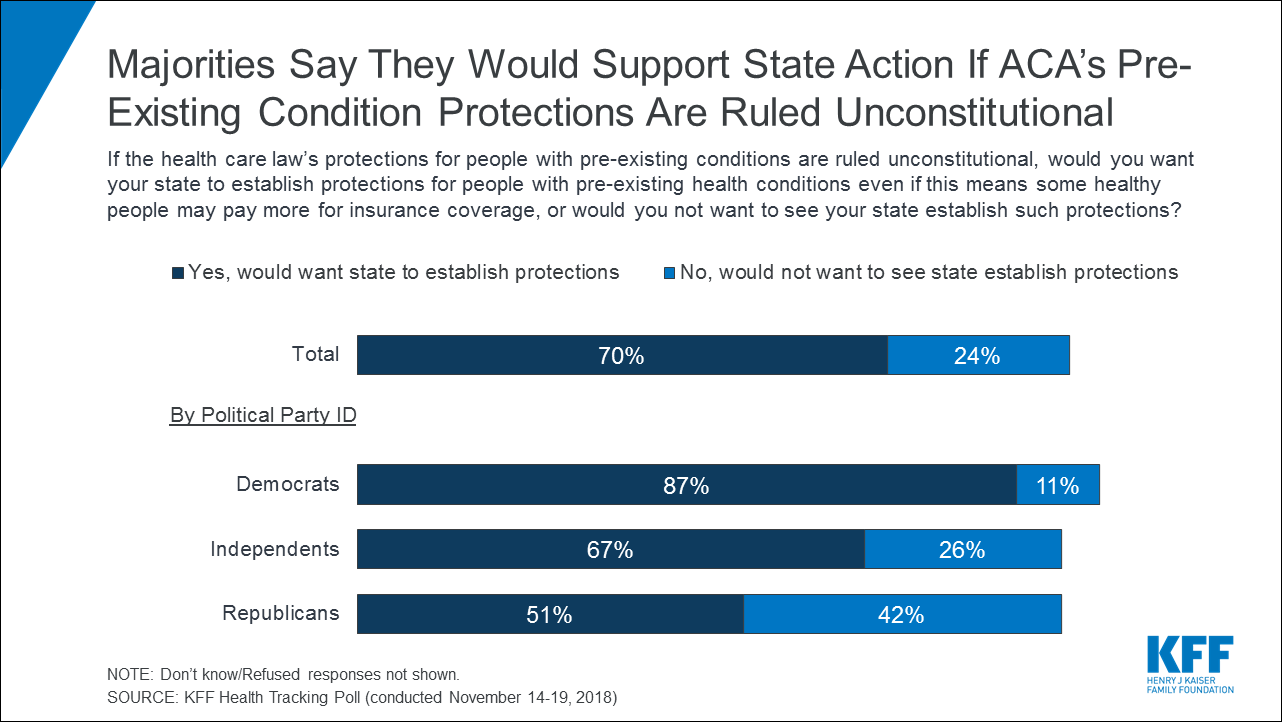 More recently, the Trump Administration issued final regulations that expand the exemptions for employers that do not want to cover the cost of contraception in their employees' health plans because of religious or moral reasons. Most (57%) of the public – including most women (63%) – say they oppose such exemptions.
Few Potential Marketplace Customers Know When Open Enrollment Ends
The poll also assesses the public's awareness about the ongoing Affordable Care Act open enrollment period, during which people who either buy their own health insurance or are uninsured can sign up for a plan through their state's marketplace.
Open enrollment ends Dec. 15 in states that rely on healthcare.gov, but runs longer in some states that use their own marketplace.
The poll finds most potential marketplace customers – adults under age 65 who are either uninsured or buy their own insurance – do not know when open enrollment ends in their state. About one in four (24%) know the correct date, while most others (61%) say they do not know when open enrollment ends. Smaller shares give a variety of incorrect answers.
The poll also gauges how two policy changes could affect open enrollment this year: Congress eliminated the tax penalty for people who don't obtain health coverage effective next year, though three in 10 (31%) of those under age 65 who are uninsured or buy their own coverage are aware that the penalty no longer exists. About half (49%) of potential marketplace customers say they plan to buy coverage this year. Nearly as many (42%) say they will go without coverage.
The Trump Administration has taken steps to expand access to short-term health plans, which can cost less than ACA marketplace plans but can discriminate against people with pre-existing conditions, offer fewer benefits, and provide less generous coverage. About one in five (21%) of potential marketplace customers say they would buy a short-term plan if given the opportunity.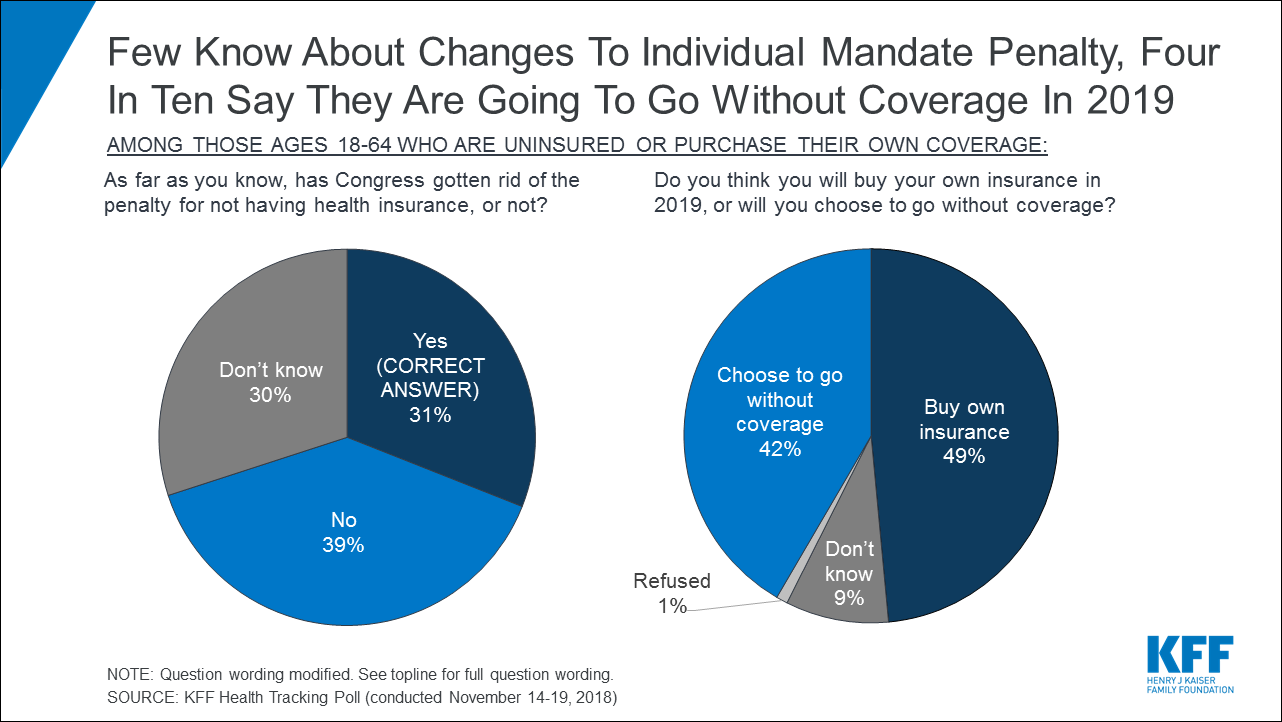 Health Care Is Among Public's Top Priority for Congress
Following midterm elections where health care played a key role, the poll finds Americans now are as likely to cite immigration and border security (21%) as health care (20%) when asked to name the issue that they most want the next Congress to address.
These two issues reflect the different partisan priorities. Immigration/border security is by far the issue most often named by Republicans (41%), while Democrats most often name health care (27%). Independents are about equally likely to cite the two issues (immigration 22%, health 21%).
When asked about priorities within health care they want the next Congress to address, a larger share of Americans offer issues around affordability and costs (19%) than other issues such as the future of the Affordable Care Act (10%), Medicare (9%), and health coverage/insurance for everyone (5%).
Democrats will take control of the House in January, resulting in divided government in Washington for the first time under President Trump. Most Democrats say the top priorities for the Democratic House majority should be oversight of the Trump Administration's actions on health care, education, and the environment (77%), and working to enact new laws to address the major problems facing the country (67%). A smaller majority (58%) say investigating corruption within the Trump Administration should be a top priority.
In Non-Expansion States, Most Favor Expanding Medicaid to More Low-Income Adults
After successful ballot initiatives in Idaho, Nebraska and Utah to expand those states' Medicaid programs to low-income adults through the ACA, there are 14 states that have not approved the ACA's Medicaid expansion.
The poll finds a majority of residents (59%) in those 14 states favor expanding their Medicaid programs to cover more low-income people, while a third (34%) say they want to keep the state's program as is. A bare majority (51%) across those states also say that they would favor a ballot initiative to expand Medicaid in their states if their governors and state legislatures choose not to expand the program.
Designed and analyzed by public opinion researchers at KFF, the poll was conducted from November 14-18, 2018 among a nationally representative random digit dial telephone sample of 1,201 adults. Interviews were conducted in English and Spanish by landline (291) and cell phone (910). The margin of sampling error is plus or minus 3 percentage points for the full sample. For results based on subgroups, the margin of sampling error may be higher.