Knowledge and Awareness of Key Facts Regarding Enrollment Is Low
As the Nov. 1 start of the Affordable Care Act's open enrollment period nears, new polling data from the Kaiser Family Foundation finds that most potential enrollees are unaware of when they can enroll and have not seen any related advertisements.
Fielded prior to yesterday's announcement of a bipartisan marketplace stabilization deal in the Senate that among other things would increase outreach funding, the survey highlights key gaps in knowledge among people who are uninsured or who are current marketplace enrollees.
One in six (15%) people without health insurance and four in 10 (40%) marketplace enrollees know that open enrollment begins on November 1 this year.  Even fewer (5% of the uninsured, 25% of marketplace enrollees) are aware of the month when open enrollment ends in their state.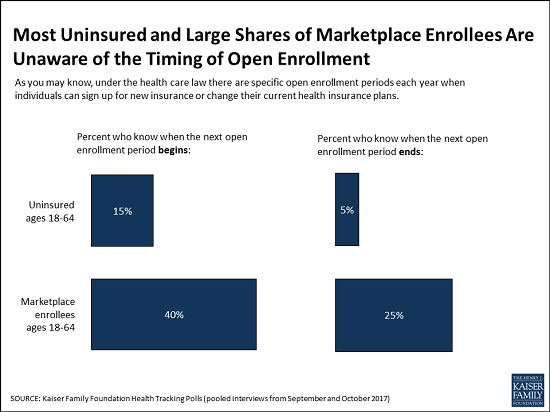 The poll finds that few of those most likely to consider marketplace coverage report hearing or seeing any ads providing information about how to get insurance under the health care law. Small shares of the uninsured (19%) and marketplace enrollees (12%) say they saw ads in the past 30 days that provided information about how to get insurance.
Slightly more than half (54%) of the uninsured say they plan to get health insurance in the next few months, while four in 10 (43%) expect to remain uninsured despite the individual mandate.
Most marketplace enrollees satisfied with their plans but worry about costs
While Congress weighs legislative changes to stabilize the marketplaces, the new survey also provides a snapshot of the experiences of current marketplace enrollees.  Despite reports of plans dropping out of the marketplaces, most (70%) report being satisfied with their insurance choices. However, nearly four in 10 (36%) say they are worried that their current insurance company will stop selling plans in their area.
At a time when funding for cost-sharing reduction payments hangs in the balance in the Congress, significant shares of marketplace enrollees report struggling with and worrying about affordability issues. For example:
Three in 10 (30%) marketplace enrollees say premiums have gone up a lot lately. Most (57%) expect their premiums to increase next year, including about a quarter (28%) who say it will be a major financial burden.
More than a third (37%) say that their deductibles and co-pays have been going up lately. Most (60%) marketplace enrollees also say they worry their co-pays and deductibles will become so high that they can't afford to get needed care.
Marketplace enrollees' concerns about cost and availability in many ways are similar to those of people with employer coverage.  For example, about half (49%) of those with employer coverage report that their deductibles and co-pays have been going up lately.  Similarly, half (51%) say their premiums have been going up, including a quarter (25%) who say they have gone up a lot.
The poll also finds most of the public (71%), including most marketplace enrollees (79%), are aware that the Affordable Care Act's individual mandate that requires most people to obtain health coverage or pay a fine remains in effect.  Among the uninsured, a smaller majority (59%) are aware the mandate is in effect, though one in five (18%) believe it is not and one in four (23%) are unsure.
The vast majority (85%) of marketplace enrollees also say they plan to sign up for health insurance during the 2018 open enrollment period, and most of them (54% of the total marketplace enrolllees) prefer to renew their current plan if it is available next year.
Among marketplace enrollees, one in four (26%) say the law's requirement for them to have health insurance or else pay a fine is a "major reason" they chose to purchase coverage. However, most (55%) say it was "not a reason," and the vast majority (90%) say they would continue to buy their own insurance even if the government stopped enforcing this requirement.
METHODOLOGY
Designed and analyzed by public opinion researchers at the Kaiser Family Foundation, the poll was conducted by telephone from September 13th-24th and October 5th-10th, 2017 among a random sample of 2,505 adult U.S. residents, including an oversample of respondents who purchase their own insurance (Non-Group Enrollees). Interviews were conducted in English and Spanish by landline (867) and cell phone (1,638). The margin of sampling error is plus or minus 2 percentage points for the full sample, plus or minus 9 percentage points for marketplace enrollees (n=195), plus or minus 7 percentage points for the uninsured ages 18-64 (n=206), and plus or minus 4 percentage points for those ages 18-64 with employer coverage (n=935). For results based on other subgroups, the margin of sampling error may be higher.