Among People Ineligible for Subsidies, Middle-Class Older Adults Face the Least Affordable ACA Premiums, Especially Those Living in Rural Areas Where Premiums Are Highest
A new KFF analysis finds that Affordable Care Act marketplace premiums are least affordable for older adults who earn too much to qualify for federal subsidies, especially those living in rural areas where premiums are highest.
The analysis of the lowest-cost 2019 ACA marketplace plans across U.S. counties finds that older adults not eligible for subsidies living in 28 rural Nebraska counties face the least affordable ACA premiums as a share of income. A 60-year-old resident of Lincoln County, Nebraska, making $50,000 a year (or 412% of poverty) would pay a monthly premium of $1,314 ($15,770 annually, or 32% of income) for the lowest-cost ACA plan. In contrast, a 60-year-old neighbor making $45,000 would pay nothing in monthly premiums for the same plan because their income is 371 percent of poverty, low enough to qualify for ACA tax credits.
This big difference in costs is known as the "subsidy cliff" because eligibility for ACA premium tax credits ends abruptly at 400 percent of the federal poverty line ($48,560 for an individual and $100,400 for a family of four in 2019), even if premiums represent a substantial share of income for those just above it. The analysis includes an interactive map that allows users to see which counties have the most and least affordable ACA premiums for unsubsidized consumers at different age and income levels.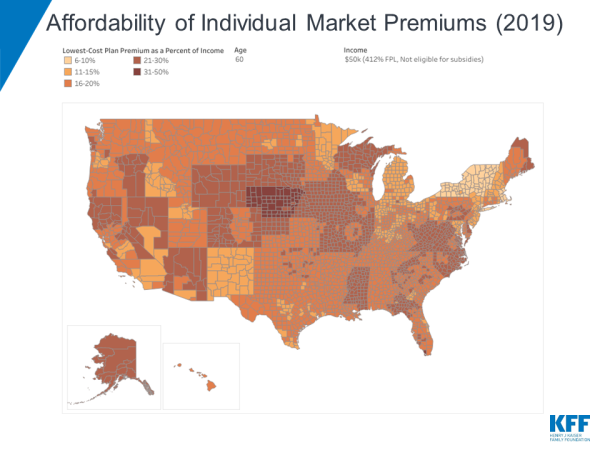 The analysis also finds that:
Nationally, in 21 percent of counties a 40-year-old making $50,000 a year would spend more than 10 percent of her income to get the cheapest available ACA bronze plan. But the affordability challenges are not spread evenly. Twenty-five percent of people in non-metropolitan areas live in a county where that 40-year-old would spend more than 10 percent of her income on plan premiums, compared to only 5 percent of people in metropolitan counties.
Because the ACA allows insurers to charge older adults premiums three times higher than those for younger enrollees, older consumers who do not qualify for subsidies face the highest premiums. A 27-year-old making $50,000 would pay about 7 percent of her income in premiums for the average lowest-cost plan nationally, whereas a 60-year-old with the same income would pay 17 percent of her income for the same plan.
Among states, Wyoming has the highest average statewide premium for middle-class people ineligible for subsidies in 2019, while Rhode Island has the lowest. In Wyoming, a 40-year-old making $50,000 would pay about 14 percent of her income in premiums for the cheapest plan, on average. In Rhode Island, the same person would pay about 5 percent of income on the cheapest plan.
The low-cost ACA bronze plans studied in the analysis come with higher deductibles, copayments, or coinsurance than plans at higher metal tiers with higher monthly premiums. Sicker enrollees may be better off choosing a silver or gold plan even if that means they spend a larger proportion of their income on premiums.
Although this analysis only includes premiums for plans available in the ACA marketplace, bronze plan premiums for consumers who do not qualify for subsidies should be similar on and off the marketplace. Most unsubsidized enrollees in ACA-compliant plans get their plans outside of the marketplace.
The analysis also discusses a variety of state and federal proposals that seek to lower premiums for middle-class people buying their own insurance who are ineligible for ACA subsidies.